Burning Bright 2007- 2009
7. Spring, Part 3
---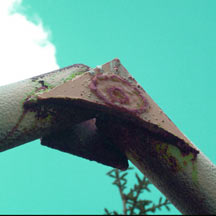 1. The Same Mistakes (Sanchez)
2. Green 17 (Langan)
3. Broken Glass Corner (Sanchez)
4. You Gotta Go Now (Sutliff)
5. Carefully Considered Answers (Langan-Sanchez)
6. Last Acid Riders (Sanchez)
7. After The Main Sequence (Sanchez)
8. Come For The Sun (Langan)
9. Wooden Horse (Sanchez)
10. I Saw Your Light (Langan)
11. Vanished (Tek-Sanchez-Masuak)
12. High Street Hitman (Sanchez – Sutliff)
13. Thinking About Neutrons (Sanchez-Tek)
Annual Board Meeting And Beyond April 24-26
This proved to be another productive meeting, and another major week for Donovan's Brain. I hadn't seen Deniz since last November, when we recorded in Billings. Deniz is now back in Montana until the end of the Summer. Den's visit coincided with my radio show. We met up for the traditional pre-show lunch at Casa Sanchez, and then up to campus. I was pleased to host the world premier of the Soul Movers new album, tentatively titled "Play Me". The second half of the show was an extended conversation spiced with a lot of our favorite records picked to keep the chat lively.
One of the bits of news Deniz revealed was the recent discovery of "all" the Radio Birdman multi-tracks in the Albert Records archives. This apparently includes the sessions for the Burn My Eye EP, both versions of Radio's Appear, some live material and video tape. Deniz said there were several songs that were tried out, but never released. Also in the mountain of 2′ reels were the New Race tapes. At this point there are no plans other than to attempt to catalog the contents.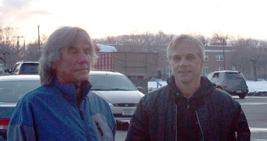 I had planned a family dinner for Saturday, so it was decided we'd take a walk down to the Emerson Grill for dinner after the radio. It seems like we had a great time and, as usual, we were given the special treatment by the always friendly staff, and Robin, the owner. The fun didn't stop there. Deniz shared his newly acquired The Rolling Stones Tour History Vol 5 DVD with us. Amazing footage of the band from their earliest days through 1968. The highlight was the Rock And Roll Circus footage, some not on the official release. A few of the clips featured unique backing tracks, most notably an early performance of Satisfaction from the Shindig TV show. With a busy day planned for Saturday, we wisely turned in before we polished off the bottle of vodka.
Before we would start the sessions, I thought a visit to Music Villa would be a good idea. An Ampeg Reverb Rocket caught our attention, so we hauled it down to the studio for a test drive. The sound of Den's Dan Armstrong and this amp should have been amazing, but a fault in the amp made it unusable for the session. No worries, there are plenty of amps in the studio for our needs.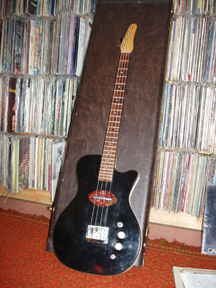 There were three songs that needed some more guitar overdubs. Colter's ballad, I Saw The Light, was the first one on the list. I wasn't sure if there was a need for a solo, but I figured it was worth the time to find out. As Deniz warmed up, he tried several different ideas. As is often the case, the original concept was discarded and was replaced by a much different approach. This will appear on the final mix. Next up was Bobby's You Gotta Go Now. Again, I had an idea I wanted Deniz to try. It didn't take long to realize it had to be something simple. Taking a cue from the previous nights Stones fest, Den decided a bit of Parachute Woman was the answer.
I had been asked to add some piano to the middle eight of Vanished. I tried some ideas, but it was decided this wasn't what the song needed. When I was doing the 12 string overdub, I got it in my head that baritone guitar was what would work. I have a Subway NOS Danelectro bass I bought years ago. It never quite did the business, so when Paul Rose gave me a set of baritone strings, I knew exactly what to do with them. I played this guitar on Roy Loney's record, but it hasn't seen much use otherwise. Den claims he did know I owned this beautiful guitar. I handed it over to him to tune, and went and got a sound on the amp for the solo. By the time we started to run the track, Deniz had a good idea for the part. It only took a few takes to refine the idea. In a reckless move it was decided to double the track. A couple more takes and the guitaring was done.
Meanwhile, Tony Miiller's vocal overdubs for Broken Glass Corner arrived in the mail. It seemed like a good time to take a break, download the files and return the amp to the shop. We hung out while Paul Rose attempted to track down the problem, but no one was satisfied that we could fix it. Despite the low low price we were offered, we went home empty handed. The new vocal tracks were listened to, and we agreed that Tony had given us something special. It is a pleasure when someone knows what is required and does it so well.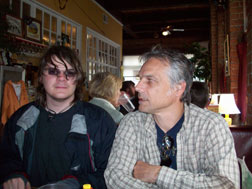 I don't think Deniz has sung any backups for us in the past. He of course sang the lead on The Ballad Of Where's Jim and Vanished on this album. I always think it's good to try to get everyone on all the songs, and background vocals is a great way to tie everything together. Lila had sung a few words on Last Acid Rider, but I could hear Deniz in the mix. He got into the spirit of the song, and spent a fair amount of time working out a part. High Street Hit Man took a little more work, and I was afraid Den's voice would give out before we got it nailed down. Again, his contribution was just what the songs needed. This early conclusion left us plenty of time for a cocktail before Max Tek was due to arrive for dinner. And dinner it was, a mountain of pork ribs, and some nice wine. The reward for a job well done.
The detail work will continue over the next two weeks. Tony Miller, Colter and Lila all have more work to do. Bob Sutliff should complete his tasks in this time. It's now time to make the final corrections on the liner notes, and start the duplication process.
While digging through files, I've just encountered a folder from almost a year ago to the day, April 26, 2008. There are 14 demos and basic tracks for the proposed album. It is surprising to me how close we were to the final concept even then. The only songs lacking are Den's Vanished and Bobby's You Gotta Go Now. Three songs never made it to the final stage, though 4 Trials was recorded at the end of last year at the same session as Vanished. At that point it was no longer on the short list, but since we had the opportunity to cut the basic, it was recorded. Defeat Of Echoes and this one were both recorded with a pretty specific goal in mind. Fires Which Burnt Brightly feels like it has been a more focused affair. I suspect the only difference is that there were no limits imposed on the material accepted for Echoes. The songs were rehearsed and arranged by the four or five of us in the studio.
The new album was written with the understanding it would be a more compact affair. This suited me just fine, as I missed the song oriented approach of Shambaholic and Carelessly Restored Art. I also missed the control I had over the proceedings. I've always been happy to give everyone free rein with their songs. This has produced some fantastic music. Defeat Of Echoes was the ultimate expression of that sort of music making. This time around, I wanted to return to my original method of making records, but so much had changed since 1993-4. There are now four committed song writers, who share the same ideals and must work under the same time and space limitations. This individual approach to recording could result in something less than desirable, but the main players in Donovan's Brain are all experienced in making their own music. I just use my own experience to glue it all together. Of course we'd all love it if we could all spend a year in the studio together at EMI's expense. With day jobs, kids, wives and lovers, this ain't gonna happen. Not to mention the demise of EMI I doubt anyone today can imagine a band making two, maybe even three albums a year. I can't. This is the record we make over this year and a bit. It's been a while since we made the last one, but in my mind, it's a non stop process.
---
---