A Defeat Of Echoes (2005)
When Summer Comes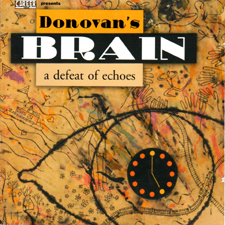 1. Come To My Party (Jeff Arntsen)
2. Decade Of Days (Colter Langan)
3. Whispers And Cries (Donovans Brain)
4. The Boy Who Cried New Town (Ronald Sanchez)
5. When Summer Comes (Colter Langan)
6. Open Your Mind (Colter Langan)
7. Penny, For Your Thoughts (Ronald Sanchez)
8. When You're Falling (Colter Langan)
9. A Defeat Of Echoes (Ronald Sanchez)
10. Invisible Diamond Man (Ronald Sanchez)
11. Control (Jeff Arnsten)
12. So Far Gone (Colter Langan)
13. The Little Prince (Ron Craighead)
14. City Morning (Colter Langan)
15. Rezolution (Jeff Arntsen)
16. Bondi Tombstone (Donovan's Brain)
17. Yul Brenner [Closing Credits] (Jeff Arntsen)
---
Rich Overtones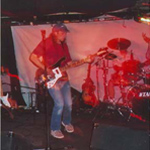 A Defeat Of Echoes was the well planned follow up to The Great Leap Forward. As soon as the latter had been released everyone agreed to return to the studio to start working on new material. The goal was to create this record as a self contained unit. The songs were presented by each of us to the band at a series of song writing sessions. Many of the songs were also played live before they were recorded. While some songs took more time than others to record, they were all the result of a natural evolution. By this time, everyone was comfortable with the usual Brain recording methods. The roles in the band were now less defined. Colter picked up the bass on two songs, and Jeff played guitars and keyboards as well as bass. Ron Craighead would often grab a guitar or the bass for the songwriting workshop sessions. Ron also made his lead vocal debut, singing the dramatic chorus on So Far Gone.
Once again Deniz Tek played a major part making this record. Richard Treece recorded guitar for five tracks, though only three for the album. You can hear his work on the other instrumental epic Dim Gem which was released on the Dream Magazine compilation. Bobby Sutliff was invited to play on Colter's song City Morning, that's his guitar solo. It also seemed like a good idea to get him to sing on it too. Megan Pickerel returned to sing a few bits too, most notably on Control and Penny For Your Thoughts.
Three songs that were recorded didn't appear on the album, and only Dim Gem has been released. Two more songs were recorded twice, in very different versions. The first version of Jeff's song Control was recorded live by the band, a rambling 13 minute version. Jeff felt that this has strayed too far from his vision, and re-cut the song with drums, and then parts were added. The original version was completed, and edited for the video, which was included on the Film/Career promo DVD included with the CD.
---
Reviews
From www.ozonline.com.au
Donovan's Brain A Defeat of Echoes It's always intriguing to receive a record that arrives without fanfare or hype of a Label generated press release. It shows trust in the ability of the record to announce itself through sheer quality of the music contained.

A Defeat of Echoes, the fifth release from criminally unheralded outfit Donovan's Brain is one such release &the quality of its content speaks volumes more than spin doctoring ever could. A spell-binding collection of melodic-rock, a defeat of Echoes is not so much a collection of songs as a musical tour through time such is the diversity of the influences expressed. From the tender Pink Floyd inspired movements of The Boy Who Cried New Town, through the George Harrison-esque Open Your Mind & gloriously adventurous Bondi Tombstone, A Defeat of Echoes serves a reminder that although popular music may evolve through the ages there is one quality that defines its fate Ð melody.

When combined with artistic vision & talent the scope of Donovans Brain, music can be so pleasantly atmospheric.
from Lunakafe www.lunakafe.com
Donovan's Brain A Defeat of Echoes Career Records It's not easy to divide this group into any category. Their multi-faceted sound has two many reference points for that to happen any tine soon.

"Decade of Days" is sixties pop with glorious harmonies. Its psychedelic undertow is well placed. "Whispers and tears" echoes the innocent phase of the sixties era. Ringing guitars and a dewy-eyed vocal from Colter Langan certainly helps to make this impression. It could almost be a song by the Zombies. "The Boy Who Cried New Town" fuses the trippiness of Pink Floyd with the pastoral ambience of the Stones ballad "Lady Jane". "Invisible Diamond Man" is a mystery tour through "Sgt Pepper" guided by Syd Barrett.

A Defeat of Echoes is a great record by any standards.

Copyright-© 2005 Anna Maria Stjarnell
from Fufkin.com
Donovan's Brain — A Defeat Of Echoes (Career): While I am pro-CD when it comes to arguing the sound quality of the digital disc as compared to the vinyl LP, there are some things about vinyl that are superior. One major thing I like better about the vinyl LP is that I think that artists put a lot more thought into sequencing a five or six song album side, as opposed to having up to 80 minutes of straight music on a CD. A well structured album side has a specific ebb-and-flow. On this disc, Donovan's Brain separates the songs into a double album, listing the tracks by album side. And I think they have superbly captured just the right ebb-and-flow. In doing so, this ace psychedelic band really put a lot of work into varying their approaches on the songs. It would probably take me a couple more months to fully absorb this album, but I want to tell you about it now, because it's really good.

There is a nice balance between more stretched out numbers and the more direct songs. Two of the songs sound to me like Guided By Voices if they tripped more and drank less. "City Morning" starts with a strong guitar riff and pulses along on Jeff Arntsen's bass line, with a wisp of melody in the chorus. Bobby (ex-Windbreakers) Sutliff contributes a swell guitar solo. Guitarist Colter Langer also penned "Decade of Days", which is foreboding while remaining bouncy. Here, Radio Birdman's Denis Tek makes one of his periodic appearances on guitar.

The biggest hook on the album is on "Rezolution", an Arntsen number which is gentle and tender, down to his sweet lead vocal. This song slowly burns and has an exceedingly memorable chorus. The music has more of a dramatic edge on the Ronald Sanchez composition "The Boy Who Cried New Town". Sanchez colors the quietly played music with piano, organ and synthesizers, in a song that mixes psych with a touch of the Southwestern sound.

Another outstanding number is "Open Your Mind", at its heart a basic folk-rock tune, which the Brain augments with lots of instrumental color. One striking thing about this album is that after a few plays, it felt like something that had been in my collection for a while. I mean that as a compliment — it shows to me that this band has gotten their sound down, to where it just sounds the way it should.

-Mike Bennett
Paul Martin
As contemporary material goes, this is not bad in the round. It's a bit too sulky and petulant in a lot of places for my taste and I'm rather reminded of the shoe gazers of yore on some of these slow numbers ('Come To My Party', 'Whispers And Tears', 'The Boy Who Cried New Town'). However perhaps that's the point, the CD title sort of implies it.

Amongst the musical introspection though, there are some nuggets where the Brain seem to wake up and smell the coffee. Songs like 'When You're Falling' and 'Invisible Diamond Man' are real kicking tunes and it would be good to hear an album's worth of this more affecting material. There is also some pretty nice guitar work weaving its way through numbers like 'Decade of Days' and that is most welcome.

This disc also seems to come (or my review copy did) with a CD Rom of Penny Ikinger (I assume) going through some sound scapes of her own which are worth your while to watch and listen to.

If you like varying shapes of post-retro (figure that one out!) pop and enjoy slower pulse based stuff, then this one will probably suit you nicely.
All Music Guide
The fifth album from adventurous folk-rock troupe Donovan's Brain finds the Montana foursome of Jeff Arntsen, Ron Craighead, Colter Langan, and Ronald Sanchez defying easy categorization. Touches of classic rock acts — from the Byrds ("Whispers and Cries") to Pink Floyd ("The Boy Who Cried New Town") — permeate A Defeat of Echoes and make it an easy sell for fans of obscure 1970s Anglo-pop. The arguable height here is Langan's immediately gratifying, tightly wound "Too Far Gone," but the confident roll of "City Morning" — counting the Windbreakers' Bobby Sutcliffe in a supporting role — is a damn close second. Granted, the instrumental "Bondi Tombstone" seems like an unfulfilled song-sketch, but the disc's variety — be it the somber introduction of "Come to My Party" or the fuzzy roar of "Decade of Days" — avow that Donovan's Brain are all over the pop landscape in a downright refreshing way. – by John D. Luerssen
---
The Songs
1. Come To My Party (Jeff Arntsen)
Jeff – guitar, lap steel, vocals
Colter – bass vocals
Ron C – drums, vocals
Ron S – synth bass, piano, strings
2. Decade Of Days (Colter Langan)
Colter – guitar, acoustic, vocals
Ron C – drums, vocals
Jeff – bass, vocals
Ron S – guitars, strings
Richard – guitar
Deniz – guitar
3. Whispers And Cries (Donovans Brain)
Jeff – acoustic, bass, vocals
Colter – guitar
Ron C – drums
Ron S – xylophone, tambourine, harpsichord, organ, guitar
4. The Boy Who Cried New Town (Ronald Sanchez)
Ron S – organ, acoustic, guitar, piano, strings, synth, tambourine, vocals
Colter – acoustic, vocals
Jeff – bass
Ron C – drums
Megan – vocals
5. When The Summer Comes (Colter Langan)
Colter – acoustic guitars
6. Open Your Mind (Colter Langan)
Colter – guitars, acoustic, vocals
Ron S – guitar, slide guitar, organ, synth, vocals
Jeff – bass, vocals
Ron C – drums, vocals
7. Penny For Your Thoughts (Ronald Sanchez)
Ron S – bells, guitars, synth, vocals,
Colter – guitar, vocals Jeff-bass, vocals
Ron C – drums, prayer bowls
Richard – dangerous guitar
Megan – vocals

8. When You're Falling (Colter Langan)
Colter – guitars, vocals
Ron S – guitars, synth, vocals
Jeff – bass, vocals
Ron C – drums, vocals
9. A Defeat Of Echoes (Ronald Sanchez)
Ron – piano, synth, echoes
10. Invisible Diamond Man (Ronald Sanchez)
Ron S – guitars, 12 string, organ, vocals
Colter – guitar, vocals
Jeff – bass, vocals
Ron C – drums
Richard – guitar
Megan – vocals
11. Control (Jeff Arnsten)
Jeff – guitars, acoustic, e-bow, organ, vocals
Colter – bass, vocals
Ron C – drums, vocals
Ron S – synth, piano, strings
Megan – vocals
12. So Far Gone (Colter Langan)
Colter – guitars, acoustic, vocals
Ron C – drums, tambourine, vocals
Jeff – bass, vocals
Ron S – organ, strings
Deniz – guitar solo
13. The Little Prince (Ron Craighead)
Ron C-acoustic guitars, recitation
14. City Morning (Colter Langan)
Colter – guitars vocals
Ron S – guitars, 12 string, horns
Jeff – bass
Ron C – drums, vocals
Bobby Sutliff – guitar solo, vocals
15. Rezolution (Jeff Arntsen)
Jeff-guitars, vocals
Colter-bass
Ron C-drums, xylophone
Ron S-organ
Deniz-stinging jellyfish guitar
16. Bondi Tombstone (Donovan's Brain)
Colter-acoustic, guitar, voice
Ron C – drums, shaker, cymbals, voice
Jeff – bass, lap steel, voice
Ron S – fbx guitar, guitars, pianos, strings
Deniz – guitars, slide guitar, acoustic
17. Yul Brenner [Closing Credits] (Jeff Arntsen)
Jeff – guitars, synths, drum machine, and percussion
---