Turned Up Later (2013)
A Prime Number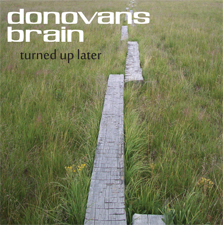 1. Take Me With You When You Go (Sutliff)
2. As The Crows Fly (Sanchez)
3. It's Alright With Me (Langan – Miller)
4. My Own Skin (Sutliff)
5. Small Circles (Sanchez)
6. Restless Nights, Many Dreams (Sutliff)
7. Cardboard Army (Sanchez – Tek – Miller)
8. Manager Of Time (Sanchez)
9. Morning Side Dream (Sutliff)
10. Red Wing Spy (Sanchez)
11. Fulcrum (Sutliff)
12. In Search Of Connie Companion (Sanchez)
13. Your Number (Langan) *album bonus track
---
The Songs
1. Take Me With You When You Go (Sutliff)
Bobby – organ, guitars, vocals, bass
Ric – drums, percussion
Ron – tremolo guitar

Bobby presented this one as "A Brain Song". It was. From nearly day one this was intended to open the album. It was nearly complete when it arrived. Other than adding drums, I figured a little does of fuzzed, wah-wah, trem guitar would give it a little color.

The album version runs a little longer than the CD mix.
2. As The Crows Fly (Sanchez)
Ron – vocals, acoustic and electric guitars, organ, mellotron, xylophone
Ric – drums, tambourine, bg vocals
Bob – bass Tony – vocals, efx
Lila – voice



This was one of those songs that pretty much wrote it self. I happened to look out the back window one winter day and said "the neighborhood crows are covered in snow". I wrote the music in one quick session. Each verse discusses one of the birds that we see in Montana, Crows, Magpies, and Ravens. I got the idea that each verse should have a different combination of voices. I also realized I couldn't reach the high notes on the third verse, when the key changes. Tony and LIla took care of that. Ric did a fantastic job on the "birdy walk" section.

The album version has the full end section, not heard on the CD mix.
3. It's Alright With Me (Langan – Miller)
Tony Miller – vocals, mellotron
Ron – guitars, organ, mellotron
Ric – drums
Bob – bass
Deniz – guitar solo
Colter – guitar

One of Colter's songs fitted with lyrics by Tony. Colter recorded three tracks for the new album before he lost interest. This was at the top of the list, so there was no chance it would be abandoned. I asked Tony if he could give it some lyrics, which he gladly did. Ron recorded a solo, then Deniz had a go at it. One the CD you hear Deniz. On the album, Ron plays the first part then Deniz comes in on the ending.
4. My Own Skin (Sutliff)
Bobby – vocal, acoustic guitars, piano, mellotron
Ric – drums,
Ron – bass, synth, mellotron, organ

Bob was excited about this one, which was quickly added to the short list for the album. Ric recorded three different drums takes. The album uses part of take 3 and then take two. On the CD you hear take 1, which was Bobby's preferred performance.
5. Small Circles (Sanchez)
Ron – piano, organ, guitar, slide guitar, acoustic guitar, bass, vocals, mellotron guitar
Ric – drums bg vocals
Deniz – solo
Scott – vocals, 12 string



This would be the last song I wrote for the album. Bobby had sent over a new song, so I figured I would have to write one too. I had heard a live version of a famous 60's psych tune, and realized how weird the arrangement was. Wanting to see if I could get the same effect, I wrote and recorded a track on the organ. When I tried to sing the lyrics I had, I realized it was in 3/4 time and didn't fit on my track. A new track was recorded on acoustic guitar while I sang the words. That fell into place quickly.

Ric was asked to play it so it didn't sound like it was in waltz time. He came up with a brilliant idea, layering three different parts. He left it to me to edit them as needed. Deniz and then Scott added some important overdubs which raised the whole thing another notch, I knew Ric wanted a chance to sing on the album, so I gave him the end part. You can't miss his distinctive low voice.
6. Restless Nights, Many Dreams (Sutliff)
Bobby – vocals, 12 string guitar, first guitar solo, bass
Ron – guitar, vocals
Ric – drums
Deniz end solo

This song was originally written for a proposed Windbreakers record which never happened. Bobby offered this one up for inclusion on the Brain album. The bridge was rewritten for this recording. Bob was insistent Deniz do the long end solo. The album version runs a little longer than the cd mix.
7. Cardboard Army (Sanchez-Tek-Miller)
Ron – guitar, vocals, organ, synth, mellotron, bass
Ric – drums
Deniz guitar
Tony – vocals synth
Matt Piucci – guitar solo

This is an example of how the Brain eventually use every good idea. While preparing for the new album, Ron found an idea on an old demo which had been recorded several years earlier. Deniz and Ron jammed over the changes. The best parts of the jam were edited into this arrangement. Ric then added his amazing drum part which reshaped the whole idea. Tony was asked to sing Ron's lyrics and to write words for the chorus. When Bobby suggested asking Matt Piucci to play on the record this was one of the two songs offered up. The end solo runs about 30 seconds longer on the album.
8. Manager Of Time (Sanchez)
Ron – guitar, vocals, organ, mellotron, bass
Ric – drums, tambourine
Scott – guitars, vocals



The title was yet another old idea in Ron's notebook. This was included on the album at Ric's insistence. Scott was asked to add vocals and the end guitar solo. Additional production was carried out during the mix. The album has a longer ending.
9. Morning Side Dream (Sutliff)
Bobby – acoustic guitar, electric guitar, piano
Ron – organ, mellotron
Ric – drums

This was completed quickly, and determined to be A-list material. The author was surprised when he learned that both Ric and Ron had insisted this one be included on the final track list. The mix reveals Bobby's dexterity on the acoustic guitar. On close examination, the listener will discover the instrumentation changes in every verse.
10. Red Wing Spy (Sanchez)
Ron – vocals, slide guitar, guitar, baritone guitar, piano,organ, mellotron
Ric – drums Scott – vocals, 12 string guitar
Bob – bass
Clare Moore – vibes

When Deniz first heard this one he said "that sounds like the Brain". Written and recorded in one afternoon. There was much discussion about what to do with the end section. A 12-string guitar solo was attempted. When Ron leaned that Clare Moore played vibes, he asked her if she would play the same on this song. Bobby suggested the baritone guitar double the main lick after hearing it on the cover of Hearts In Her Eyes recorded for the Records tribute album. The track was completed with additions from Scott and Bob Brown.
11. Fulcrum (Sutliff)
Bobby – vocals, guitar, piano
Ron – organ, mellotron
Ric – drums
Matt Piucci – guitar solo

In January 2012, Bobby suggested it was time to sort through all the songs recorded so far and draw up a track listing. It was, but then Bobby handed in several more songs, this being the last one to be finished before his accident. It was this song that inspired Bobby to contact Mat about playing on the album. Once again, the album features a longer version.
12. In Search Of Connie Companion (Sanchez)
Ron – vocals, guitars, slide guitar,synth, organ, mellotron
Ric – drums



This is the first new song written for the album. Originally composed as an instrumental for the Bridge Bowl ski films, it was clear it could be adapted for the Brain album. Two drum tracks were recorded for this at two different sessions. It was Ric's idea to add the tom-tom part from the first attempt onto the second. This is one of at least three "dream songs" on the album.
13. Your Number (Langan)
Ron – guitars, second guitar solo, piano, organ, mellotron
Ric – drums
Jeff – bass
Scott – 12-string guitar, third guitar solo, vocals
Tony – vocals
Deniz – first guitar solo

Recorded in 1999 for the Great Leap Forward album. It didn't make the final track listing for that album, but it has always been considered suitable for use. Ric added a new drum track early in the process. Deniz replaced the harpsichord solo with a nice bluesy guitar interlude. He wouldn't replace the second solo, saying it was plenty good.. Only the second solo and the bass remain from the original 1999 track. Scott replaced the main guitar line and added the end solo.

When it became clear Colter wasn't going to participate any further, it was given to Scott and Tony to work out a new vocal track. The new harmony vocals completely changed the feel of the song. This had been on the short list for the CD, but was dropped because of the self imposed time restrictions. It was decided this was the perfect bonus track for the album where it opens side three.
---