Sewing The Seeds 1988 – 1992
If We Knew Then What We Know Now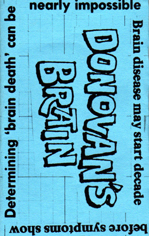 Put Your Finger On The Red Button, And The One That Says Play
In 1998, Ron Sanchez handed out a few copies his first 4-track recordings. No one ever listened to it.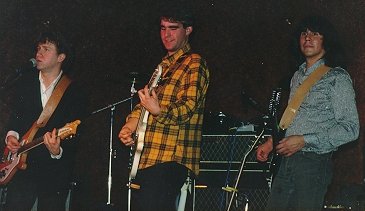 The first proper Donovan's Brain release was a ninety-minute self-titled cassette which was made up of three different elements. Once again it was a mixture of covers with four originals scattered through out. Kels contribution was a mad version of Lou Reed's Head Held High. Paul solos on one of the two Terry Dolan covers, Into The Wind.
The first section; 'Peer Pressure League: the new album' owes its name to a moment of inspiration that came to Ron during a conversation with Joe Howard; "I liked it," says Ron, "Because it sounds like the Super Heroes that force you to smoke; or the youth group that goes around making sure everyone conforms."
The second section; 'No Cops, Haul Ass' is a mini album of three longer guitar heavy numbers. An attempt at recording Man's Spunk Rock caught the attention of the Ptolameic Terrascope's Phil McMullen who gave the Brain one of their first reviews.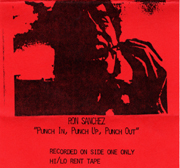 The third part of the cassette featured highlights from a KGLT Live Wire performance as Music Minus Ron, on which Days Playing Perky Pat makes a return appearance, this time being performed with the lyrics. The other three songs were also first heard on 'Punch In'.
Donovan's Brain began to play occasional gigs again, the first time around was under the name The Jesus And Mary Hartman. Colter joined Ron, Eric Danzer, and new bass player Eric Peterson. With Colter sharing the lead vocals, the Brain took a turn away from the punk and garage sound, and slipped into a new trippy sound. Although there was an aborted attempt to cut some tracks with Eric Danzer, this version of the group never managed to record.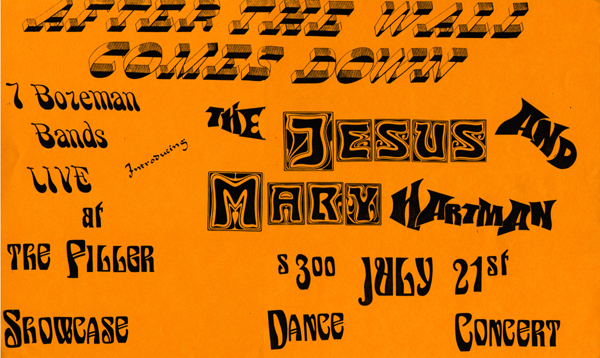 ---