Eclipse Watching 1994 – 1998
Don't Stare At The Sun Too Long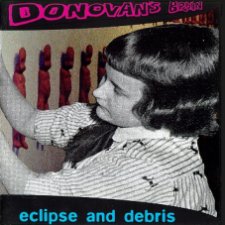 Breaking Up Once Again
As the fall of 1995 approached there was still the matter of the unfinished tapes from the early 1995 sessions. Ron recalls; "I had been talking to Richard Treece, guitar player with the much lamented 1970's English group Help Yourself, about a possible collaboration, and this seemed like the time. The five most complete songs were chosen to work on. Early versions of Two White Spiders, 22, Paul Rose's Shotgun Seat, and the Beatles Hey Bulldog were deemed unusable in any form and we abandoned them. Perky Pat, Central Services, and an untitled jam that became a song called Eclipse and Debris were speculative pieces that needed serious reconstruction before they would be suitable for further work. We booked a session for early February 1996 at Alaska Street Studios in London's Waterloo. In an amazing burst of activity bass and guitar were overdubbed onto the five songs. Still Waiting Still Dreaming went through the biggest change. The track was stripped down to the drums and keyboard overdubs, to which a new arrangement was adapted. Another old friend of mine, Jess Roden, was going to sing on the Keith Moon tribute Moon Shines, but in the end Jess had to beg off, so the guide vocal I cut became the lead line. There was also some talk of Pete Brown having a go at it, but time didn't allow us another day in the studio."
There was now half a Brain album in the can. Returning to Bozeman, work on the three remaining tracks began. The Perky Pat backing track was perfect except for a small drum flaw. A new intro was constructed by copying a bit of the track and adding it at the front. Tony Sacco overdubbed the organ and Ron replaced Paul Rose's bass line. Central Services was well played but at 13 minutes was felt to be far too long to be effective. Some heavy editing brought this one into much tighter focus, with the new version keeping the feeling of the original jam on top of which Jed Critter again added several guitar parts.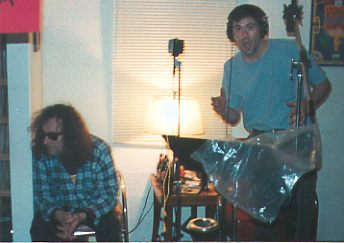 A visit from The Young Fresh Fellows in the spring of 1996 resulted in another new Brain song. Tad's New Cymbal Stand has an interesting history from writing to recording which Ron explains; "While searching through 8 track tapes, listening to demos, I came across a song fragment. I finally realized it was from an unfinished song of Colter's and in true songwriter's workshop fashion Colter, his partner Deb and I sat around with guitars until the song was demoed. When the Young Fresh Fellows arrived the six of us began rehearsing this new song." At midnight, Colter announced that he had to get up early the next morning and he headed off home. Scott McCaughey was quick on the guitar, and finished teaching the tricky changes to Kurt Bloch.
It only took two takes to get Tad's New Cymbal Stand on tape. The two different versions of this song come from one long take in which the song was played through twice. The shorter version became part of 1998's career spanning collection Carelessly Restored Art while a fully extended treatment of the song was eventually released on 1999's Eclipse and Debris and features some fine interplay between the three guitars of Ron Sanchez, Kurt Bloch and Scott McCaughey. The longer version also gained a fittingly longer title; Tads New Cymbal Stand Skips The Tour. The Neil Young like arrangement came out of thin air as the tape was rolling.
Much of 1996 was spent finishing the tracks under construction and writing new material. Donnerdodal und Emanzipation and Put The Bag Of Money On The Floor And Walk Away Slowly come from this period. With nearly enough material for an album it was decided to bring in a fresh set of ears when it came time to mix. Several people were asked and Ken Stringfellow from the Posies said he'd be interested. Ron and Ken were good friends, and Ken had visited GLEA when he came through on tour. Joe Howard had joined the Posies in the interim after a spell with Sky Cries Mary, and changed his name to Skyward.
Kels Koch had left Seattle for Austin, Texas where he was fronting the Million Sellers. He was asked to send up a song for the new album, and Anna Lee Page is another odd one in the Brain catalog. Without a regular drummer, local musician Sky Dunn was asked to come in to play on Kels' contribution. The results were a success and the song was added to the demo of a new album.
In early 1997 Donovan's Brain got a huge break in the form of a new drummer, Seth Lyon. Seth's first session saw him working on three songs left over from the Shambaholic sessions: Two White Spiders, Human Is, and No Cops, Haul Ass. It was quickly determined that Seth was going to work out. Seeing the possibilities, Ron reformed Donovan's Brain.
The new lineup was a collection of old friends playing all together for the first time. Colter and Jim were quick to join the new look Brain. Tony Sacco decided to get back on stage for the first time since high-school, once again giving the Brain a full time keyboard player. As soon as rehearsals began, there were inquiries about live gigs. Under Dose was one of the original songs worked up for the stage show. A storming version was captured on tape, and with a little work found a place on the new album. Then after a successful headlining gig the Brain again found themselves without a drummer. The mercurial Seth had decided to pull up roots and move.
Thankfully there was more than enough material in the can for album, and the two singles had finally seen the light of day. Ken Stringfellow booked a week's time in Montana to finish what would become Eclipse And Debris. Ron recalls; "With four extra songs, the running order was still undecided, but that was sorted out when Ken arrived. He said "it's Two White Spiders", which meant that Anna Lee Page slipped off the album, and the others were put back on the shelf. The mixing sessions went smoothly and the album's ten songs were completed in the allotted time. A whole chapter could be written about the details of mixing this album, but needless to say it was a sonic laboratory for the week." The proposed title track of Eclipse And Debris started as a spontaneous drum workout from Jason. Parts of this were copied and edited together and a song was written over it, but in the end the track failed to make the final cut and it remains unreleased.
The album was edited and mastered in Seattle with Mark Guenther, the engineer from 'Call Down The Moon', in June of 1997. Taking a tip from Green Pajama's manager Tom Dyer, the album was submitted to the Australian label, Camera Obscura. Within a week, label boss Tiny Deal called to say he wanted to release Eclipse And Debris. As it was late in the fall, it was decided that the Brain album would be scheduled for the spring of 1998. In the meantime Get Hip finally listened to the Eclipse tapes and asked what was happening for the Brain. With Eclipse assured a release date, Get Hip was offered another album, to which they quickly agreed.
With so much unreleased material on the shelf or only available on limited release, a career spanning album was compiled from the Shambaholic, Butterfly Wheel, and Eclipse sessions. Given the chance several of the songs were remixed for this release. It was also decided that the 7″ releases would retain one song unique to those records. Anna Lee Page was finally given an album slot, as was a cover of the Guided By Voices song Smothered In Hugs, which had also been recorded during the Eclipse sessions. Follow The Shining Path and 50,000,000 Years from Butterfly Wheel were also chosen for digital release. 50,000,000 Years went under its second major overhaul, and was given an all new mix.
In December of 1997, Seth Lyon returned to Bozeman, and a new batch of demos were prepared. As luck would have it, original bass player Kels Koch had also returned to Bozeman in an attempt to put down roots there. Jim Kehoe, Colter Langan, and Tony Sacco were also committed to recording some new songs. It was decided this time to forego gigging and just concentrate on the studio activities. The sessions began in January, and continued through the spring at a furious pace. It wasn't long before there was enough material for a new album underway. By the end of May it was clear that both Kels and Seth were getting ready to move again. Ron, Colter, Tony, and Jim continued working while deciding what to do about manning the drum stool.
In a minor feat of magic, Get Hip was able to release Carelessly Restored Art in less than two months from the time it was first discussed. The release coincided also with the run up to the San Francisco Terrastock Festival which took place in April 1998. During the festival Ron met with Camera Obscura label boss Tiny Deal and shook hands on the Eclipse release, but within a few short weeks Deal wrote to say he'd fallen on hard times, and wasn't able to meet the schedule. Up to that point he'd been advertising a summer 1998 distribution and had assigned the album a catalog number CAM017CD, but in reality the deal had gone sour. The release of Carelessly Restored Art helped soften the blow somewhat, but it looked like a big setback for Donovan's Brain.
In December 1998 Colter cut two new demos, and wanted to get to get back to the studio. Ron took the opportunity to cut a new song as well. It was finally decided to invite Jason McKnight to play on the songs. The day before the session, Ron received a call from Seth who was going to be passing through Bozeman for a few days, and wondered was there any work to do.
With just three new songs, and two drummers coming in, the vault was searched for suitable tracks. Four songs from the Butterfly Wheel cassette were pulled as well as two synth pieces. In all nine songs were overdubbed in just two short sessions.
After the disappointment of losing the Eclipse and Debris release on Camera Obscura, Ron continued to test the waters in an effort to get the album out. After getting a couple of vague offers, it was Get Hip who stepped out once again to take control. A deal was struck on New Year's Eve for a spring 1999 release.
---