Burnt Trees In The Snow (2019)
An Experiment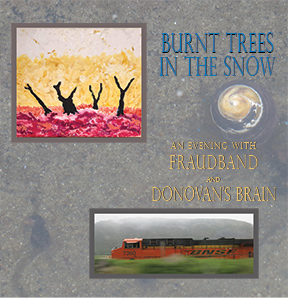 1. Kelp Whip (Sutherland) 3.42
2. Gandy Dancer (Sanchez) 4.32
3. Hear Me (Hughes) 4.21
4. Two Old Cats (Sanchez) 3.20
5. Flash Containment (Sanchez – Koch) 3.26
Fraudband
6. You Never Said
7. Better Loosen Up
8. Let You Away
9. What Comes Next
10. Making Things Better By Making Them Worse
bonus track
Donovan's Brain
11. Tad's New Cymbal Stand (box set outtake)
---
An Experiment
Burnt Trees In The Snow is an intercontinental Australian and American psych audio conspiracy featuring Fraudband and Donovan's Brain on this split album release. Melbourne's Kasumuen Records and Montana's Career Records have partnered for this joint effort.
Donovan's Brain confidently delivers their Technicolor brand of Paisley Pop jangle finished with Abbey Road psychedelic textures and West Coast guitar sounds.
The eight piece band share responsibilities over the five new songs. Appearing on this album are Tom Stevens (Long Ryders). Bobby Sutliff (Windbreakers), Deniz Tek (Radio Birdman), Scott Sutherland (Model Rockets), Ric Parnell (Atomic Rooster, Spinal Tap), Kris Hughes (My Girl The River), and Main Brain Ron Sanchez. Original Brain Kels Koch makes a cameo appearance on this, the Brain's eleventh album.
Fraudband hails from Melbourne Australia. They bring a guitar and drum instrumental sound to the proceedings. The results landing somewhere around planet Sonic Youth aboard the good ship Link Wray.
The five songs on their side of the album have been released on a Japanese only cd Blinkered Vision And Blurred Horizons. Burnt Trees gathers the best five songs for this vinyl only release.
The album includes a download that adds six bonus tracks, three from each band. The Donovan's Brain bonus tracks are out takes from the Convolutions Of The Brain triple CD box set. Three live Fraudband tracks round out the sixteen-song download.
---
Reviews
I-94 Bar
An unlikely pairing or a reckless act of inspiration? The contrasts on this split LP couldn't be more obvious, but somehow the partnership works brilliantly.

Fraudband is an Australian duo (drums and guitar) that plays stark and evocative instrumentals, while Donovan's Brain is a long-running American collective with roots in psychedelic West Coast and paisley pop. This LP, which you can buy on either side of the Pacific, gives each a toehold in the other's musical market. As is often the way in these digital times, the vinyl comes with a download code for six extra tracks, all of them as good as the 10 LP cuts.

Half the Fraudband contribution comes from a CD release called "Blinkered vision and blurred horizons", the rest of which ended up on a Bevis Frond split album. The Donovan's Brain stuff is drawn from a seemingly bottomless well of material, pieced together by leader Ron Sanchez.

Who makes the calls in Fraudband is shrouded in mystery as the members like to keep a low profile, and their sound is idiosyncratic and immediate. The band cites Sonic Youth and there are some parallels in song structure, but to these ears they only operate in a vaguely similar de-tuned sonic space. There's a distinct early Velvets or pre-commercially successful Triffids vibe about the LP songs, recorded live in a basic studio in an afternoon. Throw in a slight Television nuance – especially to the way Don's drumming makes maximum use of the kit – and some Dirty Three spontaneity and you'll get the idea.

The Fraudband guitar sound is drier than a footpath in outer-suburban Melbourne in a rain-less February and burns with similar intensity.

The Brain songs are, as always, diverse. The cast is drawn from all over, with Tom Stevens (Long Ryders), Deniz Tek (Radio Birdman), Scott Sutherland (Model Rockets) and Ric Parnell (Atomic Rooster, Spinal Tap), Bobby Sutcliff (Windbreakers), Kris Hughes (My Girl The River) and Kels Koch joining Ron Sanchez.

Stylistically speaking, the Brain really pushes the boat out there: "Gandy Dancer" sounds positively new wave – almost like a less highly-strung Devo – while "Kelp Whip" would give REM a run for their money. "Hear Me" is one of the warmest things they've put to tape, "Flash Containment" is a beefy rocker and "Two Old Cats" slips into a familiar Donovan's Brain groove, a keyboard line plodding through its innards while vocalists duet in the ozone.

Instrumental bonus track "Snow Trem" is funkier than the soundtrack for a a stumble down 125th Street in a blaxploitation movie and is so removed from previous Brain templates that you might think it's a different band.

Fraudband's "You Never Said" sounds like an unreleased Television song (one of the new ones like "Swells" they play live that would be on an album if only they weren't so lazy.) Some of the cuts run into each other like a film soundtrack – which is not a criticism. The rambunctious stormcloud of "Making Things Better By Making Them Worse" is a show of potential should Fraudband scope out a move into film scores. An enthralling live-in-Japan "Losing It" from a recent tour borders on the improvisational and suggests that Fraudband could follow the Dirty Three into that critical zone of complete acclaim, should they make it to Europe one day.
---
The Songs
1. Kelp Whip
Ron – guitar, keyboards
Scott Sutherland – vocals, guitars
Tom Stevens – bass
Ric Parnell – drums
2. Gandy Dancer
Ron – guitars, bass, keyboards, vocals
Bobby Sutliff – guitar solos
Ric Parnell – drums
3. Hear Me Wrong
Kris Hughes – vocals, acoustic guitar
Ron – keyboards, bass
Bobby Sutliff – guitars, organ
Ric Parnell – drums
4. Two Old Cats

Ron – vocals, guitars, keyboards
Kris Hughes – vocals
Tom Stevens – bass
Ric Parnell – drums

5. Flash Containment
Ron – guitars, bass, organ
Kels Koch – vocals
Deniz Tek – guitar solo
Ric Parnell – drums
---