Echo Intensity 2002 – 2005
A Defeat Of Echoes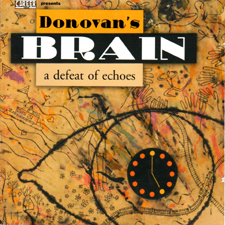 We pick up the story in the fall of 2002. Read on…
The Great Leap Forward was completed in May of 2002, just a week before Karen and I flew down to Australia to see Deniz play with Radio Birdman. By September, everyone was ready to get back to work.
We all were very happy with results achieved with The Great Leap Forward, but in reality only four of the songs had been recorded by this line up working together as a band.
As work of the first six of the new songs progressed, we booked a show with Kinski for the end of October. Deniz had already expressed an interest in playing out with us, so it was no surprise when he agreed to come over from Billings for the show. As usual, his busy schedule meant that he would only get one rehearsal with us on the day of the gig. The four of us were very comfortable with the new song. The set list added two from The Great Leap, a bit of Perky Pat and two for Deniz to sing, More Fun and You're Gonna Miss Me.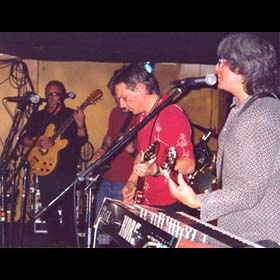 At the rehearsal, we turned on the recorder to see if we'd capture any good moments. Much to our surprise, five of the seven new songs were deemed masters and set aside for future use. Considering the circumstances, the gig was a wild rockin' ride through eleven songs that we'd never performed live together.
The next morning, still tired and hung over, it was decided that we would launch a new label to release the records we had been working on. A cup of coffee, a handshake, and Career Records was established.
Every Donovan's Brain album has been the result of a unique set of circumstances. In the past we've spent years assembling tracks, as band members come and go. When there were enough good songs, we stopped and released an album. Songs not used were either put on the shelf or reworked for future use.
Everyone involved is encouraged to bring material to the table for consideration. You have to be prepared to have your songs analyzed, disassemble and rebuilt before it can be considered Donovan's Brain material. There have been nights when we learned and recorded as many as four songs in one session.
October 2003
When Donovan's Brain returned to the studio in October 2003, there were ten new songs, most of which had been rehearsed extensively in the spring. As the sessions began, we returned to the recordings from the previous year to determined if they were acceptable. In the end only one was re-recorded and part of another was re-recorded.
The new material allowed us to experiment with different configurations in the studio. Jeff has brought us three songs this time around, which meant he would be playing more guitar than he did on Great Leap. Colter picked up the bass on two of these songs, and shared guitar duties with Jeff on the third. Ron Craighead, who was seen playing guitar and bass at rehearsals, has played tuned percussion and even stepped up to share lead vocals with Colter on one song. Five of the songs will find Ron Sanchez only playing keyboards and synthesizer, leaving guitar chores up to Colter, Jeff, and Deniz.
Megan Pickerel has returned to add her voice to the new album. With four singers in the band, Megan's distinctive style leaves Donovan's Brain with unlimited sonic options.
By June 2004 only two songs remained to be finished. Ten songs have gone through the final mix stage and been approved. It's hoped that Richard Treece will be able to add some guitar to a few of the new songs. Malcolm Morley has agreed to lend a hand to this bit of digital magic.
Everyone has been asked to contribute a short instrumental piece to help tie together the four "sides" of this double album.
……….more to come
November 2004
2004 has been a busy year around the studio, but most of the work has centered around other projects. The spring tour with Penny Ikinger and Roy Loney interrupted the first round of mixing sessions for the new Brain album. There was also another Angie Pepper-Donovan's Brain session which resulted in four tracks which will become part of her next solo album. The day after that was completed, GLEA was dismantle and reorganize around a brand new digital work station and mixing desk.
In spite of all the distractions, work did continue on the new Donovan's Brain album. Nearly all the tracks were mixed by Ron and Jeff. In the end only two of Jeff's were determined to be masters. With the studio rebuild looming, it was decided that to wait so we could take full advantage of the new set up. This also gave us time to write some new material and rework some of the songs already committed to tape.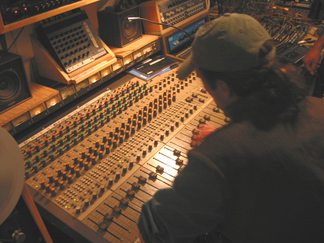 There was also the matter of Jeff relocating to Seattle. This forced us to sort out some of the songs before he left Bozeman. Jeff has now found a space for his studio and will continue work on the new material. The ease of exchanging digital files has also made it possible for some of other friends tocontribute to the new album.
As it stands today, all the songs have been loaded onto the hard drive and the mixing process has resumed. We had run out of room on the 16 track tape, so some ideas were not possible to realize. The unlimited tracks now available to us means that there will be additional overdubs laid down as we proceed. There is also the ability to do some very complicated mixes that were impossible in the past.
As mixing resumed in October, some new material was presented, and ideas were discussed for some of the "left over tracks". Of major concern is the "Dm Jam". This was a simple set of chord changes Colter brought in. We played this a lot, but never came up with anything more. We did play it live once, as a part of a long improvised piece. It sounded great, but didn't really resolve.
Here's where the computer came in handy. We recorded this piece twice. Once at rehearsal, and again at a dedicated recording session. The latter had a good feel, and a free form intro. In an attempt to find an arrangement in the performance, we created a bridge section by pasting some of the intro in the middle. A whole verse and halves of two other's were removed. The results were and bit more interesting than what we started with.
As mixing resumed some new material was presented, and ideas were discussed for some of the "left over tracks". Of major concern is the "Dm Jam". This was a simple set of chord changes Colter brought in. We played this a lot, but never came up with anything more. We did play it live once, as a part of a long improvised piece. It sounded great, but didn't really resolve.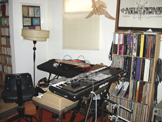 Here's where the computer came in handy. We recorded this piece twice. Once at rehearsal, and again at a dedicated recording session. The latter had a good feel, and a free form intro. In an attempt to find an arrangement in the performance, we created a bridge section by pasting some of the intro in the middle. A whole verse and halves of two other's were removed. The results were and bit more interesting than what we started with.
For the moment, we've sent this over to Richard Treece to add some of his guitar, and to Jeff to add lap steel. He'd played that instrument when this was performed live. We will return to this once the album proper is complete.
Along with this jam, five others were sent over to London for Richard to have his way with. He made his way to Walthamstrow on the 20th of November and added several tracks of guitar to these. Most important were his contributions to three of the albums tracks: Penny For Your Thoughts, Invisible Diamond Man, and Decade Of Days. Richard seemed pleased with the session despite the technical glitches. His usual method is to play a few takes, and then leave it up to us to pick the parts we like.
Deniz has requested the audio files for Bondi Tombstone be sent down to Coffs. He thought he might like to revisit that one more time before the final mix. We recorded a new section for this after he'd played on the original arrangement. This epic instrumental will the the final piece on the album and due to it's length will find some intricate guitar weaving throughout.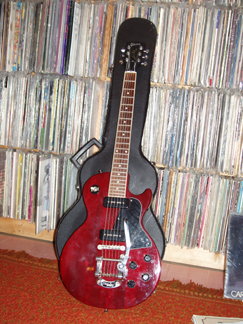 Back at Brain HQ, Ron, Ron and Colter returned to the studio to track drums on a new song Colter had written and a remake of one of Ron S's composition. The new one of Colter's is called "The Axis". He cut a demo a few weeks ago. Ron C played along with this until he discovered an arrangement for the song. The results makes this a possible late contender for the album.
"The Boy Who Cried New Town" has been around for a while now in various demo forms. A version just called "Sitting On My Porch", was recorded in the spring, along with a couple of others. This was finished and mixed, but in the end Ron decided that this arrangement had strayed too far from the original idea. A new track was cut with Colter, Jeff and Ron S. Once the new lyrics were written, Ron C was called in to add drums. Megan came back around and added vocals as did Colter. This remake, now called "The Boy Who Cried New Town" will be heard on the new album.
While in the studio, Ron C recorded a short piece to be used as a linking interlude on the album. It's called The Little Prince". Colter has also recorded a short piece to be used as a link bit as well.
Another track under reconstruction is original version of Jeff's song Control. Our first attempt of this number resulted in a 15 minute long cut. Jeff wanted the album version to more resemble his original demo, so we eventually recorded another more compact take and finished that for the album. In another move that would seem to confound the band, I decided we should tart up the first take, and edit down to a manageable length. The idea is we would use this as a bonus track for the album. As it turns out there was footage of Donovan's Brain from the "house concert" back in April. Keith Lockwood who shot the film has agreed to edit a video to accompany the live in the studio take of Control. This will appear on the new album as an "enhanced CD element"… you'll have to stick the cd into your computer to see and hear it. The complete 15 minute version will be put into the "box set" file for future use. Hold your breath now….
In the past I took tapes over to London and we hired a studio or gear to do the work. Richard has also visited Montana twice to record and gig. This time around, travel wast not in the budget, so other arrangements had to be made.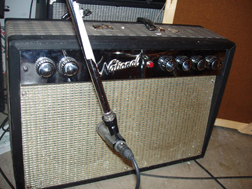 Richard's band Green Ray has recorded a new album at Ant Farm, a studio just out side of London, in Walthamstrow. I spoke with the owner, Paul Newman, and we agreed it would be a simple matter to exchange computer files to do the session. Another advantage of moving into the modern age.
The only hang up was getting Richard to the studio. He doesn't drive, and public transit wouldn't suit his needs. In the end Richard was able to secure a lift, and the session went down with out a problem .
We are awaiting the arrival of the computer files, so we can proceed with the final mix on these tracks.
December 2004
Jeff has also completed several overdubs and dropped the discs in the mail. He'll be back in Bozeman on the weekend of December 17th for a paying gig with the Longhorns. It's hoped he can spend some time reviewing the progress on the Brain album.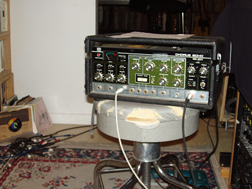 The album design is also a long distance effort. We've enlisted the help of Mark Ferrie to help out with the ideas we put together here. Mark was a member of the legendary Sacred Cowboys and currently plays with the Renovators, both big favorites around Career HQ. He was also responsible for the art direction on Penny Ikinger's album Electra.
Mark has reworked some elements of the original design and refined other bits. As a musician he's got a keen understanding of our intenet and push forward, full speed ahead.
In a deluge of computer files, material from London and West Seattle arrived this week. Richard successfuly added guitar to six songs. We'd given him a few suggestionsas to what the song needed. He taken that and given us plenty of material to work with. In a perfect world he would have been here to cut all the tracks with us. In the end by defaut he's playing on the ones that suit him best. He's also contributed to at least two songs for the next album and one for the "box set".
The first of Richard's contributions to be mixed was the one of the heavier pieces for the album, "Penny For Your Thoughts". I wrote this while walking around Sydney, buying records in the spring of 2002. In the end, it was nearly the last song recorded for the album. A whole evening was dedicated to the basic track. Ron Craighead had an idea that tested all of us. Several attempts were made before a satisfactory take was recorded. After that much effort was expended, there were very high expectations. Synth, a guitar solo, prayer bowls, and vocals from Ron, Megan, Colter and Jeff were added to the backing track and a suitable mix was made. When arrangements were made to involve Treece, this was one that was at the top of the list for him to attack.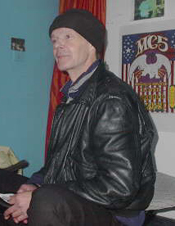 On this particular song, Ricky recorded three passes. This proved to be a classic display of his creative processes. The first take had some great licks, but he missed some of the slightly unexpected changes. On the next take he nailed the changes and played a searing line through the whole song. On the third take he switched over to slide. Rather than using an open tuning, Richard just flips the guitar onto his lap and plays with a steel. He also kicked on his delay pedal for some very atmospheric sounds.
After listening to all three tracks, a compilation was made of the best parts. This was then put up with the rest of the tracks. Then it was a process of editing out all but the best from the parts previously recorded by Colter and Ron, and doing a bit more culling of the comp track. Much to our surprise, we were able to recreated the feel of the original mix, but now with the marvelous contribution from Richard Treece.
Once that was completed the video version of Control was the next in line for mix. Everyone had agreed to the idea, Colter came around to patch up his original bass part and Megan added background vocals. As luck would have it, Jeff was back in Bozeman for a gig with The Longhorns, another band he and Ron Craighead play in. The first order of the day was to redo the lead vocal. When we cut this track nearly two years ago, it was never seriously considered a contender for the album due to it's length and loose performance. Jeff had a much more complex vision for the album track, so this take was put into the "box set" stack. When we decided to go ahead with the video, we had to work out how to edit the 15 minutes down to a more managible six minutes. This was one of the first times we'd played Control, and we were still trying to find the thread. After we'd made it through the proper song we just kept going. Jeff played some very good guitar bits, but being the humble sort, he was reluctant to present this to the public. There was a natural break in the performance that made for an easy edit. While working on the vocals, Jeff pointed out a few bits to be edited out. He also realized that Megan had changed a few of the lyrics when she added the background harmonies. Listn to the two versions and you'll spot the differences. The rest was actually prettys simple. Once that was done, a mix of the complete fifteen minute performance was also spun off.
This exercise probably justifies the mountain of tapes accumulated from rehearsal recordings over the years.With this now comfortably in the can, the final mix for the album can processes, just about on schedule.
Making rough mixes for an album in progress is always a tricky issue. There is the tendency to become attached to these, and the final mix is a frustrating process of "chasing the rough". To avoid this there are not usually proper roughs made while recording Donovan's Brain albums.
The only test mixes for the Eclipse And Debris album were made to cassette, to prevent them from being considered for the final album. The Great Leap Forward was only ever mixed once. A draft of the running order was assembled and taken on a road trip to Seattle. Upon returning, three tracks were remixed, and the album was mastered.
A Defeat Of Echoes had been under construction for nearly two years when all the competed tracks were given a proper mix. At one point a Spring 2004 release date was penciled in on the Career calendar. With the North West Tour looming, it became clear that this was unrealistic. Two of Jeff's songs: Control and Rezolution were complete. The mix sessions for these were considered serious attempts and the final results were marked masters.
After the tour was wrapped up a few more songs received a preliminary mix. A rough running order was drawn up and everyone was given a CD. Once they had all been reviewed,, it was clear that more work was needed to be done. Sessions were booked and everyone came back in for the final touch up work. While in town to record with Angie, Deniz added a bit more guitar to Colter's Decade Of Days.
The studio remodel changed the picture dramatically. There was now no question that the album would be remixed. The Digital Work Station would allow us to add more to the existing tracks. In past we'd learned to live with the limitations of 16 tracks, but as this album progressed, we were frustrated by the lack of space on a few songs. Everyone seemed excited at the new possibilities and gladly came back around for one last round of recording.
January 2005

We had also asked our friend Bobby Sutliff from 80's favorites the Windbreakers, to contribute to the album. The one track that had never been finished or mixed was City Morning. Attempts to layer background vocals were complicated by the lack of track space. It was also discovered that Colter's lead vocal track wasn't satisfactory. Bobby was given pretty much a free hand. Unfortunately, computer gremlins held up his work, and the tracks didn't arrive until mid-January 2005.
Only knowing that he'd done a guitar solo, we were very pleased to hear he'd spent time do do a very elaborated Beach Boys harmony for the ending, doubled the lead vocal, as well as the solo. He even sent along a rough mix so we could see how he envisioned his additions to the song. In the end, we found that what we had considered a failed attempts at the end vocals fit perfectly with Bobby layered stereo voice track. The doubled lead voice gave Colter a guide, and he was able to patch up the rough spots on his track in just a few minutes.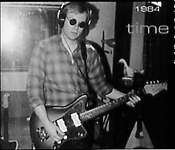 City Morning is the last of the proper tracks to be mixed. Three short interlude tracks have been recorded and will also be mixed in the next few days. If all goes well, the album will be in the can by next week. Amazingly, this is two weeks ahead of schedule.
Over the last weekend in January, the final assembly of the album began. Much to our delight, Jeff sent over his "interlude" piece, "Yul Brenner". The completed a conceptual idea for presenting a "double album on a cd".
The real intent of a double vinyl album has now been lost in the digital age. Classic double sets like The Beatles and Exile On Main Street were sequenced as four discreet programs. Each side had a beginning and end, or a particular theme. When these four sides are strung together on an 80 minute disc, the whole feel is lost. The act of getting up to turn the album over put a distinct boundry on a section, much like act of a play. You can program in longer gaps between songs on a cd, but this doesn't seem to have the same effect.
What we decided to try was to drop in a short instrumental interlude coupled with five second gaps on either side. Two seconds is the standard space between songs. The result seems to work in it's own way. It defines the four sides as a complete statement. Plus you get four minitures, each showing off a musical side of each member.
Colter and Ron Craighead opted for an acoustic approach. Colter's When The Summer Comes is a melodic acoustic guitar instrumental. Ron C's The Little Prince is also based around acoustic guitars. He's read a bit of the famous book quietly underneath the twin guitars. The album's title track is a short bit of echoing piano lifted from the video version of Control. Ron Sanchez edited this and layered some synth sounds and a dualing Space Echo effect. Yul Brenner, Jeff's piece, is most complex of the four. This driving tune serves as the "End Credits" for the album. We'll have to see if the listeners accept this approach.
February 2005
You might think it all neatly wraps up there…
There are always surprises in the last stages of preparing a new album. When the album and video arrived at the mastering studio, it was discovered that the music portion of the album was so long that there wasn't room to embed the vid into the CD. There was some concern when the final running order was being determined. The option was to abandon the video idea or, think fast.
Putting the vid on a separate DVD seemed to be the best fall back plan. The only problem was that we only had the 6 minute long Control clip. This wasn't the most efficient use of the second disc. There was no way to assemble the band to shoot any additional footage, and a photo slide show didn't seem that exciting. There is good footage of the Brain's debut at Terrastock, but this would have required some serious editing and audio restoration. We also felt like this was too far removed from the new album to make it a part of the package. Not to worry, this will one day appear in the much discussed Box Set.
Vince Sanchez, who was doing the mastering worked, asked what else we had. Well… there was the matter of Penny Ikinger's videos. We'd used one on her album but there were two others that we had hoped to use for tour promotion. Unfortunately due to format issue were were never able to get these dubbed from the digital masters. But once again luck was running in our favor. Vince just happened to be working on a TV series for an Australian presenter, Sean Murphy. This meant there was a PAL format video deck in his studio.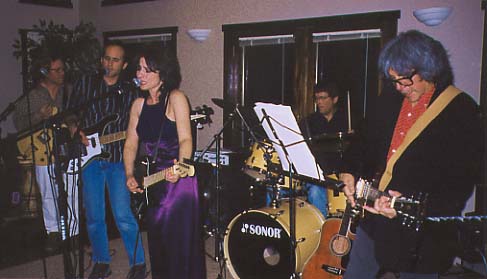 The DVD will be the first release under the film/Career banner. You'll have to think of it as a Career Records promo dvd rather than just a Donovan's Brain title. There is an obvious connection between The Brain and Penny Ikinger stemming from working together on the 2004 tour. The resulting DVD compilation is a real treat. Rachael Lucas has done a fabulous job on the short films for Andalucian Man and the title track for Penny's album, Electra. If you have Penny's CD, you've already seen the vid for Kathleen. We hope that the Donovan's Brain fans that haven't been exposed to Penny's music will investigate further. This will also provide a bit of continuity while Penny prepares to record her next album.
Best of all, the DVD format is a huge improvement over the QuickTime option that we had originally planned to use. You will now be able to view these films on your wide screen TV, and hear the music in full fidelity. As The video version of Control is a completely different performance and arrangement, you will be able to enjoy it in all of it's nearly live in the studio vibe.
These changes made for some last minute scrambling to come up with new art work for the DVD disc and make the minor changes on the cover art. This is all part of the game, and caused a few sleepless nights. The masters were shipped to the pressing plant on the 25th of March. We expect to have finshed CDs in hand in about 10 days.
You'll be the first to know. Meanwhile Ron and Colter have begun writing material for the next one…..
Oh, I guess we're not done yet. It seems the pressing plant managed to misplace the art file for the DVD. As a result we've lost a weeks time, and our middle man has suffered mild embarassment. These sorts of problems have caused some sleepless nights, but we seem to be on schedule. The trick is to set the deadline well ahead of our release date and then watch the buffer dissapear with each delay.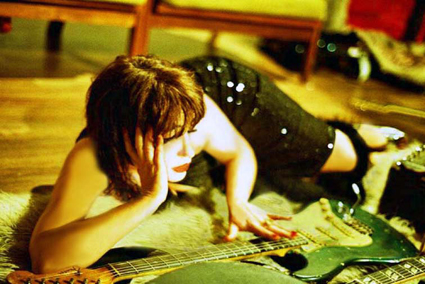 In good news, I sorted through the tapes made at the rehearsals last year with Penny Ikinger. Donovan's Brain learned all ten songs from "Electra", plus two new ones. On close examination, the take of Sycamore Tree was near perfect. There are no plans at this point to use this recording on Penny's new album. That leaves a very interesting alternate version of Electra with Donovan's Brain in the vault for future use!
---