Another Light Show 1998 – 2000
Now Who Is In The Band?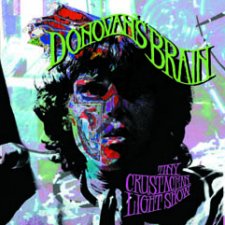 Two Years: Start With One Band, End With Another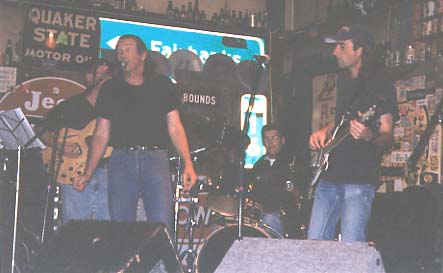 At the beginning of 1999 Colter Langan announced he was leaving Bozeman to take a new job in Boise, Idaho. With most of his work done, it was disappointing to see him go, but a good career move from his perspective. In an unexpected twist, the gods of rock and roll smiled on Donovan's Brain in the person of Dave Walker, best known for his work with Savoy Brown, but also the man who replaced Jeff Lynne in the Idle Race. Ron and Dave first met in San Francisco back in 1976 when Dave was playing with John Cipollina's Raven. It turned out to be the swan song for that band, but guitarist Greg Douglass had other ideas. He took Dave and bassist Skip Olsen to form Mistress. Twenty years later Dave had moved up to Montana and in February decided to start playing the coffee shops. It was a surprise reunion to say the least. Within a week, he was down to GLEA and on his way to becoming an important member of Donovan's Brain.
Meanwhile arrangements were being finalised for Richard Treece's arrival in Bozeman. From the start it had been decided to have Treece once again join The Brain in the studio. This time around, a trip to Bozeman seemed to be the logical move. Richard arrived mid May for a month long stay. With so much material and the long distances travelled he was overwhelmed when he sat down to begin work. After a few tentative days, the routine was broken by the arrival of Colter Langan, back in town for a few days. There was a bit of work to be done on his two new compositions. "Being the professional he is," says Ron, "it was only a matter of a couple of hours to get the songs sorted out."
The next day the Brain were treated to a visit from Sweden's Nomads. They'd hoped to visit Montana on their 1999 tour, and a spare day appeared on their itinerary. Ron had offered the use of the studio to the Nomads, which they gladly accepted. While setting up the drums Richard and Ron asked J. 'Orca' Erickson to play drums on a brand new song that they'd recorded that morning. While he complained that he didn't know the song, a splendid drum part was recorded in a few takes.
The next day was spent recording in earnest, with the Nomads cutting two tracks. They recut Top Alcohol, a song left off their new album at the last minute. Also started was a cover of the unreleased Donovan's Brain instrumental No Cops, Haul Ass. The Nomads left the tapes with Richard and Ron to add their guitar parts. Dave showed up the next morning just in time to do a tambourine overdub and then say goodbye to the Nomads.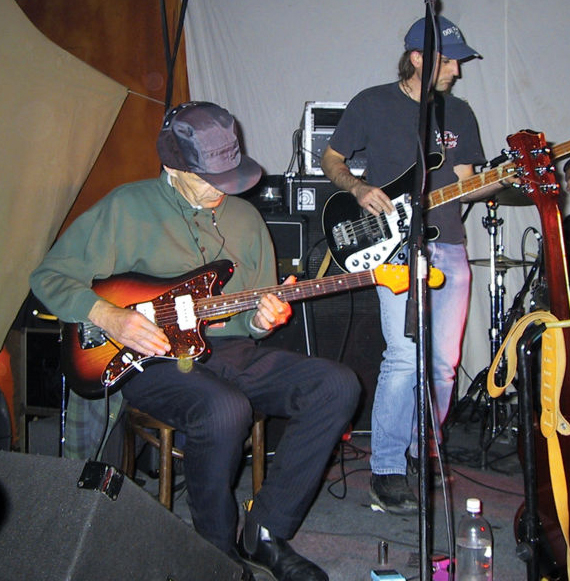 The flurry of activity continued with work completed on nineteen new Brain songs over the next few weeks. Richard brought along a tape of a collaboration with Malcolm Morley. He asked Dave if he wanted to do the vocals. Brave New Girl marked the first time Richard and Malcolm had recorded together since Help Yourself, and the addition of Dave Walker makes for a surprising blend of talents. To return the favor Dave asked Richard to accompany him at a gig at the Leaf And Bean. For the handful of casual listeners, this was an evening of delightful singing and amazing playing. To cap off the month, Bozeman saw the arrival of Brain associate Joey Kline for a weekend of music and party. Joey cut three of his songs while waiting for dinner. There were two Brains songs that seemed designed for Joey's guitar style, and he of course accept the invitation to appear on some songs.
Before Richard left Bozeman, he invited Ron to sit in with Green Ray at the up coming Terrastock III show in London. It was also decided to continue the recording in London so Ken Whaley could add his thundering bass to some of the new songs. In the week before he left for England, Ron and Dave wrote and recorded two more songs. This came on the heels of Dave writing lyrics for one of Colter's songs.
It was never decided what to call the Green Ray-Donovan's Brain encounter. It's as close to a Donovan's Brain gig as anyone has seen in two and a half years. The recording sessions commenced two days later at Malc's Madhouse in Islington. A makeshift studio was set up in Malcolm Morley's sitting room, and the tapes began to roll. Due to ill health, Richard Treece was unable to make it out for the sessions. This quashed any hope of calling it a Help Yourself reunion but didn't stop Malcolm and Ken Whaley from adding bass and keyboards to ten Donovan's Brain songs.
On his return from London in September, Ron and the Brains continued work on the first album to emerge from the thirty-three songs up for consideration and Dave and Ron banged out lyrics for the song formerly known as 'Ron's New Song #1'. They also played out as a duo, performing a few of the new songs and testing the waters for further Donovan's Brain shows.
In Spring 2000 a conversation with Gregg Kostelich, Get Hip label boss, put the next Brain album on the front burner. Ron's was asked to supply some tape before the end of March (before Gregg and the Cynics went out on the road for a couple of months) and within the next few weeks a selection of sample tapes was in transit between Bozeman and Pittsburgh. The third Donovan's Brain CD collection, tentatively titled 'Tiny Crustacean Light Show', was being carefully sculpted into shape at GLEA. Contributions from many of the usual suspects were incorporated into yet another eclectic blend of sounds, styles and influences. The final track listing wasn't worked out until the last minute, because it was never certain quite how the songs were going to fit together. Ron said; "I do know there is a lot of guitar on these songs, and I promise to turn them up loud!" Release was scheduled for May with an early summer distribution. Typical of the Get Hip process, this date was pushed back to the end of the year, causing much concern in the Brain camp, and resulting in major distribution changes in the near future.
Four of the songs were laid down at the end of 1999. After a false start with a hopeful, but unavailable sticksman, the Brain took on a new drummer, Ron Craighead. Ron had been in the studio with other bands, but he asked if he could work with the Brain, which eased the usual concerns about who's gonna do it. During the year there had been percussive contributions from Seth Lyon, Jason McKnight, Duke Brown, and Joakim from the Nomads. Despite it all, Seth was on the books for a session in April to cut some more of his material for the Brain. Ron Craighead had been around during February, and added drums to four brand new songs. These included Colter's next smash, Your Number. The Brain also worked on two Sanchez compositions, Neuro Psych Trail Head and The Known Sea, a song that Malcom Morley had previously done some work on. There were further sessions to complete Fever's Touch and Helium Eraser Bends v2. Another new song from Ron Sanchez and Dave Walker, Ocean Of Storms, also benefited from Ron Craighead's input.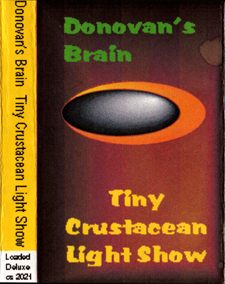 As 2000 marched steadily on into summer, Ron Sanchez expressed real excitement on hearing these songs finally turn the corner. Hopes that Ken Stringfellow would be back in Bozeman to lend his magical ear to the final mixes were dashed as he focused on finishing the Saltine album for his own band, but with that in mind Ron began to mix the songs he wanted to appear on the new album. He explained, "The album had already been roughly mixed and sequenced, so you'd think it was a simple proposition. The only problem was that we'd recorded something like 35 songs over the last two years. Everyone had been writing some really great songs, and they kept sending them in. We pulled some old tracks and freshened them up for future use too. There was enough material for two CDs and a few more!"
Of the songs that didn't quite make the final cut for 'Tiny Crustacean Light Show', a number still found their way out into the public domain by various means. My Favorite Record is another on of Colter's songs. We laid down the basic track in December of '98, just before he packed up and moved to Boise. Jason added the drums to it in January of '99. We pulled the tapes back out in the spring of last year when Colter returned for a quick visit. At that time he fixed up the vocals and added a guitar overdub. Joey Kline plays some guitar on it too. I took the tapes over to London for the last bit of work, adding Ken on the dancing bass. My Favorite Record would remain on the shelf until it found it's place as the main theme for the film "Where The DJ's Roam". Read about it on the Film Music page.
During the summer Ron was involved as music coordinator for the student ski film '99 Sense'. Montana State University has a well known film department, producing top talents like actor Bill Pullman and director John Dahl. 99 Sense director Matt Jacobs approached Ron in search of original music for the film. Donovan's Brain have contributed two new instrumentals, Fever's Touch and The Gondola Sequence. Jacobs also picked Days Playing Perky Pat from 1999's 'Eclipse and Debris' collection. Three other songs produced at GLEA were also set for the sound track. The Nomads cover of No Cops, Haul Ass, Oxide's Let's Go and The Everyday Sinners Rip It Up were to appear in the film. The Nomads track featured the guitars of Richard Treece and Ron Sanchez.
An invitation in the fall to appear at the prestigious Terrastock IV Festival was gleefully accepted. Held over November 3, 4 and 5 at the Show Box in Seattle, the Brains were scheduled to appear on Sunday the 5th. The line up for this performance was to be Colter Langan on guitar, vocals and keyboards; Ron Sanchez on guitar, vocals and keyboards; Dave Walker on vocals, harmonica and keyboards; Jeff Arntsen on bass and vocals; and Ron Craighead on drums and vocals.
Band rehearsals were quickly underway. The Brains selected material from all three of their Get Hip releases as well as at least three brand new songs. As is their usual method, the rehearsal sessions were recorded, and new material captured throughout the rehearsal sessions. Two new pieces were laid to tape. Colter's folk rock composition Your Number had already been in the works for a few weeks, and another piece of music for the film 99 Sense, The Gondola Sequence, was built by jeff and the two Rons around Ron Craighead's storming drum track. This was his first contribution to the Brain discography.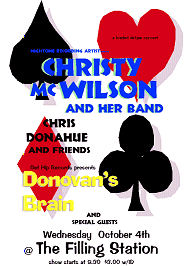 Wednesday October 4th saw the Brains first live performance for nearly four years when they put in a thirty minute set opening for Christy McWilson and her band. Ron commented; "Christy is Scott McCaughey's wife. Her new album got a rave review in the summer 2000 Mojo issue that focused on the mid-sixties. When Christy asked if she could finish the tour up here in Bozeman, we couldn't say no, and set up a night at the famous Filling Station. I became the promoter of the gig by default!"
Then it was off to Seattle, and Terrastock. The band played like their lives depended on it! Guest guitarist Richard Treece was the star of the show, and according to Ron was "easily the best guitarist of the weekend." In the end vocalist Dave Walker couldn't be there but the Brains did his song anyway, with Colter singing. Scott McCaughey sat in on four numbers, and Richard Booth contributed some harmonies on one song.
The set on the day was: Tad's New Cymbal Stand Skips The Tour; Tiny Crustacean Light Show; Holly Green; Say Farewell; The Magic's Gone; My Little Town; Central Services; Make A Noise Quietly; and Days Playing Perky Pat.
After a long wait, the final revisions to the Tiny Crustacean Light Show cover art were approved, and the CD finally made it onto the streets and shelves in November 2000. Ron Sanchez had taken a week out of the Terrastock rehearsals to visit Get Hip headquarters in Pittsburgh. As well as sorting out the album cover, he reached a long term agreement with Get Hip assuring release of all future Donovan's Brain recordings. This agreement would have continued, had Gregg not turned his attentions to his band, The Cynics, which occupied most of his time for the next two years.
The Donovan's Brain contribution to the Man tribute album was a recording of The Single #2 (aka TV Dinners). This track was laid down during the early sessions for Tiny Crustacean Light Show, and featured Kels Koch on vocals, with a guitar contribution from Joey Kline. A couple of attempts at We're Only Children were unsuccessful, and with time running out The Single #2 was mixed and sent off to Pete Gifford for the compilation. The album, entitled "Man, We're Glad We Know You", was released in December 2000, and quickly sold out, making it an instant rarity. Details are found on the Compilations Page.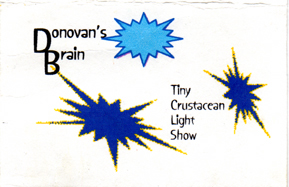 Here is an early cassette compilation of 17 of the songs under construction. This would appear to have been assembled at the end of 1998, before Richard Treece and Dave Walker had arrived. The title song hadn't been recorded at this point, but the lyrics had been written. Several of the songs have working titles. "Pawn Shop" became Arnold 4 Souls; Jim's New Song became The Ballad Of Where's Jim; "D-Jam" is now known as Bok The Beer Elf; Prodigal Martyr is of course All Over The World, and "Colter's New Song" was completed as Who's Little Girl. Click on the cover to see the complete cover with details.
---