One Small Leap 1999 – 2001
The Great Leap Forward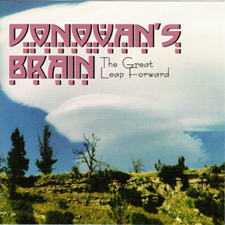 Stay On The Path, There's No Short Cuts
From the first moment, it was clear that the fourth Donovan's Brain record was destined to be something different. The only problem was, this realization came in the middle of the sessions for Tiny Crustacean Light Show, which was the third and final Brain release for Get Hip.
The first sign that things were about to change was when I wrote a song that became Neuro Psych Trail Head. The title was a twist on a phrase in a listing on a mail order site. In the Summer of 1999, Richard Treece had spent a month in Bozeman working on a load of songs for us. Dave Walker spent most of the summer here at GLEA too. After Ricky left there was still a lot of inspiration, but the band had scattered, so it was down to just me and Dave. When I played this new songs for Dave, he came back with one of his own, Say Farewell. We also sat down and wrote Ocean Of Storms together. Just before I'd left for London, I wrote one more, The Known Sea, though neither of the last two had these titles at the time.
All of a sudden, there was a fresh batch of songs that seemed to point in a new direction. While there has never been any sort of Brain master plan, it was pretty clear that the first two albums, Carelessly Restored Art and Eclipse And Debris had very different sounds. Art was the remnants of Shambaholic, my psych rock opera, and Eclipse was based around the more jam oriented sounds of the 1995 band.
With these new songs on the table, I looked at where we were with the songs recorded in 1998, and it seemed to point towards a more straight-ahead rock album. What I decided was to put some of he more overt psych Tiny Crust songs aside for use on the next one. This wasn't a problem as we'd recorded over twenty songs, so there was still a good album to give to Get Hip. I just felt like things were headed in a new direction and I was hearing something in these two sets of songs that I wanted to continue.
From the Summer '98 sessions I decided to hold on to All Over The World, My Little Town, Human Is and a song called Punch Wax Circus. There was also both of Jim Kehoe's songs, which he'd never finished, Miami and Speed.
Early 2000
As I began mixing the songs recorded for Tiny Crustacean Light Show, my mind was already into the next album. The problem was there was no band. I figured if I could find a drummer, we'd be half way there. On the recommendation of Jim Kehoe, a drummer was suggested. At least two sessions were canceled due to no show of this gent. When he finally made it over, it was clear he wasn't up to the task and was completely unsuitable for what we needed. The recordings were scrapped.
Then out of the blue, Ron Craighead called and offered his services. Ron had recorded at GLEA with a local cover band. He said he'd heard our CDs and wanted to know if he could be a part of our little experiment. The initial session was so successful, he came back the next two days and played on several of the instrumental tracks I had been working on.
My first choice for a bass player was Jeff Arntsen. Jeff had played in "K" with Paul Rose, the former Brain guitarist and general trouble maker. Jeff agreed to come around and give it a try. Even before they met, it was looking like Jeff and Ron would make the perfect Brain rhythm section. But it wouldn't be until late in the summer before they first played together. That was the first rehearsals for the Seattle Terrastock. The first sessions were as a trio, but Colter was on his way back to Bozeman by then. With Colter's return to Bozeman, the band's local elements are complete once again. In the year and half that he was gone what work he did was crammed into his brief visits or progressed via 4 track demos in the mail.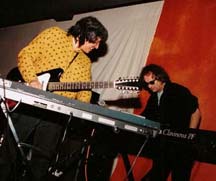 The real surprise was the return of Richard Treece. I'm sure Ron C. and Jeff didn't have a clue what was in store. They just knew a friend of Ron's from London was going to join the band for a couple of weeks. The first time we all got together in the studio, could be considered the first real Donovan's Brain performance. The improv numbers like Perky Pat and Central Services came to life with Ricky pushing the rest of us to test our limits.
The Terrastock Festival in Seattle was a huge success all around. In Seattle we were joined by another long time Donovan's Brain associate, Scott McCaughey, who kindly sat in on keyboards with us. This was quite a shock for most of the band who'd never met Scott before he walked on stage! There is talk of a CD set of the Festival being released in the near future.
Early 2001
Since the beginning of the new year, we've been back in the studio cutting some new tracks, and finishing up others for a new album. In all ten new songs have been recorded over the last year. To this we've added four songs recorded during the sessions for Tiny Crustacean Light Show. Further work has been done on these tracks, with Ron and Jeff adding new parts.
Fall 2001
Donovan's Brain appeared Tuesday October 9th at the Zebra Below in Bozeman. The occasion was a mini-Terrastock in Montana. Seattle T'Stock favorites Kinski will be headlining this night of space rock and psychedelic experiments. This show will be the first stop on Kinski's tour in support of their new album 'Be Gentle With The Warm Turtle'.
The Kinski-Brain connection actually predates the formation of Donovan's Brain. In 1986, Chris Martin was a member of Beat Nothings along with Kels Koch. I produced their demos with with help from my brother Vince at a Santa Cruz studio. In classic fashion, the Beat Nothings broke up with in a few weeks of returning to Montana. This was the catalyst for the formation of the original Donovan's Brain line up, which included Kels Koch.
For this gig, the Brain will once again be expanding the line up to include Megan Pickerel (Jessimine, Swoon 23, Transparent Things). Megan and Jeff play together in Jeff's fabulous band, Racket Ship. The addition of Megan gives the Brain a fourth voice for harmonies. She'll also be playing e-bow, and piano in the set. The band is excited to be featuring more songs from the album that is currently in the works.
Jeff was kind enough to let us play his fabulous song Crystal Palace, the best tune from the Racket Ship song book. Crystal Palace is a duet with Jeff and Megan, and it got the Brain treatment. We did cut a good version of this, which we will finish up for the album. In all, there should be 16 songs to choose from for the next album.
Sunday February 17 2000
Colter was over to add parts to a pair of songs he hadn't yet appeared on. My Little Town dates back to the '98 sessions. After playing this live last year, I pulled the tapes out to record some of the ideas that had surfaced. Jeff has added some vocals, and Colter had a guitar part. Neuro Psych Trail Head was begun at the end of 1999, just when Colter was packing up to move to Boise for a new job. As a result, he missed all the sessions for this track. When taking inventory of our accumulated recordings, he started singing along with this one. We sorted out a part for him to sing. These two songs are now ready to mix.
Deniz Tek walked in with his guitars as Colter was finishing up. There was only time for brief hellos before the next shift started. Deniz had suggested that he might like to play on some Brain songs. When I offered up some songs that he could add guitar to, he lept at the chance.

All Fall Down could be one of the highlights of the new album, but it still lacked the solo the song needed. Richard Booth had a go at it when he was here, but he didn't have enough time to develop his ideas. We had recorded this one and Cloud Maker during rehearsals for Terrastock. Richard Treece played a stunning solo on the latter. Deniz came prepared with a clever riff to add to the end solo section. I asked him if he could transpose that pattern to fit on the verse. The song took a sudden Flamin' Groovies flavor.

The Known Sea is another song that was started just as we were completing work on Tiny Crustacean Light Show. This was one of nine or ten tracks I took to London in September 1999. Malc Morley played a bit of the Third Man Theme on this one. All that was lacking was a guitar solo at the end, to help resolve the complex structure. Karen had finally sung a long discussed vocal line the night before, to give Deniz a melodic hint.
Say Farewell was written by Dave Walker in the the style of a Pink Floyd type blues number. We've played this arrangement live, but our attempts to record it fell short. Dave and I had also recorded a much faster version. Ken Whaley and Malc both worked on this during the '99 London sessions. By the time I brought this back to the band, everyone was attached to the slow version, and couldn't get their heads around this performance.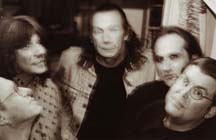 Only Treece, who doesn't play on it, and myself were interested. I always envisioned a second guitar line to go along with what I'd played. Colter agreed that it needed another part to fatten up the sound. Deniz could not see why the guys had a problem with the song, and launched right in. The mission was simple: play the guitar.
Three songs down, and the evening was still young. In the last few weeks, it's become apparent that despite all our pleading, Jim Kehoe wasn't going to come around and finish up his song known as Speed. This is yet another track from the Tiny Crust sessions. Speed was on the short list for that album until the very last minute. This is a fairly amazing track, unlike anything else we've done. Not wanting to abandon it, I decided to write a new set of lyrics. After cutting a guide track, I had Jeff and then Colter try singing it. None of our attempts were a complete success. After a listen, Deniz said "I can sing that one easy". It only took a few passes to nail this. The song will appear on the next album as Where's Jim or possibly The Ballad Of Jim Kehoe. Only on a Donovan's Brain record would you find Deniz Tek and Richard Treece playing together.
Monday February 18th
The morning was set aside to do some repair work on a live tape of the Tek-Morgan band. Some of the punch of the three guitar attack had been lost in the mix. The goal was to fill out the sound without disturbing the live performance. To keep it from becoming too analytical, we approached it as if it were a live performance. I just put up the tape, and pressed record. The whole process took less than two hours. By then it was time for lunch.
The rest of the day was spent working out the lyrics for Deniz' other composition, Flight 19, and adding guitars to the five tracks. We may come back to it at a later date. The work was completed to our satisfaction by 9.30pm. After dinner and a visit from Jeff and Megan, it was time to relax, have a drink, and listen to the Kinks. Deniz had never heard Creeping Jean, the obscure 1969 single. I think we both had the idea that this one would be a great song to learn.
Tuesday February 19th
Deniz wanted some rough mixes of his material to take home. We were both very pleased with the sounds. Time and exhaustion keep the process simple. After a few listens, we have both come up with some ideas, which we'll return to on the next visit.
Meanwhile only a few minor overdubs remain to be performed on the Brain recordings. I can now turn my full attention to the mixing process.
There were also plans to cut a new version of I Saw The Light. Two sessions are dedicated to working on a very different arrangement of this song that was originally recorded as a ballad. I had the idea to try it as a more expansive rock tune. We nearly captured the feel, but it's clear we won't finish this in time for the album, so it's put aside.
As the mixing phase began, I remembered that we'd never finished one of Colter's new ones, Following Orders. Jeff had added bass to the song, nearly a year earlier, but that was it. Ron Craighead worked up a very interesting idea which lifted the song to a new level. He also sang a harmony to Colter's lead. This done, I added organ, piano and a guitar solo in one evening and mixed
the songs. This quick rough mix is what you hear on the album.
The whole album was mixed by April. I took the album mock up with me on to Seattle, where we'd be going to see Roy Loney and The Longshots perform. This gave me a chance to see how it was shaping up. Upon returning to Bozeman, everyone's comments were taken under consideration and two songs and parts of two others were remixed.
Unlike the problem plagued marathon mixing sessions for Tiny Crustacean Light Show, The Great Leap was a relatively pain free process. This was also the first time there was a computer in the studio for a Donovan's Brain album mix. The album itself was recorded to the analog 16 track, as we had in the past. With the Mac running Sound Designer, I was able to mix the songs in sections, making it possible to create some complex sounds. Only a hint of the digital future that was knocking a the door.
In the spring of 2002 we were still expecting Get Hip to release The Great Leap Forward. I sent them a copy, but there was no reply. After weeks of phone calls, the reply was "we might put it out sometime". The problem was that Gregg Kostelich had reactivated the Cynics, and all his attention was directed there. This situation wasn't acceptable. Deniz, who had also worked with Get Hip was very insistent that we not even deal with him. He felt like this album was too important to Donovan's Brain to not get the full backing of our label.
We put together a package of tracks by Donovan's Brain, The Golden Breed, and Angie Pepper and began the soul destroying process of going to all the labels we could think of and pitching our wears. After a summer of no replies, we were at a loss as what to do.
The four Brains knew what to do. We began work on a half dozen new songs. By the end of Summer we had worked them into shape. When I got word from Kinski that they wanted to book a return engagement in Bozeman, the wheel of fortune began turning. I asked Deniz if he'd like to sit in with us at the gig, an offer he accepted, despite a very busy schedule.
You'll have to jump over to the Defeat Of Echoes page to find out what happened over those two days.
---