Regrouped And Renewed 2023 – 2024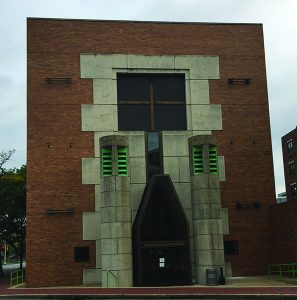 Looking Toward The Future

Were We Happy Then?
Paper Pilots Pushing
Scram The Reactor
Hey Bobby!
Ghosts
In Time

Adjust The Vertical Hold
Stranger In The Light Of Day
How To Leave Connecticut
Sunset Heart
Mirror Pieces
Stay Strong

If You Can Find The Way
Stinging
An Echo Of Apology
Head Hits The Floor Hard
She Sits In Her Room
Drumshanbo
---
19 August 2023
Two months ago Tony Miller took on the job of rescuing the failed song, Morror Pieces. I'd written a song called Harvest Zoo Fireplace. When I got done, recording it, it just didn't hang right. After some thought I did some heaving editing and rewrote the words as UFO. I still wasn't happy. I wrote yet another set of words, Mirror Pieces. This was better, but I never felt like I'd found the melody. Tony came up with a fresh set of lyrics and sang it with completely different approach. Bingo. I've added some synth and mellotron. I'd read a piece about Brian Jones and his mellotron work for the Stones. The article detailed the tron settings he'd used. I decided to give it a try for one small section of the song. It might work. Now there is the matter of a guitar solo, or rather two. I can hear an idea. I just have to make that happen.

Seems that the band including myslef are in vacation mode. I've also got the Bobby Sutliff release to deal with. It'll be a week before we return to wrok on the new songs on the list. The new album has gone under a major revision. I think it's gotten better. Some may questio having five lead vocalists. Deal with it.
---
3 September 2023
A lot has happened in the Brain camp over the last couple of months. Joe Adragna is now fully integrated into the band. Scott McCaughey asked Joe to play drums on a new song we wrote together. I followed up and asked Joe if he'd be interested in working with us. Turns out he was a big fan of Scott Sutherland's work with Model Rockets. I sent him over another song to see if he could get along with what we do. The results pleased both of us. An invitation to submit songs was met with several songs offered up. Scott and Joe worked together on another song. It was apparent we found a compatible collaborator. As a result the new album has been revised to make room for three new songs, one of Scott's and two of Joe's.



There is no way we could replace Ric and Bobby in the band. This is a new and very different version of Donovan's Brain.
The current plan is to release a digital EP early next year. Three songs have been earmarked for that. This is meant to be an introduction to the new line up. Work on the next album will continue. In the background, we will be writing and recording new material for the one after that. Joe is doing the finish work on a new album as The Junior League. A fantastic, mostly one man band project. Scott is always busy with the various bands hands he plays with in Seattle including The Zack Static Sect.
I'm currently mixing Ghosts. Once that one is done, I'll move on to Scram The Reactor, one of Scott's songs. Joe did overdubs on both. Deniz Tek has agreed to play on Paper Pilots. Once he's added guitar, that one is complete. I'll be assessing the state of the songs and reach other to Kris and Joe as well as others in our extended family.
---
8 June 2023
Tony Miller has offered to lend a hand. He thought he could contribute vocals and melodies. I sent him over a song that has troubled me since the start.Currently titled Mirror Pieces. This is the third attempt I'd done.The track is solid. It's been rebuilt a couple of times. During our discussion Tony also suggested we try a drummer he's been working with. I've talked to Scott Sutherland, he's up for trying. We have three new songs we can send over for a test drive.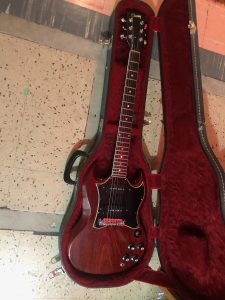 In the meantime, I've returned to Paper Pilots Pushing. This one was intended to be the opening track on Faith In Failure. As the album was nearing completion, it became apparent that the song needed a rethink. The over ambitious intro section was just not working for me. With that in mind, I started from scratch. My new idea wasn't working, so I just started playing to see what came up. It didn't take long for a new arrangement to appear. Some computer gremlins nearly sunk the whole song. I was able to export all the audio tracks into a fresh project file and get back on track. I checked the vocals, fearing the worst. In the end just a few small repairs were needed. A guitar solo is next up. Always nice when a song does improve with some thought.
The video for Disappearing Firelight took much longer than expected. I had the concept well before the record was released. Executing it was a different matter. It finally came together this last week. I suspect a second video is in the plans for the near future
---
25 May 2023
Promotion work on Faith In Failure is ramping up. We've got some radio play and a review at Terrascope On Line.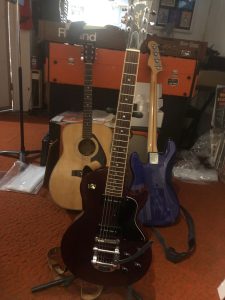 Meanwhile, the studio has been active again. Wendy Yee and I had an extended discussion about the unfinished songs Bobby Sutliff left behind. She had been doing a thorough search of his computers for stray tracks. One question I had was about the song Nothing Last Forever. Bobby had offered this up in 2011. He sent over a fairly complete instrumental version of the song. I asked him to send the individual tracks so we could work on it. For reasons unknown, he didn't have these. He did send a second, earlier recording which he was able to send the music and drums separately. Ric added drums to this track, but Bobby showed no interest in rebuilding the song. End of story. Wendy wasn't able to find the original project files, just the mixes I had. I decided to see if I could learn the song and rebuild it so I could add vocals and do a proper mix. It turns out it wasn't very complicated. I got a good framework started. While doing this, I realized I could still used the end section, a lovely guitar solo. This one is has been added to the long list of potential songs for the next albums.
After this effort, I decided to look through the folder of demos and fragments Bobby had sent over the years. I'd bundled up all these pieces and sent them back to Bobby to make sure he could review them for his own album. I recognized most of the pieces. There was one piece that showed up twice. I've not checked to see if he actually finished this one. I learned it and charted out the two sections. I got an idea for a bridge section which I thought might be a good way to start the song. That night I wrote some lyrics. This was good.
The next day I tried singing the words over the track I'd recorded. I quickly realized that the bridge section I'd written worked better as the verse. This discovery sent me off on a search for a new arrangement. I decided that part of Bobby's verse structure would become the chorus. I completely ditched his second section. I wrote a new short bridge section and assembled the parts. It came together quickly.
The new song is called Stranger In The Light Of Day. Three guitar tracks have been recorded.Some work remains to be done. It's developed into a very strong contender for the next album. The drum dilemma still needs to be resolved.
---
25 April 2023
The last two days have been very exciting. Scott McCaughey checked in and said he would work on the collaboration idea he'd proposed. Two hour later a simple track arrived. Piano and vocals, singing my lyrics. We discussed how to proceed. Scott said he had a drummer who could add to the track. I knew Scott Sutherland would want to participate and suggested he take on the bass responsibilities. I would add guitar and maybe strings. Everyone was on board with that plan. Scott made one small change in the lyric which made the song that much better. He also added a couple of words to make a line scan better. It was stunning to hear my words transformed into a song. I'd not given Scott any direction. He's someone you can trust.

Today, Scott Sutherland sent over yet another new song. That makes a total of six on the list. While talking to Scott and Kris I realized there was an old idea that would be perfect to revive. Sad Eyes is a song I learned from Terry Dolan. David Hayes had written the song back in the late 70s. The Pirates played it a few times. When I checked today, I saw it was one of the first songs Ric played drums on. I'd never been happy with my work on that, so it's just been on the B list since 2010. A few weeks ago Peter Holsapple offered to play on anything I might have for him. I think this is the one. I mentioned this to Kris. I'm hearing her voice on this song. The wheels have been put in motion.
---
23 April 2023
The last month has been a time for travel. After Hawaii we spent the weekend in Billings. That included a visit with Bob Brown. He had some good stories about the tour he'd just done with Deniz.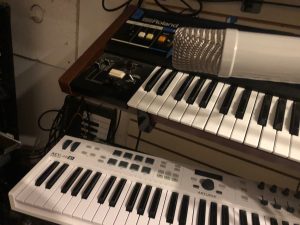 Then it was of to Washington DC. In the couple of weeks back at home before DC, I got the song Stinging (aka What They Want) up to speed. It's still a work in progress. They layers of synths and guitars are sounding interesting. On the return flight from DC to Chicago I managed to write a complete set of lyrics. I also had a musical idea to go with those. After a couple of days work, its come together very well. This will be an all electronic song. No real drums. Its another one which will build over time.
Before I continued, I once again needed to inventory all the song currently in the work folder. Some have been rebuilt with new lyrics. I needed to connect the original titles with the new working title. At some point in the near future, I'll start thinking about the next album track list. A narrow focus is the only way I can move forward in an efficient manner.
---
22 March 2023
Problems with the printer has meant our new CD has been pushed back. Furnace had to contract a new printer, which means the process is starting all over. The likely release now appears to be around May 1st. This disrupts some plans, but not much we can do. My contact has said she would try to get us moved up the que.

Meanwhile it's back to song writing. Layered Skies has been sent over to Scott Sutherland for further work. He's written the bridge and has been assigned the second verse. Scott sent back a new one of his titled In Time. This is a very good one and is a strong contender. The next album will feature several of Scott's songs.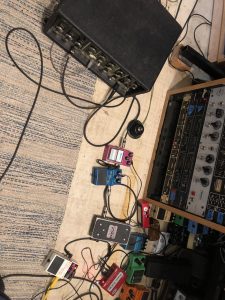 The song formerly known as What They Want has gone through a major rebuild. The original song got moved to the reject file early on. It was one of the many songs recorded for Sandbox Shadows. When I reviewed it recently, I was sure I could salvage some of it. There were six distinct parts, which never jelled. The verse section had promise as did part of the chorus. I did some serous editing to create a new verse/chorus. I wrote some words to see if it worked. One more bit of editing was needed to sort out the verse. The bridge got a total rebuild too. The track is slowing building up. I'll complete the lyrics before I make some decision about the guitar part.
While visiting Deniz Tek last week, I found an idea while playing his broken down, out of tune piano. I recorded a quick sketch when we returned to Bozeman. That is parked for now.
A lyric idea came to me while listening to the No Ones new album. There seemed to be a theme through Scott McCaughey's lyrics. I sent him a note about his record and shared part of my idea. He suggested he could finish it for me and said he'd want to sing it. We shall see. I won't let him forget the offer.
---
11 February 2023
The last couple of weeks have been the business of releasing a new album.
I've been working on a few song idea. Words have been written and the basic structure recorded. It's now been a matter of finding the feel. I wrote the song on piano and then transposed it to guitar. At this point I can see where it should go. I've talked to Scott about taking on the second verse. He would have a free hand to work with in the basic chord structure. I've not been able to dedicate much time to this due to a couple of unexpected events related to the band.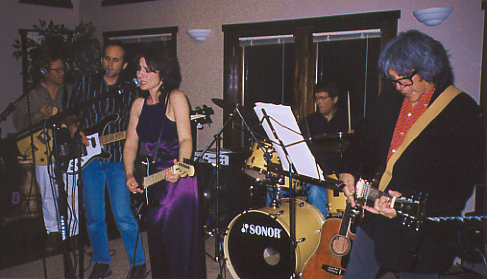 In 2004 Donovan's Brain did a short tour with Roy Loney and Penny Ikinger. Pen flew out from Melbourne for this. The Brain would play the opening set, then back Penny for her set. We learned all ten songs from her new album Electra plus one more new one, Sycamore Tree. I recorded two days of the rehearsals to see if we could capture anything. I'd had good luck when Richard Treece joined us and and also with Deniz Tek. Three masters for Defeat Of Echoes were taken from our session with Deniz. The obvious stand out was Penny's new song. The arrangement was created by the band. I sent her a rough mix of the track the next year. When it came time to record it for Penelope she decided on a new arrangement. When I was assembling the Convolutions box set I asked her if I could use this recording. She wasn't sure so I dropped the idea.
Two weeks ago Penny contacted me and asked if I could do a final mix of Sycamore Tree for a compilation she was working on. Easy enough. It took some work to get it up to speed, but the results were more than acceptable. While I had the files up on the computer I decided to do rough mixes of all ten Electra songs. A few were played twice, so I had to compare the versions and note the best ones. Sycamore was one of those recorded twice. Upon review, it was clear that the second take was far superior. This is the one we'd been listening to for years. When Penny heard the alternative album, she asked if I could mix some others. I was happy to. I'd already decided I'd mix all the songs for my own enjoyment. Two more songs have now been mixed and I'll do one more for now. She can use those as she pleases.
The second bit of good news was that Bobby Sutliff's wife Wendy wanted to release Bob's final solo album. He'd completed the record shortly before he died. When I asked him what his plans were, he said he didn't have any desire to release it. Fair enough. Wendy has other ideas. After discussing the pressing options I suggested I'd be happy to put it out on Career. That would assure distribution and promotion. Wendy was more than happy to do just that.We've agreed to get it out at the end of summer. I didn't feel like we could do a proper job if we tried to get it out any sooner.
Bobby's album is eleven new recordings, nine originals and two covers. Two of the originals began life as Brain songs and have Ric and Tom on them. The CD will add two demos to the track list. A vinyl release will also happen, but we don't expect to see copies until early next year. We both felt that this album needed to be heard and presented with respect.
At the moment the delivery date for Faith In Failure is still to be determined. Once they art is approved for printing it shoul dbe about three weeks until it ships. I'lm looking at March 15th target date.
---