Fires Which Burnt Brightly (2009)
You Are, No 6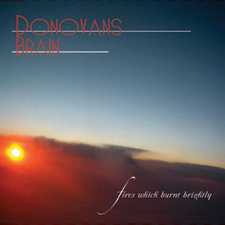 1. The Same Mistakes (Sanchez)
2. Green 17 (Langan)
3. Broken Glass Corner (Sanchez)
4. You Gotta Go Now (Sutliff)
5.Carefully Considered Answers (Langan-Sanchez)
6. Last Acid Riders (Sanchez)
7. After The Main Sequence (Sanchez)
8. Come For The Sun (Langan)
9. Wooden Horse (Sanchez)
10. I Saw Your Light (Langan)
11. Vanished (Tek-Sanchez-Masuak)
12. High Street Hit Man (Sanchez-Sutliff)
13. Thinking About Neutrons(Sanchez-Tek)
---
Reviews
Jack Rabid The Big Takeover
"Ronald Sanchez has valiantly led this neo-psych Bozeman, MT collective for 23 years with Colter Langan and legendary Radio Birdman guitarist/aviator/doctor Deniz Tek. All three write, as does Windbreakers veteran Bobby Sutliff, while another proto-punk, original Flaming Groovies leader Roy Loney, cameos. With such superlative talent, and a combined record collection to start their own Amoeba, it's directed into a magnificently moody, mid-tempo psych stew with folk-rock underpinnings, like my favorite Bevis Frond, Byrds, Jefferson Airplane, Seeds, and some Birdman songs. Like the best psych meditations, this is a far-out catchy trip without a narcotics flashback, and the concluding seven-track song-cycle is ambitiously stupendous."
---
The Songs
1. The Same Mistakes (Ronald Sanchez)
Ronald – organ, pianos, guitars, vocals, strings, 12 string guitar
Mike – drums, percussion
Bob – bass
Bobby – 12 string guitar, acoustic guitar
Colter – vocals Lila – vocals

The Same Mistakes was one of the first two songs I wrote for the follow up to The Defeat Of Echoes. This one appeared fully formed, words and music. The 2006 demo became the framework for the master, though none of the original parts made it to the final track. On the demo, the acoustic guitar and vocal were recorded live, with just one mic, assuring that this scratch track couldn't be used. The middle section remained undefined for some time. When I was preparing the tracks to send to Bob Sutliff, I added organ, slide guitar and some strings to give the bridge some shape. Bob returned the track with the main string section and timpani added. The 12 string part was his invention as well.
2. Green 17 (Colter Langan)
Colter – guitar, vocals
Ron – drums
Bob – bass
Deniz guitar, solo
Ronald – guitar, piano, organ, strings

I think Colter recorded the original demo for this as part of the first set of songs he submitted. That recording was much slower, and some of it wasn't fully worked out. When we started work on the album in January 2008, Colter had the arrangement, that you hear on the record. This was one of the first tracks Deniz and I worked on. Den suggested I take my guitar part out of the verses and work out a keyboard part. This was probably the easiest song to record. Ron C added drums at the end of the year and Bob Brown laid down the bass at his marathon over dub session. I couldn't tell you what the song is about, one of the best songs Colter has given us.
3. Broken Glass Corner (Ronald Sanchez)
Ronald – guitars, organ, piano, strings and reeds, vocals
Mike – drums
Bob – bass
Bobby – guitar solo
Tony Miller – vocals
Lila – vocals



We rarely abandon a good song idea. The intro/outtro section of Broken Glass Corner has been around for a long time. At one point it was part of the song that was recorded as The Boy Who Cried New Town. As far as I can tell, the demo of "Clarinet" was recorded in early 2007. I don't really remember writing the song, and there were no chart in my notebook. This suggests it was written as I recorded it. The lyrics were written a year later, and are just a dream I had, transcribed and fit into the structure of the song. It was at this point that I realized I had no idea what the chords were. The bridge was written just before Mike Musburger came out to add the drums. There had been two attempts at the middle section which didn't add anything to the songs. At one point I removed the bridge completely, but that didn't work either. The final attempt was done with the intention of it being a guitar solo. When I got done, it seemed like the guitars were suggesting a melody, so I quickly wrote the lyrics, and sang them. Tony Miller and Lila Cebulla added some important vocal parts to the song, which gave it the dream-like feeling.
4. You Gotta Go Now (Bobby Sutliff)
Bobby – 12 string guitar, guitar, organ, bass, vocals
Mike – drums, percussion
Deniz – guitar
Ronald – leslie guitar, backwards guitar, strings

Bob sent this one over, and said "do what you want with it". That is always a dangerous thing to offer us. The demo of You Gotta Go Now was good enough to be released with out any involvment from the rest of us. When I sat down to learn the song, I could hear another riff in my head. After the initial 12 string figure, I added the decending leslied guitar riff. When Deniz played the song, he suggested a changing two of the chords. He assured me it wouldn't disrupt the vocal melody. When we sent our handy work back to Bob, he was a little surprised that we had taken up his offer and messed with the song. A couple of days later, he wrote to say he was good with our ideas would proceed. There was much discussion about what the drums should do. The work track had a syncopated drum figure that was inspired by something Ringo might do. I told Mike what we were trying to capture, he seemed to know exactly what to do, and did it extremely well.
5. Carefully Considered Answers (music – Colter Langan, words – Ronald Sanchez)
Colter – vocals, guitar
Ron – drums
Bobby – guitars, end solo, bass
Deniz – guitars
Ronald – piano, organ, guitars, vocals, strings, percussion
Lila – vocals

Colter recorded a demo for this one back in 1998, when we were working on Great Leap Forward. I Saw Your Light, Following Orders and a song called Your Number were also recorded at the same time. We never tried recording this one with the band, as it was just a guitar riff and a good beat. At some point we must have revisited it, maybe for Echoes, because there was an attempt to add vocals. When we started collecting material for this album, I asked Colter if we could try this one again. I had an idea, and this seemed to be the perfect vehicle for that. Bob Sutliff and I share a strong interest in most things Fleetwood Mac. This would be our attempt to try and capture the sound of Danny Kirwin and Peter Green. I played a bit of an obscure Danny Kirwin tune for Deniz, and he said, "yeah, I got it". He worked out the main riff, which is based on Colter's original guitar part, but done in a much different style. Where the original was not unlike a driving surf song, this would take on a folky feel. Bob answered with the harmony guitar line and the solo. The lyrics came to me while driving over to Billings to record Vanished. This would be one of the few times I dictated the drum part to Ron C. I'd usually trust his instincts, but in this case, I knew exactly what I wanted to hear.
6. Last Acid Rider (Ronald Sanchez)
Ronald – guitars, backwards guitar, piano, organ, strings, vocals
Ron – drums
Bob – bass
Deniz guitars – first solo, vocals
Bobby – 12 string guitar, end guitar solo
Lila – vocals

The music was written at the same time as Same Mistakes, lyrics came much later. The recording process is ofter a voyage of discovery. The framework for this song left a couple of things to be determined later. When Deniz did the first guitar solo, he asked what would go in the spaces on either end. I explained what I had in mind, and he did the guitar part required. With that in place, it was fairly easy to fill in the blanks. Once I got the guide vocal recorded the rest of the song came together quickly. I had expected Richard Treece would play on this one, doing the end solo. After several attempts to find a suitable recording space, it became apparent it just wan't going to happen. I asked Bobby if he wanted to have a go at it. I figured if he wasn't able, I'd do it. When he got the track, he said, "Jeff Beck". Easy enough. At the very end, I had a short list of finish work that needed to be done. One item was background vocals. Lila had done her parts, but it needed another voice. Deniz was willing to have a go, and in the end, came up with a good part. The fuzzy organ is sort of a tribute to Deep Purple. I don't know why, but the sound of a Hammond through a Marshall amp seemed like a good idea.
7. After The Final Sequence (Ronald Sanchez)
Ronald – guitars, piano, organ, strings
Mike – drums
Jeff – bass
Deniz – guitar solo
Colter – guitar

This piece was just called the "Overture" until the last minute. As far as I can tell, it was written and recorded after Great Leap Forward was completed. Jeff played bass on it, and Seth added drums a bit later on. Richard Treece attempted to add guitar to this, when he was working on Defeat Of Echoes. I don't think it was ever considered a proper Brain song. When we started collecting material for the new album, I put this on the list. When work on the album reached a point that we said "these 13 songs are the album called Fires Which Burnt Brightly", it seemed like some of the songs had a common theme. Wooden Horse and High Street Hit Man were the most obvious ones. Every concept needs an overture, and this one filled the bill. The title is one of the phases of a Super Nova, and connected it to the title of the album and this group of songs. When asked to add a guitar solo, Den's first reaction was to not attempt to play over the first section. That proved to be a good choice and led to the new drum arrangement. His languid blues licks suggested the mallets on the second section. I had decided to have Mike redo the drums so it would match the rest of the album. He nailed the half time feel.
8. Come For The Sun (Colter Langan)
Colter – guitar, vocals
Roy Loney – vocals
Ron – drums
Bob – bass
Deniz – guitar, guitar solo
Ronald – organ, strings, flutes, percussion
Tony Miller – vocals

When Deniz heard this, he suggested it would be perfect for the next Roy Loney album. I was reluctant to give away such a good song from Colter, and proposed we just get Roy to sing it. Colter was ok with the idea, and as it turned out, Roy was going to be in Seattle in a couple of weeks and would be able to do it right away. I think Colter had the basic idea when we recorded demos in 2006, but he hadn't recorded it. When asked to show me all his new songs, he played this one, which I recognized and knew was going to be perfect for the record, We sat down and cut a demo. The bridge and end were worked out then. Again, this one was pretty simple, and didn't take much to get it into shape. Tony Miller's background voices were the perfect addition. Colter had to learn Roy's phrasing when he added his vocals. The original title was Colonies On Fire. It was also known as Banana Republican.
9. Wooden Horse (Ronald Sanchez)
Ronald – organ, pianos, guitars, strings, vocals
Mike – drums, percussion
Bob – bass
Colter – acoustic guitar
Bobby – toy piano
Deniz and Karen – vocals

A month after we started work on the record, my dad died. A week after that, I woke up with this song in my head. I cut a demo the same day. The song is about a miniature carousel my father had just completed after working on it for over 10 years. You can see it in the Wooden Horse video, it's quite amazing. When I sat down to do the final vocals, I discovered I'd recorded the track a step and a half too high for my limited range. This meant rerecording the whole song. Luckily, I hadn't gotten too far along. I chose not to attempt the piano part that was heard over the beginning and the end on the original version. Bobby's "toy piano" was the perfect substitue. Due to the personal nature of this song, I decided to do most of the track myself. I asked Colter to do the acoustic guitar, as a tribute to my dad, someone he knew pretty well. When I was mixing the song, I got an idea for a background part. I wanted Deniz to contribute to the song and I knew Karen would be happy to add a bit. We all joined in for the Round, Round lines.
10. I Saw Your Light (Colter Langan)
Colter – guitar, vocals
Ron – drums
Jeff – bass
Ronald – pianos, organ, strings, slide guitar, acoustic guitar, synth solo
Deniz – guitar solo
Jason Lytle – piano, synths, vocals
Lila – vocals

Sometimes a song needs time to ripen. Colter demoed this while he was still living in Boise in 1998/9. We recorded it for Great Leap, but when it came time to pick the running order, this one seemed like one ballad too many. I did more work on straight away. When we started working on the next album, it was considered, and I did the 12 string parts. We ended up with so many good new songs, this one never was on the short list. There was little doubt that we would get this one on Fires. I did more overdubs with this in mind. It was pretty aparent the vocals were not up to par, and I had Colter redo the lead vocal. The original background part was also not going to work. Jason Lytle had suggested he'd do something for the record, and I figured if I told him this was our "ELO" song he'd be on board. He added vocals, a little piano figure and two synth parts. This was another one that was on the Richard Treece list. It fell on Deniz to figure out what to do for the end solo. After several attempts, he scaled the part back to some atmospheric licks. I asked Ron to redo his drums, as he had said he could do it better. I think all that remains from the Great Leap version is Colter's guitar and Jeff's bass.
11. Vanished (words – Deniz Tek, music – Deniz Tek, Chris Mazuak, Ronald Sanchez)
Deniz – vocals, guitars
Bob – bass
Tony Horton – drums
Ronald – 12 string guitar, organ
Lizzy Mack – vocals

Another song from the archives, but in this case it was the Radio Birdman shelf. There are two Birdman recordings of Vanished, one with Ron Keeley and a second with Rusty. Rob recorded a guide vocal on the latter. I think there were 19 songs on the short list for Zeno Beach, and there was no attempt to record a master take of Vanished. Deniz wondered if we could do a Brain version, which seemed like a great idea to me. The demo I recorded was the basis for this arrangement. It's taken at a faster tempo than the Birdman version. With out Pip's fluid piano, it took on a punkier feel. I was probably thinking of the Jefferson Airplane song 3/5 Of A Mile In 10 Seconds, and attempted a busy Jack Cassidy bass line. Den liked the idea, and decided we should record it in Billings with Tony and Bob. When we finished and listened back to the track Den said "yes, it's like Another Side To This Life'. With that in mind he wrote two sets of lyrics. Satisfied with the second attempt, he took the track to Australia, where LIzzy Mack added her vocals while working on the Soul Movers album. There was much discussion about the bridge. I handed Deniz my baritone guitar and said try this. I'm not sure where it fits in the concept, but it works.
12. High Street Hit Man (music – Bobby Sutliff, words – Ronald Sanchez)
Bobby – guitar, 12 string guitar, acoustic guitar, string vocals
Ronald – 12 string guitar, guitars, vocals, harpsichord, organ, strings, synth, vocals
Mike – drums
Bob – bass
Colter – vocals
Deniz – vocals
Lila – vocals

This was an album of collaborations. High Street Hit Man was a stroke of luck. At some point in the summer of 2008, while driving out to Belgrade to check the junk shops, the idea for Hit Man Came To Me. Lyrics and melody filled my head. I pulled off the highway was soon as I got to Belgrade, but couldn't find the notebook and pen I usually carry with me. By the time I got back to the studio, only a fleeting memory of the song remained. The carefully worked out vereses were gone, but the story was still there, so I just wrote it out as prose. The narrative was so complicated I started thinking this might need to be a "mini-opera" with several movements. Not long after, Bob Sutliff sent over an instrumental track, and asked if I could use it. The songs totally captured the feel of I was looking for. I had to heavily edit the lyrics I had to fit the arrangement. The second chorus played half time, became the middle. I only added one or two chords to resolve it back to the next verse. Bob, Colter and myself had done time in record retail, and everyone in the band was a record collector of some sort. It's based on my own experiece, but there was a real person who I think of as the High Street Hit Man.
13. Thinking About Neutrons (music – Ronald Sanchez, words – Deniz Tek)
Deniz – vocals, guitar, acoustic guitar, percussion
Ron – pianos, synths, strings, bass
Ron – drums

Deniz instigated this song. A few years ago, while working in the studio, he wrote the lyrics, and said "write some music". My first attempt was soundly rejected, I guess Den wasn't thinking Hawkwind. After we finished Echoes, Colter was pretty insistant we try some new methods next time. One of his suggestions was to use drum loops. We'd always done this in some fashion, but I'm sure he had something more modern in mind. The track I created was a response to Colter's idea. It's based around the e-piano improvisations. I built up the track over a couple of years before Deniz added his voice. At that point we decided to shorten it by half. Den also added guitars and percussion. A bit of synth gave the new ending a bit more shape. Different from the rest of the album, but not a major departure for the Brain. It seemed like he perfect ending for the album, and takes it all back to the sub-atomic level.
---