Paper Pilots Pushing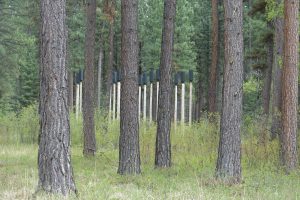 Donovan's Brain Looking Forward
01. Paper Pilots Pushing
02. Break In The Weather
03. Sunshine Days
04. Holding My Own
05. They Are Not Here 8:04
06. How To Leave CT 4:43
07. I Don't Wanna Anymore 3:07
08. Seven Layers Of Security
09. Sunday Snow
10. I Don't Dream
11. Bob And Ron Jangle No.1
12. Bob And Ron Jangle No.2
13. Formerly EHB
---
3 August 2021
The last month has been full on trying to get this new release out. No time to sit an worry. The new song built on top of the EHB drum track is now called Future Under The Ice. Another new song was written and recorded over the last week. the working title is Reflections. Ric Parnell will be in the studio next week to add drums to seven new songs.

An inventory of the new songs and the two or three older songs show 15 inline for the next album. There are also two covers we've recorded for future use. On top of that are three songs which will go into the Armchair Explorers folder. That concept will see light of day sooner than later.
---
4 July 2021
It's a case of hurry up and wait. The complicated cover for Sandbox has apparently caused some issues at the pressing plant. I've been promised that it will be resolved. Right now we are three weeks behind schedule. Ratter than worry about it, back to the studio.
Bobby Sutliff has been working on a solo album the past two or three years. As a result he didn't contribute any songs to the new records. What he has done is offer up tracks he's not been able to write lyrics for. The song Telegraph Ave on Two Suns, Two Shadows is one of those. River Of Tears used a riff that Bobby had created, but never used. Our collaboration efforts are now in full swing, and it's in both directions. A while back I gathered up all the New Idea pieces Bob had sent over the last few years. I thought Bobby might like to review these to see if it stirred any song ideas. More recently I discovered a completed song for 2012. I wasn't sure why it wasn't on Heirloom Varieties. I returned it to Bob for his own use. In return he sent me a track called New Jangle. I listened to it and told him I could have a go at adding lyrics. I asked for the raw tracks, which he said he'd send. I was accidentally sent the wrong tracks. When I started working on them, I noticed the guitar solo was missing. That's when Bob realized it was the wrong song. This one was just a short demo. I cut it up into an arrangement and wrote some words for this one too. They are pretty much done except for drums. The Wrong Jangle as we've called it suggested something very different to me. I recorded a new track based on those chord changes. This 9.30 minute synth track has been added to the ever growing Armchair Explorers folder for future use.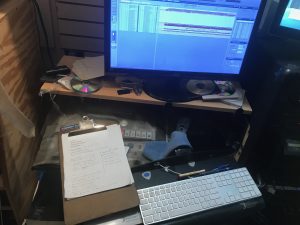 Once these three songs were in satisfactory shape I decided to move on. Our recording file has a number of unrealized song attempts. I decided to inventory the drum tracks to see if there was anything I could salvage. There are several pieces that Deniz Tek recorded he's not returned to. I checked two of those. One had some drum sections I might use. One of Bobby's from the Turned Up Later session called EHB had a very nice drum part. I mapped it out and recorded a new set of chord changes over the structure. I decided the verses and bridge could be longer, so I doubled those sections. The results are promising. I'll now work on some words for this one.
This new songwriting activity is encouraging. Bobby seems happy with his progress and I am always happy to have some challenges.
---
8 May 2021
As is the case with Donovan's Brain, there are always songs that don't fit the album under construction. At least three songs on Sandbox Shadows were recorded during the Heirloom Varieties sessions, but held for later use. I often review the archive to see which of these orphans can be polished up and added to the A List. There was a lot of this sort of activity in 2020, when I had a break in the work on the new albums proper. There are still one or two that refuse any effort to bring them to life. The current list of keepers here is the seed for the next album. It remains to see which will make the final cut. Once the new album is released, I'll return to these. Bobby Sutliff and I have been collaborating again. These new songs could help to point out the direction of the next Brain release. Watch this space
---