Eclipse And Debris (1999)
A Period Of Increased Activity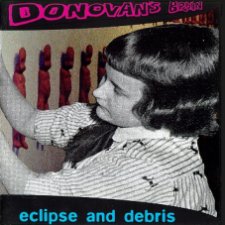 1. Tad's New Cymbal Stand Skips the Tour
2. Joey's in the Pouch mp3
3. Two White Spiders mp3
4. Donnerdodal und Emanzipation mp3
5. Pollyanna Disillusioned
6. Days Playing Perky Pat
7. Still Waiting, Still Dreaming
8. Central Services
9. Moon Shines (The Story of the Sticks)
10. Put the Bag of Money on the Floor and Walk Away Slowly mp3
11. Underdose
12. Helium Eraser Bend
13. Tell Me
14. Donnerdodal und Emanzipation V. 2
---
Artificial Cures
Intended to be the bands first full length release, Eclipse And Debris nearly was never completed, and then almost vanished without being released. After returning from a month in Seattle with the Man Band, Ron Sanchez was ready to put together a new version of Donovan's Brain dedicated to playing original material. The idea was for the three guitarists to all contribute material which would be recorded for the follow up to Shambaholic. Several successful shows drew large crowds and put Donovan's Brain at the top of the list of local bands. In the studio, all was not going as well as planned. Jim Kehoe failed to produce any new songs. To make matters worse, Paul Rose had begun to exhibit erratic behavior. Things nearly came to blows when he kept insisting on offering Jason some very bizarre instructions on how to play the drums. Then he refused to record two of the best songs he had brought to the band. Live recordings of these two "lost" songs can be found on the Music Download page. With only eight songs recorded, the band broke up after Paul sabotaged the final show, opening for Man Or Astro Man.
In a ruthless move, Ron proceeded to remove most evidence of Paul from the songs recorded. Assisted by Richard Treece and Ken Whaley several of the songs were radically remade. The bad luck continued when an offer from Camera Obscura to release the album was with drawn after several months delay. Get Hip quickly stepped into the gap, and promised to release Eclipse And Debris as the follow up to the well received Carelessly Restored Art.
---
Reviews
Julian Gough
Two years after it's completion, Eclipse and Debris – the second Donovan's Brain CD collection – was released on June 28th 1999. This 'double album' CD-only release is the follow up to the previous year's career spanning collection on Get Hip, Carelessly Restored Art. The rear cover shows the track listing broken down into four 'sides', and Ron explains that one of the concepts he had was to present the latest collection in vinyl LP sized sections. Each section has a recognizable beginning, middle and end.

Eclipse And Debris was recorded in Montana and London between 1995 and 1997 with two different Brain line ups. Though the bulk of the album features the 1995 live band, two tracks were recorded with the current Brain members, and again the Young Fresh Fellows appear on one track. Much of the album was mixed by Ken Stringfellow in the spring of 1997. The Brain line up was further augmented by guitarist Richard Treece and bass player Ken Whaley who of course recorded four albums with Help Yourself in the early seventies. BGO has reissued all of the Helps hard to find albums on CD during the nineties. Ken also recorded and toured with the Deke Leonard's Iceberg and later with Man. The duo currently perform as Green Ray.

When Donovan's Brain began recording what became Eclipse And Debris, the band was comprised of Ron Sanchez (guitars and vocals), Paul Rose (guitars and vocals), Jim Kehoe (bass and vocals) and Jason McKnight (drums). With the exception of Jason this was 3/4 of the original Donovan's Brain. Paul Rose was the original drummer, but moved over to guitar and bass for the 1995 gigs. After recording and gigging for nine months, the band blew up in a cloud of smoke while opening for Man Or Astro Man. By this time the Brain had added pianist Robert Wilbraham, another old friend from London.

Not to be discouraged, Ron gathered together the sessions tapes and flew over to a cold wintry London in February 1996. There had been talk of a Brain-Green Ray collaboration for some time, and this looked like a good time to meet up in the studio. The sessions, at Alaska Street studios, were engineered by John Hodgson. Ken Whaley and Richard Treece added their magic to five numbers and in this one session had doubled their recording output for the last twenty years. To return the favor Ron Sanchez went back to the studio to assist The Green Ray's recording of the old Help Yourself number 'Morning Song'.

Anyone familiar with previous releases will find common ground with the first three tracks, each of which maintain the traditions established on Butterfly Wheel and Carelessly Restored Art. After a year long tour with REM, Scott McCaughey and the Young Fresh Fellows launched their 1996 US tour at GLEA. The all night recording session yielded four masters, two for the Brain and two for the Fellows. 'Tad's New Cymbal Stand' was conceived as a Guided By Voices style number but once the Brain-Fellows conglomeration got a hold of it, it took on a new life. The two versions in fact were recorded in one long take. The three guitar improvisations of Scott, Kurt Bloch, and Ron were a spontaneous creation. Ron and long time Brain session man Tony Sacco added the piano and organ to fill out the already dense sound. The shortened version of Tad's New Cymbal Stand was heard on Carelessly Restored Art while Eclipse features the long jam version of this same song. Colter Langan's plaintive vocals are matched against a swirling background of musical textures with a strong live feel which closes with a flurry of guitar lines.

Next come the vaguely menacing opening notes from 'Joey's In The Pouch', a Paul Rose song about a "quite unusual marsupial", Rose's vocals are counter pointed by some really grungy guitar sounds from Sanchez and cleaner lead lines from Richard Treece. Whilst it's taken at a fairly restful pace the song has plenty of interest to reward those willing to decode it and closes with a playful hint of further studio mayhem.

The final sessions for 'Eclipse and Debris' began in early 1997 when the band regrouped for a series of gigs. A new five piece lineup saw the return of Jim Kehoe and the addition of Tony Sacco and Colter Langan. Both Tony and Colter had recorded extensively with Donovan's Brain, but neither had made it to the live stage. Seth Lyon, a Seattle transplant, came in to fill the vacant drum spot. This has so far proved to be the best and longest running version of the Brain. This line up can be heard on the next song, a tribute to Roky Erickson, 'Two White Spiders'. It was completed just minutes before Ken Stringfellow arrived to mix the album, and some of the urgency can be sensed in the more uptempo approach to its delivery. This is a Sanchez showcase with Ron tackling lead vocals and all guitars with great confidence on his own song. Again the feel is predominantly live with a broad wash of reverb creating and stirring the space.

An abrupt change of style follows as Ron heads out on his own with the short instrumental 'Donnerdodal und Emanzipation v.3' A bass drum and hi-hat pattern sets the pace, supported by keyboard drones and fills which lend a wide spaced-out aspect to the piece. Freed from the strictures of a conventional song structure Ron is able here to concentrate on mood and ambience. Nicely controlled guitar lines are dropped into the front of the mix to add emphasis with more industrial textures are woven into the mid-ground. A joy, and too soon over.

'Pollyanna Disillusioned' takes us back to more familiar Brain ground. Ron sings; "When she finds it's all gone wrong the blame will fall on me" and sadly this Sanchez song with Treece, Whaley and drummer Jason McKnight somehow lacks a real spark to set it afire. For Manfans the chorus section displays hints of 'Would The Christians Please Wait Five Minutes', but overall the piece has poor focus, and eventually ends in a bit of a mess. If it were performed live it would benefit greatly from an increase in tempo. About the song Ron says; "Pollyanna…hmmmm it is about an old girlfriend, and the song reflects her state of mind….to a tee." Ken Whaley's role brought very favourable comment from Ken Stringfellow who thought that perhaps this was his best playing.

'Days Playing Perky Pat' thankfully proves to be something of a masterpiece. Listeners familiar with the works of Sci-Fi and philosophical author Phillip K Dick will instantly recognize the reference to Perky Pat, a Barbie inspired creation used by PKD's off-world settlers in sinister and ultimately unsatisfying trans-substantiation experiments. The song was one of two pulled from the aborted 1995 sessions and given a major overhaul after Ron's returning from London. Both 'Days Playing Perky Pat' and 'Central Services' date back to the earliest days of Donovan's Brain but, despite several attempts, were never captured on tape. Whilst it is essentially an instrumental, the image of a desolate planetary wasteland is perfectly invoked by a rolling Bo Diddley-esque drum pattern filled out by Hammond and synth textures. Interwoven guitar and synth lines provide the contrast while Ron voices over a repeating "chew the gum – play the game – life on Mars is all the same" motif in a suitably pessimistic stage whisper.

The London sessions provide the next piece, 'Still Waiting, Still Dreaming', which is a reflective and sometimes rambling guitar powered instrumental featuring some sensitive interplay between Richard Treece and Ron Sanchez. The stage is swelled by Robert Wilbraham who coaxes a pleasing array of tones from his Hammond, augmented by Karen Sanchez who provides the string sounds. Ken Whaley contributes alternately sweet and clunky bass as Jason McKnight propels the whole thing forward at a gentle spring-like pace.

Bill Jedrzejewski (a.k.a. Jed Critter) makes a return guest appearance playing guitar on the next item, 'Central Services', a song which has its origins back in 1995 and which was inspired by the Terry Gilliam movie 'Brazil'. The uncredited and slightly indistinct vocals are by Ron Sanchez, and these become more dominant as the song progresses. While the chorus seemingly threatens to break into overdrive it is slightly at odds with the rest of the song which ambles along gamely throughout. Despite a fairly dark backing the sound is an eclectic mix of industrial and "creeping fear" guitars, synthesized keyboard pads, fills and drones.

With its teasing Hispanic introduction and a mosaic-like structure in its closing section 'Moon Shines' promises much. The verse and chorus construction are quite straightforward the song features some excellent playing, only slightly let down by the vocals being mixed too far back for real clarity.

Back in instrumental territory Ron's synthesizer solo excursions on 'Put The Bag Of Money On The Floor And Walk Away Slowly' feature some excellent atmospherics and the elements of tension which he occasionally introduces are neatly resolved.

Another abrupt change of mood hovers into view with a lively and mainly live version of the Flamin' Groovies inspired 'Underdose'. Although this song had seen an earlier release on the cassette only 'Butterfly Wheel' Ron explained; "We've also re-recorded Underdose another of the Young Fresh Fellows / Seattle tracks for Eclipse and Debris. I learned to play the song much better, so we decided to play it live. We got a fab recording at a rehearsal which we had to use." The relaxed atmosphere comes over well and the song is given a loose and enthusiastic treatment with overdriven guitars and a stomping piano backing.

For 'Helium Eraser Bends' synth tones combining bleeps and swells with decaying filter swirls make for an interesting soundscape but the track is too short to develop fully and it remains in space filler territory. There are some really good tones on display and the piece contains the promise of further good things to come.

'Tell Me' showcases the talents of Treece and Whaley for the last time on this Paul Rose composed song. Rose puts in his most effective vocal performance and the song features an aggressive and hard driving chorus delivered with some panache. Guitar work is never less than interesting including backwards, forwards, feedback, clean, overdriven, electric and acoustic, and most of the options are chosen. A strong and exciting song from the augmented Brain line-up that began the Eclipse and Debris sessions back in 1995.

To close the album Ron heads back to an alternative interpretation of 'Donnerdodal und Emanzipation'. This time it's 'v.11', and once again is an ambient instrumental piece with excellent synthesizer and multiple delayed guitar tones. Some advice for Manfans might be to not switch the player off when you reach the end of the track, good things come to those prepared to wait for a couple of minutes or so.
All Music Guide
Donovan's Brain's second album features a more stable lineup than Carelessly Restored Art. Around leader, guitarist, and keyboardist Ron Sanchez are gathered Jason McKnight (drums), Ken Whaley (bass), and Richard Treece (guitar), at least on one-third of the album. Drummer Seth Lyon, bassist Jim Kehoe, and keyboardist Tony Sacco form another core. Sanchez also appears alone on a handful of tracks. This album features better sound quality and tighter arrangements. Sanchez shifts between drifty psychedelic songs — think early Pink Floyd or a dazed incarnation of Can or Agitation Free — on the one hand and harder-edged rock & roll. The comparison to Agitation Free extends to a couple of synthesizer-only experiments ("Helium Eraser Bends," "Put the Bag of Money on the Floor and Walk Away Slowly"), but not to acid rock anthems like "Tell Me" (a real scorcher sung by Paul Rose).

The album opens with "Tad's New Cymbal Stand Skips the Tour," a shortened version of which came out as a single and was included on the group's debut CD. This complete take features a psyched-out guitar solo that makes it well worth hearing a second time. It also features a lineup of the band that doesn't reappear in the remainder of the album — an awkward opening track, but a good song nonetheless. "Joey's in the Pouch" crosses over from psych rock to space rock: A fast-paced number replete with synthetic flying saucers, it evokes Hawkwind and fellow Americans Quarkspace. "Central Services" provides another highlight. Sanchez's solo synth or synth/guitar tracks work nicely as instrumental interludes, but overstretch the album a bit. – François Couture
---
The Songs
1. Tad's New Cymbal Stand Skips The Tour
Tad Hutchison – drums
Jim Sangster – bass
Kurt Bloch – guitar
Scott McCaughey – guitar
Tony Sacco – piano
Ron – guitars, organ
Colter – vocals
2. Joey's In The Pouch
Jason McKnight – drums
Paul Rose – vocals, acoustic guitar
Ken Whaley – Bass
Richard Treece – guitars
Rolf Harris Choir – backing vocals
Ron – guitar synth, tambourine
3. Two White Spiders
Seth Lyon – drums
Jim Kehoe – bass
Tony Sacco – organ
Ron – vocals, guitars, synth
4. Donnerdodal und Emanzipation v.3
Ron – synth, guitar, drums
5. Pollyanna Disillusioned
Jason McKnight – drums
Ken Whaley – bass
Richard Treece – guitars
Ron – guitar, slide guitar, synth, piano, organ, mellotron, vocals

6. Days Playing Perky Pat
Jason McKnight – drums
Tony Sacco – organ
Ron – guitars, bass, synth, space whispers
7. Still Waiting, Still Dreaming
Jason McKnight – drums
Ken Whaley – bass
Richard Treece – guitars
Robert Wilbraham – organ
Ron – guitars, strings
Karen – strings

8. Central Services
Jason McKnight – drums
Paul Rose – bass
Bill Jedrzejewski – guitars
Ron – vocals, guitar, synth
9. Moon Shines (The Story Of The Sticks)
Jason McKnight – drums
Ken Whaley – bass
Richard Treece – guitars
Tony Sacco – piano
Robert Wilbraham – organ
Ron – vocals, guitars

10. Put The Bag Of Money On The Floor And Walk Away Slowly
Ron – synths
11. Underdose
Seth Lyon – drums
Jim Kehoe – bass
Tony Sacco – piano
Colter Langan – guitar
Ron – vocals, guitars, organ
12. Helium Eraser Bends
Ron – synths
13. Tell Me
Jason McKnight – drums
Ken Whaley – bass
Richard Treece – guitars
Ron – backwards guitar, organ
Paul Rose – guitars, vocals
14. Donnerdodal und Emanzipation
Ron – guitar, synths
---