Twelve Or Thirteen (Ten Times Better) 2015 – 2021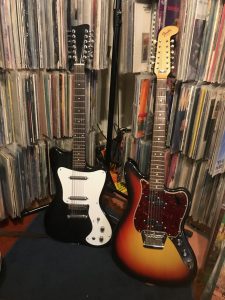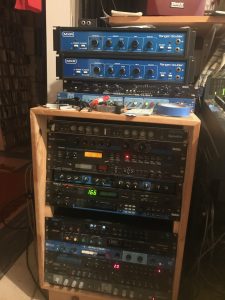 Sandbox Shadows
Donovan's Brain – Two Suns Two Shadows
01. Eden Pariah
02. Dolly Jim
03. A Trip With Auntie
04. Telegraph Ave
05. Secret Society
06. Rice Paper Kite
07. Alternative To Me
08. Broken Staircase/Crumbling Walls
09. Born With Two Shadows
10. Ministry Of False Alarms

Donovan's Brain – Sandbox Dispatches
01. Failure To Achieve
02. River Of Tears
03. Attic Experience
04. Changing Textures
05. Fired From The Circus
06. Lime Twist
07. My Baby
08. The Inquisitor
09. Time Flowing Backwards
10. Silent Voices
---
29 May 2021
One of the two discs has now been mastered, Sandbox Dispatches is being mastered this week. As soon as the pressing plant has the audio files, they will move quickly to get this pressed and back to us.

This transition period has meant that studio work has slowed down for the first time in five years. The break has given me a chance to inventory all the unfinished ideas and unreleased track. The search through the material turned up a Bobby Sutliff track from 2011 which we had both forgotten about. Drums had been added at some point and then it got filed. The best we could figure was it got lost in the chaos after Bobby's accident. Bob has reclaimed the song for his ongoing solo project. This is where it belongs. The inventory also has uncovered three demo recordings. These are just musical sketches, but all have promising ideas that will be explored.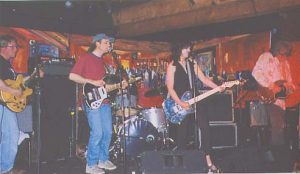 Another archive project is now in the works. The Penny Ikinger and Donovan's Brain rehearsal tapes have been transferred to the computer to be be mixed. These April 2004 recordings feature the band versions of most if not all of Electra plus Penny's then new song Sycamore Tree. It's doubtful Penny will approve these for release due to the raw vocals. This would just be for our own enjoyment. Sorry.
This chapter of the recording diary will be wrapping up now as the new album is about to be released. Follow over to Paper Pilots Pushing for the continuing story…
---
16 May 2021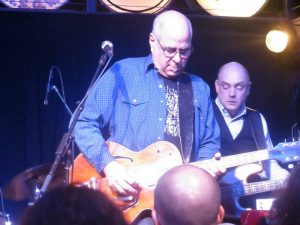 Matt Piucci will again appear on the new album. Matt had agreed to play on something last year. It was a matter of finding the right place for his guitar talents. I offered up two songs. After some thought he determined there was nothing he could add to Eden Pariah. I did the finish work myself. After some consideration he did find a part for the second guitar on River Of Tears. Luckily Rain Parade were able to return to their rehearsal space, where he could do the work. The finished track was sent over a week ago. Rain Parade drummer Stephan Junca asked if he could add a percussion part, which I of course welcomed. The song was mixed early last week. The process was made more interesting due to a problem lining up the tracks to the master file. I finally realized I could easily solve the problem and the mix was approved by Matt. This means the ten songs for Sandbox Dispatches are now all mixed. I will give the album a final review tomorrow, when I return to the studio. Any problems will be addressed straight away. The final mixes will be forwarded to our mastering engineer.

When the mastering is completed, all the parts of the albums, audio and graphics will be sent off to Furnace, our pressing plant. I have been promised finished product with in three weeks. The delivery date is exactly five years since songwriting for the new album began. The split album can been seen as a preview for the new record. Advance orders will be available at our Bandcamp shop. The deluxe double set is limited to 300 copies.

With this project completed, work on the follow up will rap up to full speed. Expect he follow up in late 2022 or early 2023.
---
2 May 2021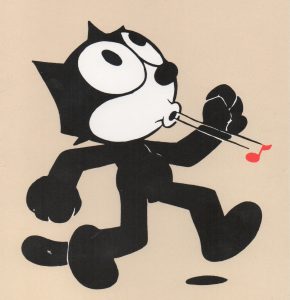 The Red Album, Two Suns Two Shadows is now complete. Telegraph Ave got a final mix last week. The ten songs were put into the final running order for review. The audio will be handed over to Gary Hobish to master. Sandbox Dispatches is just awaiting one final overdub and mix. It's been five years since the first of the new songs were written. Work on he box set and the split album distracted from the new album, but also contributed to the evolution of the new songs. Three releases in seven years is a prolific pace. There could possibly be another album next year. I've started work on yet another new song collaboration with Bobby.

The Career Records website has been relaunched on a more robust platform. The WordPress based site is mobile friendly and much easier to update. I also made the decision to use Discogs to host The Career Shop. This change adds dynamic postage calculating and credit card payment. The old shop lacked both of these features. The complexity of the current world wide shipping situation is best handled on a platform build to operate in this environment. There is also a Donovan's Brain shop on Bandcamp. You can now purchase digital downloads directly from the band as well as cds and vinyl at the shop. Expect some digital only exclusives in the future. Advance orders for the new album will also be available at Bandcamp.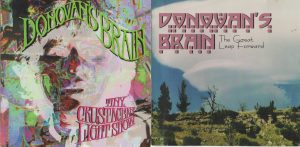 A little bit of historical perspective:
I've been remixing Tiny Crustacean Light Show, which got me thinking about these two albums. Donovan's Brain regrouped in January 1998 to begin work on a new album. I had a few songs started that I brought to the sessions. We recorded constantly through May of that year, when the rhythm section decamped for greener pastures. At the end of the year There was another few days of recording. There was now maybe 16 songs. A few of the songs would not be released on either of these records, and would appear later. Richard Treece had agreed to come over in June for a month of vacation and recording. A couple of days after he arrived, I wrote the title track for Tiny Crustacean Light Show. The next day we recorded it with Joakim from the Nomads on drums.
Earlier in 1999, Dave Walker had showed up in Bozeman. He was drafted to help out. Much to his surprise, him and Ricky got along famously. Shortly after Richard left Dave and I began another round of writing. When I got back from London where I did additional recording with Ken Whaley and Malcolm Morley, I sat down with the list of material to make an important decision. The new songs we'd just written pointed the band in a new direction. There was a reason the second album was titled The Great Leap Forward. Maybe it was just because they were fresh in my mind. I decided to set the new ones aside for the next album. I also pulled four from the works in progress and added those to the new album folder.
In 2000 I started looking for a new rhythm section to finish the new songs Dave and I had started work on. A drummer that was recommended was a total failure. I had to dismiss him after a trial session. An acquaintance offered to give it a try and worked out well. I asked Jeff Arntsen, a friend if he could pick up the bass stool. Meanwhile I was now mixing the 14 songs that would be come Tiny Crustacean Light Show. In my mind this was the rock album. The new songs would be the psych album, and the real follow up to Shambaholic, what should have been our first album. Revisiting Tiny Crust partially confirms my assessment, though there are some heavy psych moments on it.
The mix process was pretty schizophrenic as my attention was on the new material. On top of that, I'd got the Donovan's Brainb booked to perform at the Seattle Terrastock before there was a band in place. Richard Treece would be playing with us, which meant he'd be back in Bozeman for a couple of weeks to rehearse and record. When we returned from Seattle, it was back to the studio to record more songs to complete the new album. Tiny Crust was finally released by Get Hip in 2001. Deniz Tek and I launched Career Records two years later to release Great Leap Forward, The Golden Breed and the Angie Pepper album. Taking control of our catalog and release schedule was an important move.
Once again, we've been recording two albums at the same time. I went through the same process of determining which songs belonged together. The line between the albums two is blurry, but they are in my mind, two very different records. Sandbox Dispatches and Two Suns, Two Shadows will be out this summer on Career Records.
---
11 April 2021
Jim Dickson and Joe Hughes stepped up to help the Brain in our time of need. Joe was assigned Inquisitor and Broken Ladder/Crumbling Walls. I was sure he could do the work on the jazzy groove of Inquisitor. Broken Ladder is a straightforward rocker. On both songs he was able to stretch out and play beyond the basic arrangement. It's a safe guess that Joe will get called back in the future.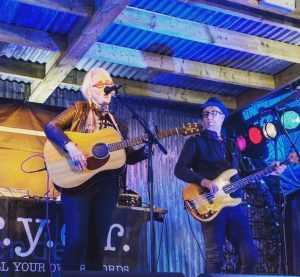 Jim Dickson was happy to lend a hand and quickly made arrangements with his New Christs band mate Brent Williams to set up a session. I knew A Trip With Auntie would be something Jim could get with. We both share a love of 60s psych-pop. The results have lifted the song to where it needs to be. He said no one offers him this sort of material. Secret Society owes a lot to Procol Harum, another band I know Jim follows. Pair up Jim and Deniz Tek in a different context made for good results. In all four instances, these songs were beyond my own bass abilities. All four songs are now mixed and moved into the master folder.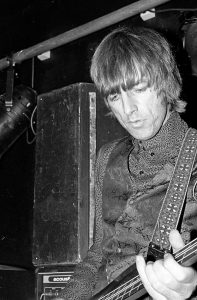 Two songs have been sent to Matt Piucci. He promised he could get to them this month. He know has a home recording set up, which will expedite the process. If all goes to schedule, the released date for the albums could be moved up considerably. The cover art is in the hands of a graphic designer who is doing the major finish work on my basic ideas. Chad Jones was recommended by Kris Hughes. He has so far been able to interpret my vision into a finish piece.
In the meantime, work on a very new song is moving forward. The working title is Unexpected. Words were written in December. I demo was recorded in January. It was quickly decided the tempo was too slow. A second track was recorded right away and then put aside. O returned to it the last few days. First task was to record a guide vocal. That was easy enough and it worked well at the new tempo. After that, I decided the song needed a chorus. After some thought, I realized the intro section would work for that. I added that four bars twice. It appeared two more time, at the start and end of the bridge. The first of those two was now called the second chorus. The second instance in the bridge would function as a second intro. There was now a chorus after the last verse. I also decided the intro/chorus section needed a piano line to lead it into the verse. That took two tries to accomplish. I could now work up some words for the chorus. That came very quickly. This is where the song stands now. A guitar solo and some strings will be added. There is a second new idea in progress. This was recorded as a tribute to Tom the morning I learned of his passing. Once there are three or four new ones, a drum session will be booked.
---
29 January 2021
The two months since the last entry had been productive and at the same time clouded by the shocking news that our friend and band mate had passed away suddenly on January 23rd. Tom had been a crucial addition to the band primarily as the bass player, but he sang and played guitar. Our deepest sympathies are extended to his wife Elaine an his family. He will be missed by this band and the musical world.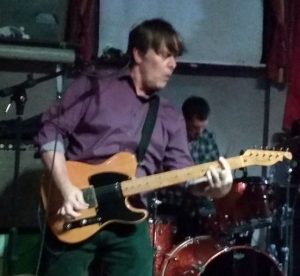 In the end, seven of the new songs were completed and mixed in December and January. That left eight songs that needed work before they could be mixed. I waited until after the New Year to schedule the remaining work to be done. I'd just discussed this situation with Tom and he agreed to take on the four songs I thought needed his talents. Bobby has two on his list. Matt Piucci has confirmed he can still get into the studio for the two songs he's been assigned. Joe Hughes and Jim Dickson have both accepted the offer to fill in for Tom. Kris Hughes had suggested that Joe could help us out if needed. He plays with Kris in My Girl The River. Jim Dickson is an old friend who I met through Deniz Tek. Jim has a long career playing with The Passengers, Barracudas, New Christ, Deniz Tek Group, and Radio Birdman. I assigned the songs based on Jim's record collection. With the bass position resolved for the moment, there is plenty of activity at GLEA.
After I finished the available work on the new album, I moved on to another project that has been on the list for at least a dozen years, the remix of Tiny Crustacean Light Show. Revisiting past is not my usual preoccupation. Convolutions Of The Brain was a matter of collecting unreleased material, and some hard to find things in one place. That said, it was also the first chance to see what a Tiny Crust remix might sound like. The new mix of Arnold 4 Souls was considered a major improvement. Tiny Crust seems to have been well recorded. The problem arose at the mix stage. A the monitor power amp did not match well with a new set of studio speakers. This meant I struggled to control the low end material. S=The final mixes were either thin and bright, or bass heavy. The new studio tools and the complete studio rebuild has meant that this hasn't been a problem on any later release.
Most of the songs on Tiny Crust are pretty straight forward. Ken Whaley plays bass on a number of tracks and Richard Treece is present as well. Seth Lyon plays drums on most of the album and Kels Koch plays bass on the balance of the songs, except for he title track which Richard Treece plays on. Dull Gray Days was meant to be the big finale of the album. In the end, I felt like it missed the mark. The remix thins out the five guitar tracks, so it only uses the best bits of Richard's two guitars. The bass is now nice and tight. The upside is I've found these songs were well played and well recorded with the limited gear I had 23 years ago. The songs are all valid. I'm seven songs into this project, with seven more to do. I thought I might have save the most difficult for the last, but after the success of the Dull Days mix I moved right on the the eight minute epic, Electric Trains.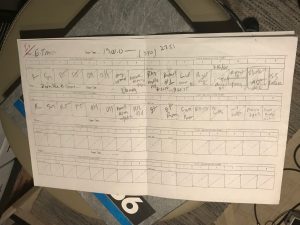 I checked the tape library database to see what the origins of this song might be. The middle section seems to date back to 91 or 92. The song was initially recorded on the 8 track. The reel its on indicates it was recorded at the same time as Shambaholic, 92-94. It was transferred to the 16 track in 1998, where the real work was done. Seth Lyon on drums, Kels Koch on bass, Tony Sacco and piano and I think half the organ, and Richard Treece on the amazing guitar. I played guitar, synth, organ and sang the lead vocals and did the stacked choir parts. I seem to have added acoustic guitars, another pair of electrics playing a little lick and more synth and mellotron choir to build out the big voices in the middle. This song is another Man influenced piece. See C'mon. Rather than coming back out of the middle for a long solo, it just ends in a splatter of drums and dub snare. Took some work getting something close to the original mix. The final mix captures he essence and intent of the original recording. With this one in the can, I feel like the others will fall into line quickly. There is no plan for the re-release of these new mixes. They may only appear as downloads. The new album will come first.
In the midst of the remix work, I wrote a new song. Lyrics came first. I cut a demo a few weeks later, but quickly decided it was much too slow. I've recorded a more uptempo track which I return to when time allows. I also have plans for resurrecting one my earliest original songs from 1988. Low Lands. I ran across this while doing some tape research for Dave Marten;s Montana comp. The original recording isn't half bad, but the arrangement needs some work. The chord changes and lyrics are good enough to return to. One more new piece of music was composed the morning I heard the band news about Tom. I will return to this in he near future.
While the recording continues, the album cover his being completed in the background. This double set will be housed in a very elaborate package.
---
4 December 2020
Once the Deniz Tek remix was completed, it was back to work on the Brain songs. I reviewed the twenty songs and make some notes. Several song were deemed complete and ready for a mix. Five songs had previously been given a final mix. First up was Attic Experience. I decided the bass line needed some support. For this I fired up he Roland synth and played a simple sustaining line through the song. The drum part is pretty busy so a busy bass part would tilt the feel of the song in the wrong direction. The final mix then came together quickly. The intended wide screen mix means the sounds flow in a dream like fashion. Bobby Sutliff thought it sounded huge.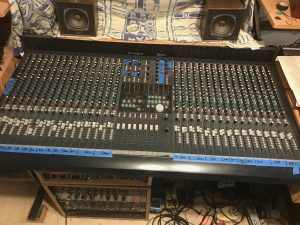 Failure To Achieve was written exactly 3 years ago in November 2017. Along the way it underwent a major rebuild. The bridge section wasn't working, lyrically or musically. I was decided to simplify it and drop the vocals. That worked. I had ideas for the new bass part, but only did a guide track and left it for the moment. For reasons unknown, on of the changes happens in the middle of the bar, rather than on the one beat. The new part was built up a section at a time. Careful counting was required when it came to the tricky change. The final results are what I had been hearing for the song. On with the mix. This will be the opening track on The Black Album so it has to have an impact. The work on Deniz's album was a good exercise in getting power into the mixes with out distorting the audio. I experimented with some of the tools I have in the studio arsenal. This meant abandoning some of the favorite techniques I've been using. This song benefited from these new ideas. As usual. Ric's drum parts propel the song. His playing always compliments the song often taking it to unexpected places. Once again the mix came together quickly with no problems.The fast pace of the new mixes gave me confidence to press on.
I began work on Changing Textures on Nov 25. This one took more work than the previous two. The first issue was getting the drums and bass to sit together. I considered redoing the bass part, but in the end I realized I couldn't improve on it. A mellotron cello part was added to support the low end. A violin part was also added to give the song a little sparkle. Choir was added to the ending, then again at a couple of parts in the song. After completing what I thought was the final mix, I discovered a reoccurring stray noise. I tracked it down to finger scrapes on the acoustic guitar track. That was easy enough to deal with. The mix was finalized on he 28th. This song evolved considerably from the original idea. A compelete set of lyric were written, but when I started to write the music, it didn't feel right. I started over with a new set of lyrics. A few bits from the original were used, but the rewrite was much better and the musical idea came easily. In the end it had the feel I was chasing at the start, but better realized. Several of the new songs were revised before finding the correct tempo, key and arrangement. In each case the song improved dramatically.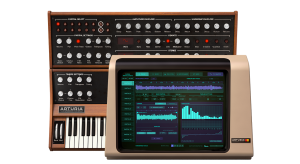 A day off was needed before opening up the next song. Tine Is Flowing Backwards is one of the newer songs. I suspect it was recorded at the end of 2019. November to be exact. The basic was recorded quickly. I later returned to redo the vocals. Drums were added in March 2020, during the session that saw ten new songs for Ric to worked on. We got lucky as the lock down was instituted just a few days later. Work on this song stopped as soon as it started. A computer crash required a day of hard drive maintenance to resolve before I could continue. The studio computer was backed up and work drives de-fragged. There were some issues with this song. The bass part was just a guide and needed to be replaced. I spent a day working out something that would carry the song. I managed to get it and get a very nice tone too. One of the two main guitar parts wasn't working at all. I replaced it with a new idea and sound. The original was harsh and distorted. The new idea would be softer with the idea that it would float in the mix. The sounds I got worked. Then it was a matter of finding an effect that would blend it into the mix with the other guitars and keyboards, yet still have the power it needed. That and the new bass part helped considerably. Next up was dialing in the drums and bass so the song had a solid foundation. This took some work, but it all came together. This song has three organ parts. The main part, the verse accent and B3 on the bridge. I decided to add to the Hammond part so it is on most of the song. It's mostly for fill and not meant to be heard up front. Another string part was added to fill out the original part. Listening to the end chorus I thought the guitar suggested a choir part. Rather than just go to the mellotron choir I thought I might see what the Synclavier would offer. I auditioned a few sounds and found one that was perfect for this. The mix took a couple of days. with so many elements, I needed time to balance every part and fuss with the effects. The mix was completed yesterday. That is now four new ones completed in the last month. Nearly half the songs are now mixed. Most of the remaining songs still need overdubs from the band. I may find a couple more that can be completed. This is good news. I had no desire to mix 20 songs in one long stretch.
---
12 November 2020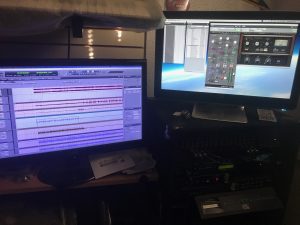 Work on the Donovan's Brain albums has been put on hold the last two weeks. Deniz Tek was approached about a reissue of The Golden Breed album Glass Eye World. He asked if I was agreeable to this. I was with the stipulation that I get to remix the album. The album was recorded at three different studios and mixed here at GLEA. The studio has seen major upgrades since the. The new tools would improve the sound and offer something new in the deal. Seven of the ten songs are now remixed are ready to be mastered. The chance to revisit this album has been interesting. A few small changes have been made. Nothing dramatic. I redid a piano part that I knew could do better. Another song got a small arrangement change. This should be out next year in Australia.
The remiz was completed on Monday the 8th. Deniz signed off on the last, and most complicated to the ten songs.
Work on the new Donovan's Brain album is now the priority. The art work for the special package design is moving along.
---
14 October 2020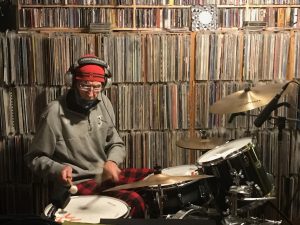 Ric Parnell returned to GLEA for an efficient three hour drum session. The goal was to add drums to four new songs. These four were written after Ric's last visit in March. Most important was Telegraph Ave, a song I collaborated on with Bobby Sutliff. This is on the list for the next release. Two days later, a friend of the band sent over the guitar solo for the same song. Only a little work remains on this one. The other three songs are on the list for the 2022 album. Scott's song Holding My Own is now ready to mix as all it needed were drums. Paper Pilots will need a guitar solo, but is done otherwise. The newest of the four, currently called Open G was finished on Monday and mixed. This is possibly the fastest a Brain song has gone from composition to mix.

Finish work on the songs is now being assigned.
---
6 October 2020
The last month has seen a flurry of activity ahead of a visit from Ric Parnell to add drums to four new songs. The list of songs were reviewed to find what if any work still needs to be done. I also took another look through the unused and unfinished songs. Seven Layers Of Security was moved back to the active file. This was written two years ago while in Jackson MS for the Windbreakers reunion. Originally written on guitar, I decided to record it as an organ lead track. The results changed what might have been a Flamin' Groovies type number into a full on Krautrock tune. Ric added the perfect drum part. The change meant the lyrics would probably not work, so it was shelved. Listening again, I decided the track would work as an instrumental. It needed some work to add some textures. Two synth parts were added and a mix was created. At this point it is considered done.
I Don't Dream has been around for a while. I think it was recorded in 2016. It was one of two piano ballads recorded at the time. After putting drums on both, they were set aside to be returned to. Dream was the better of the two by far. The original vocals were not satisfactory, and replaced. With that done, the song seemed to have possibilities. Additional parts were added to the string arrangement and a synth line at the end. A satisfactory mix was run and it's moved over to the finished file.
Time Flowing Backwards seemed to be lacking in some sections. A second slide part was added and fuzz guitar notes added to the verse. It became apparent the main guitar part could be muted in the verse, opening up the sounds and making room for the fuzz guitar. A second vocal part was added and a rough mix recorded.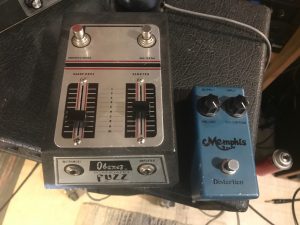 The next task was to attempt to add one of the two guitar solo lines to River Of Tears. Matt Piucci has been asked to do the second part. I had considered having one of the solos played on twelve string, but there seemed to be enough jangle on the song, so I went with the 73 SG. The result was much different from my original idea. The dramatic change in sound has added considerably to the song which is the anchor tune on Sand Box Dispatches. At eight minutes long, it has to stand out.
Attic Experience got two synth notes added to the intro. A new rough mix was created.
This week I scheduled a session with Ric. Only three new songs were on the list for the day's work. This isn't an efficient number of songs considering the time and travel involved. I told Ric I'd try to work up one more. The piece Open G was apparently an attempt to create a rhythm track for another idea. I have no idea what the other idea was, apparently something in Open G. The resulting track sounded more like an Eno atmospheric thing than a beat. I liked it, but it doesn't really go anywhere. Good sounds. I got the idea to use a bit of the idea as the intro for something I was hearing. I found a drum loop that has some of the feel I wanted. I moved the four keyboard parts and the drums over to Digital Performer where I'd do the work. I came up with three chord sequences that seemed to work. The next day I work out an arrangement and recorded guitar and organ. That worked. Today I returned to it to add bass and some piano. This will mostly likely be an instrumental. At the moment is got a good shape and should be enough for Ric to work with.
Donovan's Brain are now sitting on thirty new A-List songs. The next release will be two cds in one elaborate package. The next ten songs make up a very good album, thought the current writing pace means it could evolved over the next two years.
---
2 September 2020
After two days vocal and string overdubs on Paper Pilots, it's coming into focus. This is one of three new songs I'm hope to add drums to this month.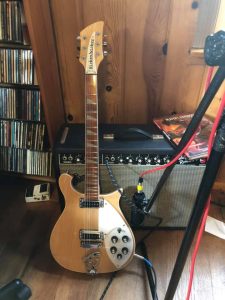 With that secured, I took time to assess where we are at and how to proceed to the finish. Bobby Sutliff suggested that 23 songs was too many, even spread over two albums. I resisted that idea at the time. The original configuration meant that Sandbox was over 60 minutes long and Shadow over 50 minutes. After giving it some serious thought, I decided to see what they albums would look like if cut down to ten songs each. Part of the incentive was that there were now four songs in the album 3 folder. Adding the three that would be cut from Sandbox Shadow increases that number to seven. This is a very good start for another album. I decided that two eight minute epics on Sandbox was one too many. They Are Not Here got the elbow. I think it was stand out more on album 3. It would be a shame if it was overlooked in the crowd. Telegraph Ave would fit comfortably on Shadows. That meant pulling two songs from Shadow. I decided to move two of Scott's new songs over to album 3. He still have three songs on the new albums. The two songs dropped will help inspire the writing for album 3. His new song Holding My Own is still on the short list for Sandbox Shadow if we can get drums added. Still, it is part of a good foundation for album 3. Good to have some options. On the practical side, it means I only had to ask Tom to add bass to twelve songs and that four of the twenty are mixed. On top of that, two songs on album 3 are also mixed. Four maybe five songs need guitar solos. Matt Piucci is still onboard to do some work. Bobby Sutliff has been assigned two. I'm still waiting to hear back from Peter Holsapple who took one song as part of his open session offer.
---
28 August 2020
Sunshine Days is now mixed and moved to the finished folder. There was some additional work done before I was satisfied. The second guitar part was replace. Telecaster through the leslie pedal got the right sound. The two main guitar parts now complimented each other and the detail cut through. There is a guitar lick at the end of the bridge. For some reason it didn't resolve completely. I doubled the solo on piano, and added the missing part. Still not right. The next day I could hear the part played a different way. It took a few passes before the timing was correct. That solved that problem. A small celeste part was also added too. The mix came together quickly, but upon playback, something seemed amiss. I tried a couple of more times with the same faulty results. I was afraid there was a hardware issue involved. I set it aside for a few days while I worked on some non music chores. When I returned to it, I noticed the count in was playing back. It shouldn't have been as that track was turned off. It was now clear a hidden track was active, and it was playing along with the mix when I played it back through the board. There were a set of tracks I'd prepared for Tom to use when he added bass. I had to switch to a different view of the studio on the computer to a page that showed all the tracks. Sure enough, there was a track called "no bass mix" that was turned on. It was a simple matter to find this hidden track and turn it off. I ran a new mix which played back with no issue. Success.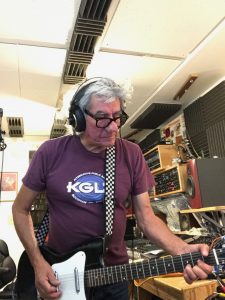 Time to move on now. My most recent song, Paper Pilots Pushing, was written and recorded in May and June. When I last heard it, I wasn't happy with the intro section. It comes up three times, so this would be a problem. The track at that point was just guitar, bass, vocals, organ and some strings. First thing to do was a new guitar part. There was no chord chart for the song, so I had to learn it before starting to record. I still didn't have an idea for the intro lick. I kept this guitar simple in that section, so it wouldn't clash with any new idea. Next I redid the bass. It was clear the original bass part was too busy. It also followed the original intro lick idea. A new bass part was easy to put together and record. That done, I stopped for the day. I knew the new intro would probably be played on the 12-string. I wanted to start fresh. Before I got the 12-string out and tuned up, I experimented with some ideas using the Casino 6-string. There was a transition section after the main lick that seemed unnecessary. I did try some variations on those chords, but no luck. The answer was to remove the whole sequence, all three instances. This meant adding a measure at the end of the intro lick section. Now I had to fix the new guitar and bass to match this change. That shortened the song a little, which isn't a bad thing. I decided to try the Subway Danelectaro 12. This is a custom made guitar using New Old Stock parts. I had the idea now, the trick was to work out the picking pattern and then play it correctly. This guitar has some tone options, so I cycled through them until I was happy with the sound. This new part would play thought the whole song. One I got through the intro, I just kept playing. The idea came together quickly. I just moved on to the second verse, punching in as needed. The bridge didn't cause any problems, so right to the end. The last section is a variation on the bridge. The bridge has an unexpected set of changes. The end Just repeats one part of that. The work was completed in one four hour session.
Work on a new vocal track is up next. A guitar solo will be added later.
---
11 August 2020
Studio work was put on hold for two weeks while I did a major remodel to the room. The booth shares the space with a wall of records, the singles collection. A new shelf was built and the singles were moved to storage boxes. The keyboard corner needed to move a little to accommodate the new shelf. When the work was done, the studio was given a thorough cleaning. Then it was right back to work in the newly organized space.

The next project was to review several songs that had been left unfinished. I wanted to see if there was anything usable that could be moved back to the active file. The song Sun Goes was cannibalized several years ago. The end section was removed and added to another song, Ministry Of False Alarms. The front part of the song is only 1.30 long, so as it stands there isn't much there. The chords on the verse work. I decided not to try to expand this one. For some reason I had decided Break In The Weather wasn't working and shelved it. Upon review I discovered it was a good track. I still didn't like the singing or lyrics on the bridge section. I think that is what caused me to abandon it 8 or nine years ago. I'd never written words for the second verse. Guitar parts were redone and a new vocal. The results are very good. This was a surprise.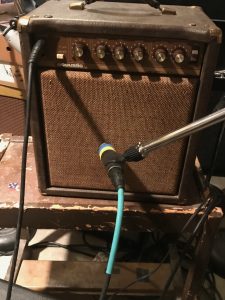 Sunshine Days has a very long history. The first recording was done in July 1993. Two more versions would be recorded before it was set aside for 8 years. Ric added drums to version three in 2011 and then it got shelved again until now. The song was revived in 1999 during the Great Leap sessions. It got a major rewrite. The heavy string and keyboard parts were dropped and the tempo was increased. A new set of lyrics were written for the song now called Punch Wax Circus. It didn't make the short list for Leap and once again the song was forgotten until work on Convolutions. It got a new mix and was added to the box set. That should have been the end of Sounds Of 73 aka Sunshine Day. The version of Sunshine I looked at had the second lyric attempt. I didn't much care for them at the time, and even less now. I couldn't find a version with the third set of lyrics. I don't think I every attempted to record them. A search turned up a lyric sheet in the files. Again, I'd only written one verse. The bridge and chorus were ok and performed well enough to keep. Before I worked on the vocals, I had to set up a mix to hear what was going on. There are several string parts, three piano parts and three organ parts. I decided to replace one of the guitar parts as the distorted track wasn't going to work. I still may replace the other one too. I redid the vocals on verse one, and was happy. I rerecord a bit of the bridge. There were three vocal tracks and something didn't seem right. I figured I'd start with the lead line and then check the others against it. The new section was a major improvement. I wasn't sure what to do about the second verse. A couple of hours were spent strumming the guitar and humming syllables. I finally got an idea that continued from the first verse. That was quickly recorded, bringing the song up to speed. A new guitar part and additional vocals are all it needs now. Tom has played bass on it, so it will be ready to mix this week.
Progress.
A new song, Paper Pilots Pushing was also reviewed. I like the verses, but the track needs a rethink. There is enough of a good idea there to work with.
I'll need to get that working before the next drum session. Scott Sutherland has sent over yet another new song. Holding My Own is a particularly good song. It just needs drums now.
---
6 July 2020
I woke up the other morning with an idea for Changing Textures. A keyboard part for the bridge. When I listened, I found I had done something similar to what I was thinking. There were two synth parts. I decided that one of them didn't add anything to the song. The other I turned off while I tried some things. Mellotron first. I ran it through a chain of effects to alter the sound. It took a few different combinations until I got what I was hearing. Next up organ. There was a part on there that was just whole notes. Again it didn't add anything to the sound. After experimenting I got a sound and part working. The results were good enough that I continued to play to the end of the song. When I was done I put up the two new sounds and added the synth part I had muted. The balance of the three was what I was hearing in my head.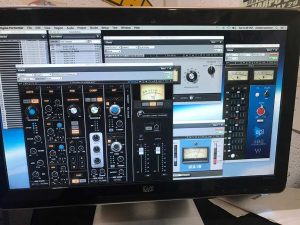 With that done, I decided to continue with the mix. It's been a while since I had this song up on the computer, so I started with mapping out all the parts. There are four guitar parts. though one only appears at the end. It was a matter of finding where on the stereo spectrum the parts needed to be. The electric piano weaves in and out with the slide guitar. At one point I tried reversing the pan on several tracks, only to realize things were now bunched up on one side. I also did some volume moves on the loud guitar part. It needed to move down for most of the vocals, but some licks worked better it pushed up. I also had an idea for a bit of delay that panned the lick across the sound stage. I spent time finding the right delay time, and the volume to the echo was apparent, but didn't stick out. The vocals were solid, but the processing I had set up wasn't working. I stripped out all the plugins and muted the efx. I went through each of the four tracks and got them sounding better. I put the echo chamber back up and then adjusted it so sit in the mix. The bass needed similar attention. The part I played works. Most likely this will be replaced down the line by Tom Stevens. I worked on the mix getting it close. I returned to it yesterday and did a final pass. I also did a mix with no bass and stereo stems: drums, vocals, guitars, keys and bass. this will allow for adjustment when the final bass part is added. this is now moved over to the finished folder. Time to move on.
---
1 July 2020
The last six weeks have been non stop. On May 17th I woke up with a lyric idea. My first attempt at recording a track missed the mark. The the drum track I recorded was set aside for now. It will probably get recycled for something completely different. The second attempt was successful. Not wanting to get too distracted with a new song, I just made sure it was far enough along. Words were completed and a good musical track recorded.
Once that was completed, it was time to review the progress of the 23 album songs. I made cds up with an attempt at a final running order. Album A seemed to work. One song still seemed lacking. There is always the fear that you can work on a song too hard and lose the intent. Lime Twist had me concerned. I realized that the acoustic rhythm guitars weren't carrying it very well. The bass part I'd recently done was also not right. I took it back to the folk rock feel with a laid back bass track. An electric rhythm part was also added. I figured some piano would help. It doubles the main lick and the solo. Another piano idea was added to the bridge. Yet another try at the vocals followed. The key change put it a lower register, which took me a while to get comfortable with. While putting together a rough mix I realized there was a very nice organ part. I brought that up and the song seemed to fall together. That one is now checked off and only needs the final bass.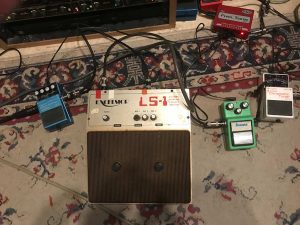 Next up was Broken Ladder/Crumbling Walls. I thought a new vocal would be all it needed. It was apparent that the Key it was in was right at the top of my range. Moving it down to the key of E made sense for the guitar part too. My concern was that the bridge would not work with the verses redone. It did, so I continued with confidence. Rhythm guitar first, then bass. The foundation now had a much more organic groove. Piano went on next. It would have to work with the new guitar-bass parts and add some sparkle too There would be guitar going over the top of the track. That would mean there would have to be some open spaces in the piano line and some variations. The original guitar part was never intended to be the final take. The the rebuild it meant start over. First chore was finding the right guitar sound. 73 Gibson SG Standard was the guitar of choice. I knew what I wanted, it was just a matter of doing it. Like the piano, I wanted it to change very time around. The results were interesting. New vocals were recorded which worked much better. I let it sit for a few days before I returned to examine the results. As suspected there was too much guitar. I went through a edited out about 25% of what I recorded to open up the sound. The song still needs a solo over the bridge section and possibly a new bass part. The progress was noted. Time to move on.
When I reviewed the tracks, I felt that Failure To Achieve was lacking some color. The song is pretty static over the verse and chorus. A highly treated piano was the answer. It added movement and sparkle. A new rough mix was created and the song was parked for future work.
I continued with the vocal update effort. Eden Pariah was next on the list. While working on that, I started hearing a choir part. The Mellotron offers loads of options for that. The idea was captured quickly. I could hear another sound, but wasn't sure what that could be. This was a good excuse to stroll though the various software synths available. I finally found what I was looking for on the modular simulation. A quick mix and made a note this just needs the lead guitar and it's done. Tom played bass on this during the Heirloom sessions.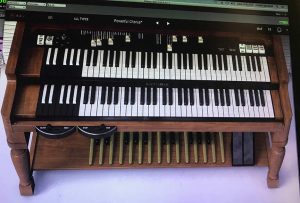 Scanning the list of songs, I realized I'd not done any work on Scott's song Dolly Jim. Once Ric had added drums I passed it on to Tom. Before I could do any overdubs, I needed a bass track. Scott hadn't done one. The song suggested a cello part and strings. The classic psych sound. With that done, I added some piano to support a guitar lick Scott was playing. It seemed like a guitar part moving up, where Scott was playing a descending line. It didn't take long to work out the necessary chord positions. Horns on the bridge? Why not? French horn and trumpets were arranged and added. All that was lacking was the solo. There were already four guitars. Organ solo might work. I had to add some grit to the sound to make it jump out. One of the guitar parts Scott played suggest an old gospel theme. With that as a starting point, I launched into it. The rough mix I sent Scott sounded very close to a final. Scott agreed. I reviewed my work and did a few small repairs to the bass part. Getting into mix mode isn't a big leap. It just means focusing on details. The rest of the day was spent dialing in all the sounds. The final mix was nailed the next day. I did a mix with out bass in the event Tom wants to have a go at it. For now it's in the finished folder.
---
19 May 2020
The other day Iattacked a pile of cds that have accumulated in the corner of the studio for a couple of years. There were four cds marked demos. I figured I should find out which demos they were. The first one just had two songs, Colter's original version of what became Carefully Considered Answers.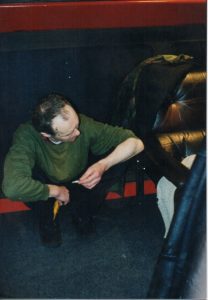 The other was a surprise. The last Brain album Richard Treece contributed to was Defeat Of Echoes. I sent him four or five songs. One was a track titled Overture, as it was the first section of a longer piece which I abandoned. I have returned to the song section recently. After the sessions in London, Richard apologized for not having a finished version of The Overture. He said they ran out of time just as he was starting to learn the song. I think we both figured he'd get back to it next time and nail it. The track on this cd was a rough mix of Richard's work on the song. He was pretty close. Three years later Mike Musberger had replaced the original drums and Jeff had redone the bass. Deniz Tek did the guitar in the end. He did sit out the first section which is a long string of chords. He just played on the slow second half. Richard seemed to have a good grasp of that complex first half. The song would finally appear on Fires Which Burnt Brightly as After The Final Sequence.
The other three cds were demos for Fires is various stages of development. Interesting to hear how those songs evolved.
---
18 May 2020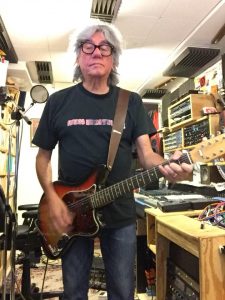 Back to work on Attic Experience. I knew the texture I wanted through the song. I now had plenty of room for something. I decided to redo the guide acoustic track on 12 string. Today I chose the Fender XII. This is the most versatile of the two choices. I recorded a warm up pass with good results. It still wasn't the sound I wanted. I added a pair of effects to the playback. There is was. A swimming sound. You can head the notes, but it's not apparent what the instrument playing is. I proceeded to record a final take. I was happy with the results. The song still needs an end solo, which I'll return to.

Bobby Sutliff offered to send over a track for me to work on. He did. I made some slight arrangement changes and sent it back to Bob to rerecord with the new ideas and at a slightly faster tempo. I'd sketched out some lyrics to add to the new track. Two verses. I didn't bother to study my version of the track. I wanted to hear it fresh. The two verses fit with little effort. My edits meant there are now two verse variations. I recorded the first verse quickly. I cued up the second, alternate verse, and just sang what came to mind. That worked. I transcribed what I'd put down and moved to the chorus. Bob's chords suggested melody and phrasing. Once again, I just sang what came to mind. Got the first couplet right away. I wrote out a second set with a slightly different point of view, though nearly the same words. That worked too. I figured I'd do the next verses before tending to the bridge. The final verse needed to resolve the song. I did spend some time with pencil and paper before I got something I liked. In the meantime, I'd dashed off what would be the bridge. There was a short, third verse variation. This will be the solo. The bridge was easy to sing. Once again Bobby's chords suggested how to sing the words I'd written. That was it. One short session and a new song is fully formed. Bob did a very clever lick on the verses. Something he is the master of.

When I had reviewed the collection of songs I made some notes pointing out which songs needed the vocals worked on. Inquisitor and Eden Pariah would both need another pass. Both of these were pulled up and a session was spent on each. While working on Eden Pariah I made a couple of small changes in lyrics. This one is now done except for the guitar solo.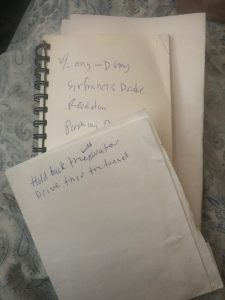 A new idea appeared a couple of days ago. I recorded some drum loops to work with. As soon as I'd completed that, I decided that this wasn't the approach I was looking for. The loops will be saved and used for something completely different. I've continued working on the lyric idea. I have something in mind for the music, but I will need to sit with guitar and words to work that out.
---
30 April 2020
Attic Experience is now back under the microscope. An attempt to ad a specific keyboard idea ended in frustration. Once change that did work was to edit the electric guitar part. At that point I put it aside and move on the Broken Ladder/Crumbling Walls. After review, I decided to redo the vocal tracks. This seemed like an easy idea. Only then did I realize that in the key of D, I was singing right at the top of my range, with little room to maneuver. After some tests I decided to rerecord the verses in the key of E. Luckily the track was still just a framework: bass, guitar, a small piano part, vocals and Ric's drums. Redoing those wouldn't be too much of a chore. There was the matter of the middle section. It was in a different key and I didn't know if that would work with the rearranged verse. As it turned out, that wasn't an issue at all.

The original track was driven by the bass, with guitar draped over that. I decided to start with a strong acoustic rhythm part. The idea was that the new bass part would not be so up front, and the track would get the power from the blend of the acoustic and bass. That opened up the sound stage. A full on piano part would be the next element. I arranged it so it would open up when there were vocals. The piano session took all an afternoon. The song now had a much more folk rock feel rather than the hard rock groove of the original. An electric rhythm was added to fill out the sound. This will probably get another try as the tone wasn't what I was looking for.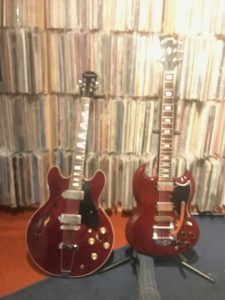 With the track built up, I turned to the vocal remake. It took me a while to get comfortable singing it in a lower range. Once I found the starting note, it went quickly. I doubled the verse and then did two passes of chorus. Everything was now sounding good. The original lead guitar part was just a guide. I would now have a go at a final take. Like the piano part, I built it up one phrase at a time. My first guitar and amp choice worked with just slight adjustment. After that it was all up to the fingers. The goal was not to repeat any riff, at least not on every verse. Another full day was spent refining the new guitar until I was satisfied. I found I needed to replace a slide guitar note that leads into the middle. the original was clipped and didn't sound right. I'm going to hand this one over to Kris to add vocals. This will further the folk-rock sound. There still is the matter of a solo over the middle section and maybe a second lead guitar on the verse.
Attic is now back on the front page. A new final vocal will be recorded. It's still just a rough guide track. The acoustic guitar was only meant to be a guide for the piano. Some of the idea works, but a dedicated rhythm guitar will help fill out the sound…
---
24 April 2020
As soon as Ric left, I got back to work on the 7 A list songs. Secretive Society was just a rough framework. It had drums now, which made it easier to see where it should go. Ric's idea for the drums was considerably different from what I had envisioned. Of course his idea was much better. The working track only had a simple bass and piano part and guide vocals. An organ part was now added which filled out the sound and gave the track more weight. The piano part was expanded from just the basic chords that Ric heard. I also added a simple, but heavy guitar part as a guide for Bobby.

The Way To Find was more complete, but needed a new vocal. Two more guitar tracks were added. Once I created a rough mix, I sent it over to Deniz Tek for a guitar solo. I did give him any suggestions, I just told him were to start. His work was done and sent back to me with in a week.

Scott's song I Don't Wanna Anymore was presented to me the night before Ric was due to arrive. I told Scott to get the tracks to me by the next day if he wanted drums added to this one. He did. I loaded in the tracks after the first drum session. That meant I hadn't had any time to learn the song or add anything to it. When I reviewed the song with drums, I didn't know if there was anything I could add. A simple organ part was added to give it a little color. When I started on a rough mix, it was clear that this song was done. The bass part Scott had done worked very well. Scott agreed with my idea to do a final mix, which I spun of in a day. It was approved and the song was moved to the completed folder. That brings that total to five.
---
09 March 2020
Work resumed after a weekend in San Francisco for the Roy Loney Tribute which was held on February 21 at the Chapel venue. The musical guests included the Long Shots augmented by John Ramberg and Scott Sutherland. The current Flamin' Groovies line up also performed. A wonderful night of Roy's music played by band mates and friends. The weekend also gave Scott and I a chance to have a beer fueled band meeting. I updated Scott on the current activities including the upcoming session with Ric Parnell. Two were considered optional, time allowing. What They Want had been on the list, but was now set aside for another time. I never added the vocals to the track, as I wasn't confident the arrangement workes. The days leading up to the session were spent preparing the tracks for the session. This meant creating the tracks for the drums and making sure only the correct tracks were on the project list.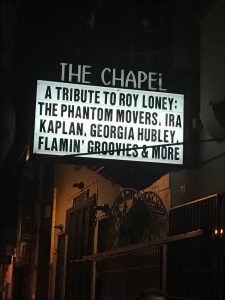 Back in Bozeman, I returned to work on the new song started before I left. I'd written the second verse, but had never tried to sing it. The song now titled Secretive Society, was now ready for drums. This meant we now had as many as nine songs for Ric to work on.
Ric was scheduled to arrive early on Tuesday afternoon. That morning Scott Sutherland sent over a song he'd just written and recorded. I told him if he could get me the tracks that day, we could add drums. He assured me this wouldn't be a problem. The filed arrived that evening. I loaded them in to the computer that evening after the first session. I needed to know that everything was recording ready. I Don't Wanna Anymore is a great up tempo rocker. Just what was needed.
I explained to Ric that we had a lot of work and it would be best to get at least three songs finished this first session. He was on the case. We got set up and started recording straight away. My song, The Way To Find was up first. The drums sit out the first half of the song, and when they do come in, it's a straight beat. Ric did a good take, but asked that we do a second pass. He was correct, the second effort was much better. With that we knew it was going to be a productive day. Up next was Scotts How To Leave CT. I knew this one would be easy. I just asked Ric to not play it like a country song. Again, the second pass was the keeper. I believe Time Flows Backwards was the third and final song before we wrapped up for dinner. I only had a couple of suggestions, which Ric took under consideration, then did what worked best for the song. We were both satisfied when we reviewed our work.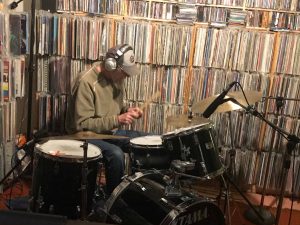 We got an unusual early start on Wednesday and quickly worked our way through the four other A-list songs. Secretive Society, Fired From The Circus, Attic Experience, and I Don't Wanna Anymore were tended to in rapid succession. Ric had solid ideas for every song and nailed them in one or two takes. Time for a break. What was left were a song of mine that I wanted drums on for possible future use and a cover Bob and I had discussed. Again for use at a later date. Ric only needed to add floor tom and cymbals to my song. There was a synth drum sound we would keep. This was an easy one and the results were very interesting. I'd done an arrangement for Making Time, the Creation msong. Turned out not only did Ric know the song, he had seen Creation back in their day. The arrangement I'd done paid tribute to their mod roots. Ric nailed it in fine fashion.
With that completed I asked Ric if he was up for another. I had one more recent song that I had never finished. I had a track and words. I put it aside as I wasn't sure where it should go. I told Ric to take a break while i reviewed What They Want to decide if it was worth our time. Ric liked what he heard. I made on suggestion and let him work it out. The transition from half time to full tempo always seemed awkward to me. Ric had no trouble working through those and fulled the song together. This was unexpected. There is a chance this one will get finished now and added to the new set.
Work was completed by 3.30pm. Ten songs in 8 hours.
With this work done, I could start sending the songs to Tom Stevens to add bass to. He always has a free hand to add anything else he wants. Right now there are 18 for him to attack. There is still one more song in our near future. Bobby had sent me a song to work on. He wanted some input. I made some changes in the arrangement and sent it back for approval and with a request to recut the track at a slightly faster tempo. He'll be working on that now. Tom and Scott had also been asked to listen to some of Bob's new songs. We will now compare notes and discuss these with Bobby. This suggests the next drum session might happen even sooner than planned.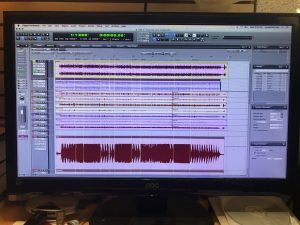 ---
11 February 2020
As soon as False Alarms was mixed, I turned my attention to the next song. After a test, I decided that Inquisitor would benefit from a Tom Stevens bass part. I played the right notes, but Tom could make it come to life. That decided, I set up Rice Paper Kites for a mix. This is a pretty simple song. The only issue was there are three distinct piano parts that needed to be treated individually. The two vocal tracks needed to be blended for the intended sound. A third guide track was added to sit behind the two main parts. This one came together quickly. At that point I took a break for a short holiday and my radio show.

I have started rounding up the band for the finish work. Most of the songs Tom will play on have now been sent over to him, with a few notes. Bobby Sutliff asked me to have a listen to one of his new ideas. He said do what you need to get it into shape. I had a lyric idea, but decided a bit of arranging need to be done first. All the ideas were there. I just made some changes to give it a little more shape. I sent my work back to Bob with a couple of ideas for him to consider. As soon as that work was completed I returned to the mix project. There was one more song I felt was complete and could be mixed.

Silent Voices was a rare song that confused Ric. He's usually able to suss out the arrangements quickly. Not this one. In the end he recorded a basic beat, then did a second pass to add the fills. Of course he nailed it. This one is the most stripped down recording of the twenty. Two guitars, doubled vocals, bass and two organ parts. It's also the most aggressive of the lot. Once I cleaned up the tracks and pushed up the faders, the mix was nearly there. This is when the magic part happens. Panned delay on the guitars. Some EQ effects on the voices and it is there. I will return to this tomorrow for the final work. A mix was recorded, but I can't be sure this is the final.

Sunday night I was discussing Bob's song, and mentioned he'd played a very good organ part. Thing is, I felt it's a guitar song and the organ filled too much space. I casually comment suggested we were not Procal Harum. Two steps later, I thought that might be a sound the Brain could manage. I woke up at 3.30am with the first bits of lyric. The Procol idea had put me in the mind of Keith Reid. The first lines were good enough that I kept adding to it through the next few hours of broken sleep. When I finally woke at 7.30am, I quickly transcribed what I had. With that secure, I thought about it for a while and came up with the chorus. I will add some music to this as soon as the Silent Voice mix is finalized. I had hoped I wouldn't write any more songs just now, but that is something you can't turn away from if there is an idea.
---
2 February 2020
Once Scott's song was finished I quickly set up Ministry Of False Alarms. This song has been finished for a couple of years. It's the oldest song meant for the new albums. The end section is from a song I believe was written before 2010. At some point I abandon the orginal song and rewrote the front part. The ending was grafted on to that. It was passed over for Turned Up Later and Heirloom as it was still lacking the end solo. That was corrected when Ric brought his friend John Goodsall over to visit a couple of years ago. I was determined to finish this one as it is meant to be the finale for the double album. I reset the board on Sunday after I finished Alternative To Me. Spent all day Monday getting a balance. The front section was the complicated part. There are four vocal parts singing the verse and chorus. Tony Miller had added two tracks of vocal. I'd sung one and Kaz and I had done another together. If I put them all up, it was too dense. I spent time working that out and came up with a plan. That took all day to work out. I returned to it on Tuesday to fix a small glitch and make some minor adjustments. The final mix was the first one attempted.
---
25 January 2020
Work on the new albums has moved forward. The first song for the next albums got a final mix today. Last week I while cleaning up our shared file, I found that Tom Stevens had done a bass part for Scott's Alternative To Me two years ago. I'd not seen it until now. I thought I'd better add the bass part of the song and give a listen. Tom's part added a lot to the arrangement. I made sense for me to finish the song and mix it while it was fresh in my head. I had done a bass part when Scott sent the song over for consideration. That would have been after the release of Turned Up Later, 2014 would be my guess. He had also sent over Kelp Whip. Two more soon followed and it was those two, Light In The Window and Up To You Down To Me that ended up on Heirloom Varieties. Kelp Whip got finished and released on Burnt Trees In The Snow.

As I was finishing up work on my most recent piece, I reminded Scott he had presented three new songs, and needed to get me the tracks so drums could be added. In the end he decided two were up to speed and sent those. I did some overdubs on Fired From the Circus and then sent that one and Attic Experience off to Bob Sutliff for guitar solos. With all these pieces in place I could now arrange a visit from Ric to add drums to the eight new songs. Five of these are on the list for what will be the next two album. The other three will go on the shelf for later use. I once again too inventory of what we had and drew up the running order for two albums. The list has changed considerably from a year ago. Four A list songs were committed to the split album with Fraudband. Three new songs were written in the last part of 2019. The revised play lists might be better for the changes.

At the end of 2018. I had begun a program of finish work on the new songs. This effort was put on hold when I turned my attention to Burnt Trees. Only one of those five songs was completed and mixed when I started assembling our half of the album. The time needed to complete the other four songs and then the work managing the release of the Brain album and Deniz Tek's record took up the first 6 months of 2019. In August I began writing again. The first two came quickly. I had them both in solid shape by October. The third one took a bit longer to work out and wasn't presentable until the beginning of January. This is where it stands now. The current plan is to get drums on the new songs. The songs will then be handed off to Tom to add bass parts. I imagine he might add guitar and maybe vocals too. At some point three or four songs will be sent out to Matt Piucci for guitar overdubs. After that, it's the drive to completion. There are at least two songs that just need to be mixed. This is the first step. After that, the songs will get a mix when then are finished. I don't want to face mixing 20 songs in one long session. I figure once a song is finished, it's fresh in my head, and the mix has been building as work on the song was being done. It makes sense to finalize the mix right then, rather than returning to it 6 months later. With that in mind, it's back to work today. Next up is the oldest song of the batch, Ministry Of False Alarms. This one is the finale of the album and requires special attention.
---
6 January 2020
Attic Experience is now complete and ready for drums and guitar overdubs. This proved to be the most difficult of the new ones. The words were written, it was the arrangement that caused problems. It took for attempts to find the right tempo and feel. I searched through the drum loop library for the right groove. Four or five loops were added to the track to see what might work best. In the end I layered two loops to get what I needed. With that worked out, the song now delivered itself. While searching for the arrangement, I'd developed several guitar parts that could be put to use. It all came together very quickly. This should be the last new song for the album. The writing process is unpredictable, so nothing is set in stone. One never wants to turn off the creative process.
---
15 November 2019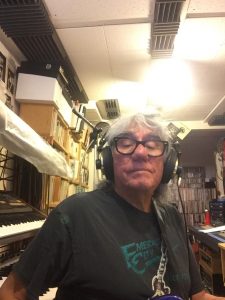 They Are Not Here is now ready for drums. The second section was added and the vocals sorted out for the whole song. Keyboards were added, then lost. The parts were redone, though slightly different from the originals. The second section got bass and more guitar added.
With that secured, I could return to Time Flows Backwards. This one was written at the piano and vocals added right after. I left it there and went on holiday. When I returned my attention was turned to What They Want. The first thing I needed to do was add a bass part. The guitar will hang on that, rather than drive the song. First effort was musically valid, but didn't suit the song. Too busy. I stripped it down to the basic notes, and found places to lay out. That gave the song a better shape. Some keyboards seemed like a good idea. Organ first to accent selected sections. The drum loop just plays straight through. I could hear some rests now with the bass added. That was a simple matter. The drum loops are just a simple guide for Ric. He can work out what it should be on the final track. Guitar is up next.

Meanwhile a new set of lyrics is under construction. No music has been written, but the feel of the song is developing as the words come.
---
5 November 2019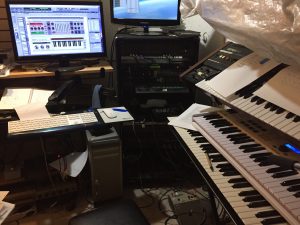 Two new songs are currently in progress. Music and voice have been recorded. Overdubs started last week. Both of these appeared as complete songs: words, music and melody. They were both assembled in just one sort session each. The first, Time Flows Backwards, was written on piano, but will ultimately feature guitar. It's the up tempo song of the two. They Are Not Here lyrics were written while drinking wine and listening to the new Green Pajamas record. I found the lyrics scrawled out on a scrap of paper the morning after. The musical idea came back to me. It had to experiment with some chord ideas. Once I sat down to play and sing, it all fell into place.

Meanwhile Scott Sutherland has offered up three more songs. These will also have Ric Parnell drums added at the next session. We are making plans for a couple of days of drum work. At the moment there are 7 new songs that need attention.
---
19 August 2019
Work on the new album will stop for the next two weeks while Penny Ikinger and Jim Dickson are in town for a visit. Most of the promotional effort for Burnt Trees has been done. Time to get out of the office and enjoy the summer.
A new musical idea has been started.
---
17 August 2019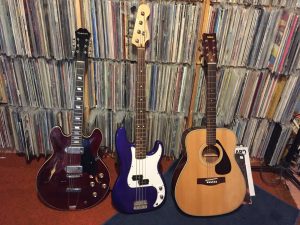 The unexpected Burnt Trees In The Snow album seems to have altered the Donovan's Brain schedule for 2019. Don at Kasumuen casually suggested we do a split album. This was in December 2018. It seemed possible as there were two finished songs in the can. Looking at the list I decided Scott's Kelp Whip and Kris' Hear Me would work for this album. I had a new song, Flash Containment, which actually seems to have been written sometime late last year, not in January like I thought. Kelp Whip just needed a little work. Tom had already played bass on it. I added a little guitar, but in reality Scott had it covered. There was the matter of the solo. I tried slide guitar with no luck. I then decided to see if a synth solo would fit. It did. I doubled it on piano. I think I was channeling a bit of Phil Ryan. We had talked about working together and I was just waiting for him to finish a Man tour. Sadly he passed away after the last gig of the tour. After that is was just a matter of mixing.

Hear me had been looked at when Kris sent it over. At that time I recorded bass, organ, and a guitar lick. Ric added drums to that and it was set aside. When I returned to the song, I decided to ask Bob Sutliff to help. I stripped off my guitar part and let him run free. He sent over the first guitar track, adding it didn't mean much yet. The second guitar track worked with the first, pulling the whole thing together. He also promised a solo. I returned to the original guitar lick as a string arrangement. Bob came up with a very important organ part over the verse. That meant my organ part needed to duck out when his came in. With that, I added a bit of synth and piano. Bob's solos fit right in. Time to mix. Kris has a good ear and made some suggestions. It all came together quickly.

Flash Containment was just a sketch when Kels and I met up. He took it home and came back with an arrangement idea that would accommodate the verses. We had a discussion about the ending. The scratch track was edited and we agreed to meet again to do vocals. When he returned, I could not find our previous work. That meant redoing the edits. When we got to the ending, I agreed his idea was better. He put down a vocal with a small addition to the lyrics. I ran the idea past Deniz, thinking he could do the lead guitar. He agreed and I prepared a track for him. In the meantime I decided to redo the rhythm guitars. Kels couldn't make time to do a new bass part so I added that too. Once we started working on the song, it was completed quickly. While working on the song, I was also doing the album art and taking care of the necessary business on this end.

The album would be pressed in Australia. There was no CD release due to a previous agreement Fraudband had in Japan. That meant I needed to get promo cds pressed on this end. It also meant another round of cover art. The original design was adapted to the CD wallet. The album would have a download card with six bonus songs. Fraudband had three live tracks. I decided to contribute three Convolutions Of The Brain outtakes. These were another ski film track, a remix of Thinking Of Neutrons that I done for Deniz and the second version of Tad's with Richard Treece. The later was not used for the box as there were some issues with my guitar. When I mixed it I had to add organ to fill the gaps. I felt like this wasn't good enough for the box. On review it is actually the better performance despite the guitar problems. I made the decision to add this to the promo cd, so there would he a proper digital version. I figured this would help promo the box while selling the new album. I also want this song on a cd for my own use.

Meanwhile work on songs for the next album continues….
---
15 January 2019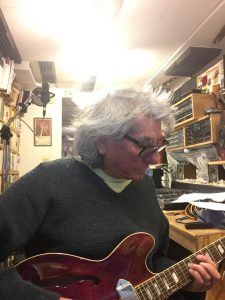 Work on the list of existing songs is moving along at a good pace. Gandy Dancer began life as a song called Under My Hat. It was determined that the lyrics would not pass the test and a new set of lyrics were drafted. A review of the track revealed the need for further work. The vocals have been redone, bringing them up to speed. The main guitar parts have also been updated. The two distorted guitar tracks didn't have much identity. A clean guitar replaced the main riff. Rather than doubling it, a new part was created to compliment the first part. A this point Gandy Dancer was set aside to pursue a new idea.

One of the film tracks heard on the Convolutions Box Set is a short piano theme titled Big Skies. It appears in the film twice. While working on the DJs film, I attempted to expand the idea into a complete song. One of Colter's ideas was grafted onto the piano section. It fit, but didn't suggest anywhere to go. Eleven years later a new piece of lyric was written. The words seemed to recall the feel of Big Skies. I opened up the original recording file and began work on this new songs. The verse was easy, just a variation of the main theme. The middle section nearly wrote itself. Sitting at the piano with the rough draft of the lyrics, I played and sang what ever came to mind. Two sections appeared. The verse and then the main theme were added a second time. Nearly there. One more bridge section was needed. This developed quickly and was recorded.

I needed to relearn all the parts to adapt to the new verse sections and then to the middle. This was all completed in three sessions. A guitar part was added as well. This the structure in place, it was just a matter of completing the lyrics. This has been done and a new vocal will be recorded today. Then back to Gandy Dancer to see where I left off. If it's approved, I'll move on to another of the new songs.
---
22 December 2018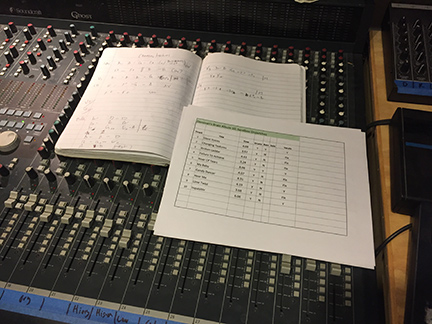 Two Old Cats is now mixed and in the finished folder. The addition of Kris's vocals meant I had to redo mine too. A guitar solo was also added. With that complete it was right back to work on another of the new songs. Changing Textures was up first. Not much has been done to this one since it was written and drums added last spring. A guitar part, new vocals, bass and a bridge arrangement have all been recorded. The song is now mixed and moved to the finished folder.
A very new song demo was handed over to Kels Koch, an original Brain member to see if he could made some sense of it. We will meet up in the new year to work on this one.
While we work on the newest songs, I will continue to complete the backlog of 20 or so songs. Most are pretty far along. Final vocals is the major concern. Where possible, the tracks will be finished and mixed. The usual practice has been to finish all the songs for an album and then mix in one long session. While doing finish work on a song, a mix is also being finalized. Makes sense to nail down the mix while it is happening, rather than trying to recreate it several months down the line. I will see if this is a good idea. Easy enough to revisit mixes when the album is completed.
The studio is in need of some maintenance which I hope to look at next week.
---
4 November 2018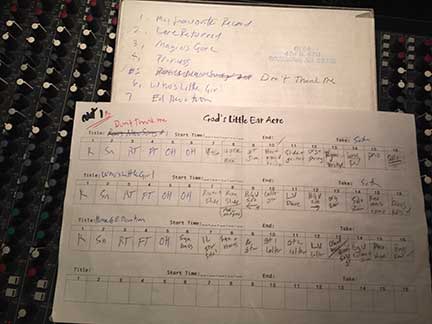 Gray Whiskers (Winter Cats) was completed this week. Bobby Sutliff supplied the guitar solo and the song was mixed over three days until determined satisfactory. The master has now been delivered to Tom Dyer for his release. Gray Whiskers is based on one of the new album songs, Two Old Cats. Kris sang the original lyrics as well as her new Christmas themed words. The song in it's original form will appear on the first of two new albums.
Dave Martens has asked if we could contribute to the second Lost Sounds Montana Records compilation. Long Time Coming was a collection of 60s Montana artists. The new release focuses on 70s and 80s Montana bands. Donovan's Brain falls into this time frame as we formed in 1986, though our serious recording career started in 1990. The compilation is a companion to a documentary assembled by Kirk Leclaire. Original Brain members Ron Sanchez, Jim Kehoe and Kels Koch appear in the film. Archival footage of nearly 20 bands is seen in this 70 minute documentary.
I decided to return to the Tiny Crustacean remix project for our contribution to the album. The satisfactory results of the Arnold 4 Souls remix heard on Convolutions has motivated me to pursue this project over the next two years. The Walker-Sanchez collaboration Don't Thank Me has been chosen for this release. All the tapes from the Tiny Crust sessions have been transferred to the studio computer for work. The good news is that the raw tracks sound very good. Tiny Crustacean Light Show was recorded prior to some significant upgrades to the studio and the mix suffered as a result. The modern studio and tools will bring out the best of the sounds recorded in 1998-99. More about the film and soundtrack album soon.
24 October 2018
While in Jackson 2 months ago, I sat around with Bobby Sutliff playing his guitars. New instruments often inspire ideas. I started getting an idea together. Bob looked up when I said "damn, Groovies chord". He asked if that was a new idea, and assured me the Groovies probably borrowed it too.
I'd written some lyrics while traveling to Mississippi. When I got home I recorded the various changes so I could remember them and get a feel for the song. I quickly got distracted with two more new ideas and the Xmas song.
I returned to Nine Layers Of Security with the idea to play it on organ and piano. I was hearing Richard Wright. Got one verse, and added guitar. Next day I figured I'd pick up from there on guitar to find an arrangement. I charted that out and decided it needed a middle and end. I added 4 bars in the middle and figured out an ending. Today I finished the organ and piano parts. Well the jangly tune now seems to want to be Neu! The lyrics probably suit that idea better than a power pop number.
A Krautrock song is not a new thing for the Brain nor an accident. When I interviewed Brian Eno in 1974, he gave me a list of German bands he thought I should listen to. I bought up everything on that list and more. The original Perky Pat, the first good riff I wrote, is pure KR. You can hear that on Shambaholic And Other Love Songs. There is a section on Kew Observatory, also on Shambaholic, which borrows from Kraftwerk musically and Eno lyrically. Row Out is pure Before And After Science. Eclipse And Debris has four synth instrumentals that come from the Neu!, Cluster influences. Ken Stringfellow thought Central Services sounded a lot like Can. It did, but the original title was Bongo/Santana! Thinking of Neutrons on Fires Which Burnt Brightly again visits the Conny Plank sound. You can hear more synth based compositions on Convolutions Of The Brain. In the last year two more lengthy Krautrock pieces have been recorded, though I don't think these will appear on the new albums.
---
9 October 2018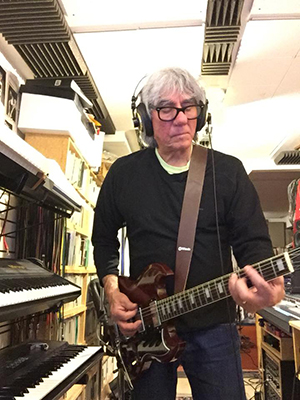 The last year has been full on. Deniz and band recorded the basic tracks for Lost For Words in just three days. I spent another month adding keyboards to eight of the ten songs. Once that was completed I could return my attention to work on the Convolutions box set. Several more new songs were written over Winter and Spring 2017-18. Ric returned to Bozeman in the spring for yet another recording session.
The two long instrumentals, Open G and Theme For A Special Place fall into the experimental column and will probably not appear on either of the two new albums currently under construction. Inquisitor Non Sequitur was conceived as a keyboard instrumental. After it was recorded, I realized that a set of lyrics might fit. The track Voyage became Inquisitor Non Sequitur with out much effort.
This spring, Jerker Emmanuelson, label boss at Sound Asleep solicited songs for Vol 10 of the Hit The Hay series. I thought that a bit of music I'd demoed might suit the power pop theme of the compilation. This meant finishing the song. Lyrics were written, drums added and then the guitar parts were redone to bring it up to snuff. Tom and Kris joined in to add bass and vocals. The song was mixed and sent off to Sweden in early June. This might be the quickest turnaround for a Brain song, start to finish. No, that honor would belong to Tiny Crustacean Light Show. That song was written over coffee on Saturday morning and recorded the next day. The usual method for Brain recording requite a certain amount of time for the song to evolve in the studio.
Bobby Sutliff invited me to join The Windbreakers on stage at the James Patterson benefit in Jackson, MS. I flew out for a few days in August for the gig. I've been a Windbreakers fan since the early days of their career, so this was quite an honor to share the stage with Bobby and Tim.

Bobby invited me up to his room on the morning of the gig to check out his array of guitars. He'd brought both his Les Pauls, a Casino, an Esquire and his Danelectro 12-string. While having a play, I came up with some chord changes which I quickly jotted down. I'd written some lyrics while waiting in the Dallas airport on the way out. A demo was recorded as soon as I returned to Montana. Another new song appeared in a dream a couple of weeks ago. Fully formed music and a lyric. This isn't the first time I've created a song in my sleep. The basic track for this one has been recorded. Another travel song appeared last week while on vacation in New Orleans. I had a free morning and decided to see what I could come up with over coffee. The set of lyrics suggested the musical format. I'm about to head down to the studio right now to put that one down on the hard drive.
A couple of weeks ago, Tom Dyer asked me if we might have a song for a Green Monkey Holiday Benefit album. I figured we could rewrite the lyrics to the new song Two Old Cats to suit the holiday theme. Kris once again offered to have a go at it. The results were very good. She added an extra verse and blocked out an arrangement. I've since added a new guitar part and piano. She also recorded a vocal track on my original recording. Bobby and Tom have yet to add the solo and final bass part. These tasks should be completed in the next week.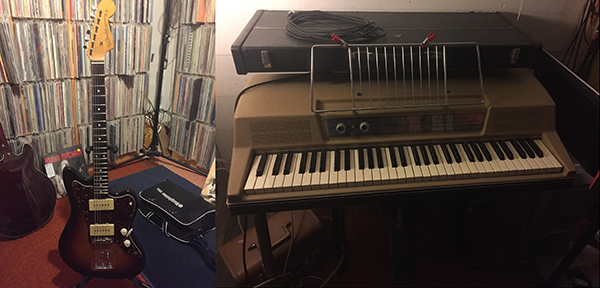 ---
8 August 2017
Drums will be added to five new songs next week. A day will be dedicated to Brain material after work on Deniz Tek's album is completed.
I completed three new pieces Old Cats, Silent Voices and Harvest Zoo Fireplace. Another long instrumental Theme For A Secret Place will be set aside for future use.
River Of Tears is a collaboration between Kris Hughes, Ron and Bobby Sutliff. The main riff is of Bob's which dates back several years. Kris and Ron had written the lyrics and worked out the two voice arrangement.
Scott Sutherland has offered up three news songs. Dolly Jim will be the first to attend to.
The goal is to collect enough material for two albums before moving to the finish stage.
---
1 July 2017
The 17 months since the last entry reflects the full recording schedule that occupied the time.
Writing and recording songs for the new Brain album resumed in earnest in the summer of 2016. Ric Parnell brought his old band mate John Goodsall around to add guitar to a pair of songs. Ministry Of False Alarms was on the short list for Heirloom Varieties, but was lacking the end solo. John did the work on this puzzle. He also played on an instrumental experiment YMG. Following this session, several new ideas were recorded including Bass Lick, A Trip With Auntie, Lemon Twist and My Baby. Lyrics for Changing Textures were also written in this period.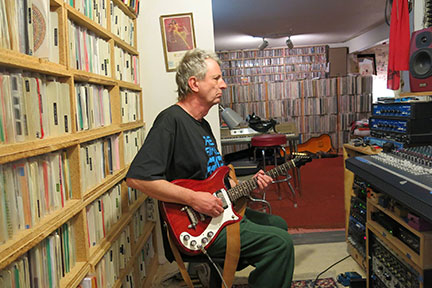 Work on the box set officially began on September 1st, 2016. An full inventory of the tape vaults turned up several surprises. The original plan was for a two disc set. One disc would feature Richard Treece and the second would be comprised of film music. It was soon discovered there was two hours of Treece material to consider. There were a few songs which had never been finished and several in need of repair before they could be mixed. It was decided to use the original mixes for two of the compilation tracks and several of the film tracks. Four album tracks were remixed for the set. The new mix of To One Who Waits restores the vocal track which was not used on the original mix. Joey's In The Pouch was mixed twice, each with previously unheard Richard Treece guitar tracks.
When Richard Treece visited in the summer of 1999 he brought with him the song Brave New Girl. It would take 18 years to complete this epic performance. Ric had added drums several years ago, but the song was still lacking organ and bass. Tom Stevens was more than happy to work up a bass part to replace the one on the demo track Malcolm Morley had given us. Then there was the matter of sorting out the six guitar tracks Richard had recorded. It took several days to map out the elaborate arrangement. The results are a stand out track on the set.
Just after the mixes for the box were completed in February 2017, Deniz asked Ron to join up on the east coast for three warm up gigs prior to the European tour. Ron would fill the keyboard position for the show. Deniz was pleased with the result, so you can expect to see Ron on future North American gigs.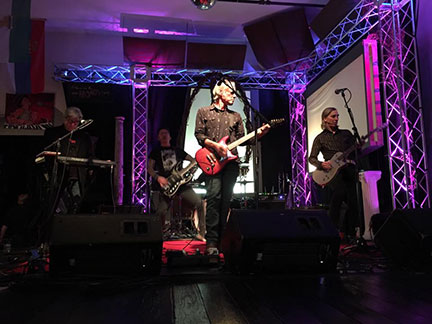 The front line with Keith Streng will be gathering at GLEA in August to begin work on Deniz's new album. Ric Parnell and Bob Brown will be called in to supply the engine.
Back in Bozeman, Ric was called in to add drums to several new songs. Changing Textures was written a few days before the session. The results were deemed satisfactory and Ric was sent home with the demos for Deniz's album. The momentum continued and two more songs were written and recorded. Another idea has been demoed. Scott Sutherland has offered up three new songs as well. Writing will continue while work on the box set release is carried out. All a very active time for Donovan's Brain. Expect the new album in Fall 2018.
---
29 February 2016
Much to our surprise, Heirloom Varieties has continued to get good press and radio play around the world. Dee Jays in Spain have taken to our record and its been in high rotation on Radio 3 and the Plastic Elastico show. A very good review appeared recently on efeeme.com site. This continued activity has meant more time dedicated to promotion.
The new year has finally seen some activity in the studio. One new song has been written and demoed. Work on one of the two covers we plan to record has finally reached the stage that the band can now start adding to the basic track. Ric and I did the drum track while working on Heirloom. It was set aside for later. Later is now. Tom Steven's commitment to the just released Long Ryders box set and tour will keep him busy for the first part of the year. This should allow the rest of us to start collecting new material.
Meanwhile work on the second archive release has begun. Three songs have been mixed. This is just exploratory at this point. Making sure all the material is usable. The new box set will focus on the period from 1994 up to 2010. There is over an hour of unreleased recordings with Richard Treece. Dave Walker appears on some of these tracks. No release date has been set. A new album is the priority.
---
8 September 2015
The machine never rests.
Discussions about the next album have already begun. New song ideas are starting to come together and unfinished tracks from the last two album will be reviewed. Serious work will commence in January 2016.
---