Singles, EPs, and Various Artists
Orphaned Tracks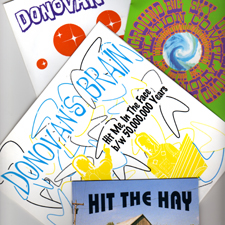 The first Donovan's Brain release was on a Swedish compilation CD. This was followed by 7″ vinyl releases, each featuring non-lp tracks. Seven more compilations can claim unique Donovan's Brain releases.
The first proper Donovan's Brain release appeared four years before they released a full length CD under their own name. The result was to raise the profile of a mostly theoretical band onto the international underground scene. It also meant that seven songs from the as yet unreleased album Shambaholic were now scattered around several countries. When the Brain regrouped in 1995, no one in the band could have seen what was about to happen. There were heated discussions as to what direction the band should take. One faction argued that band "should learn 30 cover tunes, and go out and play the bars". On the other side was the desire to make original music for a wider audience. The result was a violent split and work on what would become Eclipse And Debris came to a halt. Luckily there were others who were willing to step in and proceed toward the stated goals.
---
The Overture/Bok, The Lager Troll (2022)
The second digital archive release collects two previously unheard Richard Treece performances.

The Overture is the original version of the song that would be released as After The Main Sequence. The original track had Seth Lyon on drums. Richard added guitar to this in 2004 while working on A Defeat Of Echoes. He wasn't entirely happy with the performance as he got cut off before he felt like he'd mastered the complex song. It was thought the multitracks for the session had been lost. A search of the studio computer for the rough mix turned up the complete file.

Richard had played through the song twice. The first section is very structured. As a result the two parts matched up pretty well with some harmonies happening. The second section is a one chord vamp. This section copied to double the length so that the two parts could stand alone. The long fade is the intro to the second section of the piece She Sits In Her Room. That song was rerecorded in 2019 and will appear on a future Brain album.

Bok, The Lager Troll is the rough mix done at the end of the 1999 session, with all the guitars mixed full up. The final mix that was done for the Convolutions release revealed a very nice arrangement Richard had created.
Carefully Considered Answers/Donnerdodal und Emanzipation (2022)
This first in a series of planned digital archive releases is a benefit for Give Bobby A Hand. Tim Lee suggested some fund raising efforts to help out Bobby's widow Wendy.

Carefully Considered Answers is a remix of the Fires Which Burnt Brightly track. This one is Bob and I doing our best Danny Kirwin tribute. Deniz Tek helps out on the third guitar. The flipside is an updated version of a song which originally was released of Eclipse And Debris. In more modern times Ric Parnell added drums to the track. This new version is the complete song. The album version was edited.
Without Warning (2022)
This companion to the film So Good I can't Take it includes the early Donovan's Brain recording of Lowlands. Donovan's Brain are seen in the movie.

The double album includes 16-page booklet with foreword by Kirk LeClaire and an essay by Tom Kipp as well as rare photos and band info. Includes album download card and a link for So Good I can't Take it.

The album featurs early recordings by Steve Albini (Just Ducky), Jeff Ament (Deranged Diction), Reggie Watts (Autumn Asylum), Silkworm, Steel Pole Bath Tub, and more.

The 70s and 80s Montana bands heard are Autumn Asylum, The Banned, Beat Nothings, Boy Toast, Circle 7, Dashing catholics, Deranged Diction, The Details, Donovan's Brain, Ein Heit, Ernst Ernst, Just Ducky, Panache, The Pugs, Rust & Smuts, Sheryl & The Spineless Yes Men, Silkworm, Steel Pole Bath Tub, Surfer Ruth, Who Killed Society
A Green Monkey Christmas For Martians Up On Mars (2018)
Tom Dyer at Green Monkey Records asked if we could contribute to a Holiday benefit compilation for Music Cares. We didn't have a Christmas song, but we had Two Old Cats Burnt Trees which I thought could fit the bill with little reworking. Kris Hughes took up the tasked of remodeling the song giving us Gray Whiskers. Bobby Sutliff added the new guitar solo. The results were better than the original song and will probably apprear on a Brain album in the future.
Nomads vs. Donovan's Brain EP (2014)
This is a collaboration that has been sitting in the cellar for many years waiting to be sampled. In 1999 the Nomads booked a day off on their tour to visit Donovan's Brain in Bozeman. The Brain were in the middle of the sessionns for

Tiny Crustacean Light Show

and

Great Leap Forward

. Richard Treece was in town as well. The Nomads were offered an unreleased Donovan's Brain instrumental

No Cops Haul, Ass

which they came prepared to record. Also cut were the the title track for Tiny Crust and the B-side version of

Top Alcohol

.

No Cops

was dusted off and given a fresh mix for this EP. It had earlier been heard on the souundtrack for the obscure ski film 99 Sense. Ron Sanchez and Richard Treece were invited to add even more guitars to this high desert hot rod tune. The four guitar players weave a dangerous tale of speed and beer.

One of the two Donovan's Brain tracks is also from the same 98-99 period. Jim Kehoe's (Snow In) Miami never got a final vocal. In 2010 it was revised for the Bridger Bowl Ski Film Of The Day. If your are starting to get the feeling these songs might be about going downhill fast, you are correct. 100 seconds of terror as your flight plunges into a Florida swamp.

From the new stack comes Bread Man Burning. This true story about a baker who ended up burnt toast was recorded in the early stages of the Turned Up Later sessions but set aside for a future single release. New boys Scott Sutherland and Tom Stevens helped complete this number for this EP. That would be Deniz Tek on the ripping guitar.
Twilley Won't Mind – Dwight Twilley Tribute Zero Hour (2014)
1. Honeychain – I'm On Fire

2. Martin Martini & The Bloody Marys – Could Be Love

3. Eric Collins And His Ilk – Feeling In The Dark

4. Beekler – You Were So Warm

5. Rainy Day Saints – I'm Losing You

6. Donovan's Brain – Sincerely

7. Matt Keating – T.V.

8. Sitcom Neighbor – Release Me

9. The Frinchers – Three Persons

10. Popdudes – Baby Let's Cruise

11. Kristian Hoffman & Jim Laspesa – England

12. Mike Dees – Just Like The Sun

13. Michael Carpenter – Here She Comes

14. The Slapbacks – Looking For The Magic

15. Lannie Flowers – That I Remember

16. The Mold Monkies – Rock And Roll 47

17. Jared Lekites – Trying To Find My Baby

18. Esa Linna & Neverheard – Twilley Don't Mind

19. The Bottle Kids – Chance To Get Away

20. Chris Silagyi – Shark (In The Dark)

21. True Stories – Didn't You Say

22. Spike Priggen – I Don't Know My Name

23. Pop Fiction – You Never Listen To My Music

Bobby Sutliff produced this psychedelic take on Sincerely one of our favorite Twilley tracks.
Starry Eyed – The Records Tribute Zero Hour (2013)
1. The Accent – Girl

2. The Split Squad – Teenarama

3. Dan Sarka and The Sometimes Why – Starry Eyes

4. Lannie Flowers – Up All Night

5. Off Broadway USA – All Messed Up And Ready To Go

6. Zombie Western Baby – Affection Rejected

7. Mike Dees – Rumour Sets The Woods Alight

8. Donovan's Brain – Hearts In Her Eyes

9. The Injured Parties – I Don't Remember Your Name

10. The Mold Monkies – The Same Mistakes

11. The Broken Rekkids – Girl In Golden Disc

12. Bill Lloyd – Hearts Will Be Broken

13. The Bottle Kids – Guitars In The Sky

14. Steven Deal – So Sorry

15. Vox And The Voxtones – Not So Much The Time

16. Words – Held Up HIgh

18. The World Record – Third-Hand Information

19. The Undecided By Default – If I Write Your Number In My Book

20. The Popdudes – Your Own Soundtrack

Bobby Sutliff leads Donovan's Brain through a rockin' version of the Records Hearts In Her Eyes. Another track from the Turned Up Later sessions
Skrang Sounds Like Bobby Sutliff Skrang (2013)
1. Velvet Crush (w/Matthew Sweet) – Second Choice

2. John Thomas – Make a Fool Outta Me

3. John Stirratt – Girl from Washington

4. Matt Piucci (w/members of Rain Parade) – That Stupid Idea

5. Anderson Council – Griffin Bay

6. Peter Holsapple – Ballygrand

7. Will Kimbrough – Off & On

8. David Minchew – Change the Way

9. Bill Lloyd – Same Way Tomorrow

10. Tom Stevens – Bitter Fruit

11. Don Dixon – New Red Shoes

12. Tim Lee 3 – I Thought You Knew

13. Donovan's Brain – Oh Lorelei

14. Jeff Lewis – Elam Bridge

15. Michael Carpenter – Long Red Bottle of Wine

16. Kirk Swan – From a Distance

17. Russ Tolman – Devil & the Sea

18. Koenig's Road – Ghost Town

Eighteen bands pay tribute to Bobby Sutliff via this benefit album released in 2013.
The Micky Jones Tribute Album MJ001 (2011)
1. The Headstone Poets – Back Together Again

2. Rostok – Long Lost Friend

3. David Scott – Kerosene

4. Donovan's Brain – Violin Thing

5. Eligh Toadd – Angel Easy

6. The Headstone Poets – C'mon (Mon)

7. The Quaffing Llamas – The Acidtone Variations (parts 1-3)

8. Nick Nation & Friends – Call Down The Moon

This second Man related tribute has been assembled by a group of fans, so you will see some repeat offenders here. The album was organized and produced by Manfan Martin Mycock, who also appears on the album.

Five of the songs are taken from the Man songbook, two are original compositions based on and dedicated to Micky. Only the Donovan's Brain contribution is sourced from Micky's catalog. Violin Thing was one of many ideas Micky had recorded at home in 1977-78. The original track was based around a beatbox, with Micky on guitars and bass, and a friend on violin.

Overall, this is a much stronger effort than the 2000 release, Man We're Glad We Know You. Tracks by David Scott, a New York based fan, and Nick Nation are standouts. Violin Thing was performed by Ron Sanchez and Deniz Tek, appearing as Donovan's Brain.
Lightproof Visions – EP Magical Jack Records 008 Germany (1996)
Side A

1. Holly Green

2. Sleep Deep

Side B
3. Make A Noise Quietly
4. Kew Observatory

The first two Donovan's Brain releases appeared on European labels. Lightproof Visions was the first to have the Brain's name at the top. Norbert Schilling heard Shambaholic, and asked if he could release a four song EP. He chose four of the strongest songs, which was a good idea, but made it less likely that Shambaholic would ever be released in it's intended running order. For this release, Sleep Deep was edited, removing a line from each verse. Otherwise, these are the same mixes as the album versions. It is no small irony that the 1995 version of Donovan's Brain had disintegrated just a few weeks before Norbert contacted the band with a deal in hand.
Hit Me In The Face/50,000,000 Years Get Hip Recordings GH-192 (1996)
Side A

Hit Me In The Face

Side B
50,000,000 Years (Before My Time)

The Get Hip connection came about in 1994, when The Cynics were invited to stop in Bozeman, while on their way out to Garage Shock. Gregg Kostelich and Ron Sanchez struck up a friendship, and the deal was put together. This came only a few weeks after the call from Magical Jack. This great leap of faith would be the most important event in the history of Donovan's Brain.

The two sides of this single were chosen to show the wide range of sounds the Brain were producing. Hit Me In The Face was one of the last songs written for Shambaholic. Ron wrote the music and title line while watching the Woggles at the 1994 Garage Shock Festival. A historical note: the arrangement was worked out a couple of days later at Jim Sangster's apartment, while waiting for Jimmy Silva to show up. It was his birthday, and we were going out for dinner and drinks. Jim Kehoe wrote most of the lyrics for the verses. Any line Ron sings, he wrote. This song owes a lot to the Stones and Johnny Thunders, that was not an accident. 50,000,000 Years was taken from Butterfly Wheel. This version has new vocals, and was remixed for the single. In this review, Fred Mills pointed the listeners towards the B-side.
Hit The Hay "A Compilation Of Great American Music…" Sound Asleep Records ZZZ001 Sweden (1994)
1. Chris Von Sneidern – Hard Again

2. Bill Lloyd – Anytime The Time Feels Right

3. Tim Carroll – Good Cry

4. Young Fresh Fellows – Yankee Magazine

5. Bobby Sutliff – You Don't Have To Go

6. Eddy Lawrence – Blues For Tomorrow

7. Keith Klingensmith – Ann Marie

8. The Stone Cutters – Buddy Holly's In Heaven

9. Slade Cleaves – Brother's Keeper

10. Scud Mountain Boys – Two Weeks Past

11. The Picketts – The Longer You Wait

12. The Idea – I'm Knocked Down

13. Ray Mason Band – We Don't Get Along Anymore

14. Bob Reuter & Kamikaze Cowboy – Its Don't Matte

15. Andrew Chalfen – Lost My Place

16. Chris Richards – You Wear It Well

17. Bobby Smith – Date With The Blues

18. Jim Diamond – Next Step

19. Pine Dogs – Naked Truth

20. Todd Walker – Thrown Away

21. Donovan's Brain – Dandelions Are Back

22. Thomas Anderson -CX-9

Jerker Emmanuelson had spent a year in Nashville, attending college on a tennis scholarship. He had carefully planned this so he could spend time in the center of the American music scene. It was the Brain's connection to the Young Fresh Fellows that led to Dandelions Are Back finding a place of this first volume of the long running Hit The Hay series. Having an idea that Jerker was a power pop fan, the Brain sent over an early version of a track from Shambaholic that might fit the concept. Needless to say, the Brain were chuffed to have their first release on a Swedish label, and in such good company. Future Donovan's Brain associate Bobby Sutliff was one of the flagship artists as well as CVS, who would later become a friend of the band. Also on the list, you will find Joe Pernice as a member of the Scud Mountain Boys, The Picketts, and Jim Diamond, later to become well known as a producer who's work included the White Stripes.
Big Sky Underground A Compilation Of Montana Bands Happy Bandit Music (1997)
Selected tracks:

5. Tarkio – Nebraska

7. Mullray – More Money

9. Donovan's Brain – Hiway 94

10. Cratewasher – Limb

12. B.U.T. – Sex On Roller Skates

13. Los Hermanos Brothers – Red Hot Special #2

19. Metropolitans – Puss Puss Club

Big Sky Underground collects 19 songs from bands around the state of Montana. The album was assembled by Frank Ruffolo, another former California resident. His band, Los Hermanos Brothers were the only other band to release a CD on Happy Bandit. The songs were a mixed bag, mostly all sorts of bar band sounds. Ron Sanchez produced Cratewasher and the Metropolitans, Jim Kehoe's band. Hiway 94 is yet another Shambaholic song, this one was the only cover on that album. The original version appeared on the Young Fresh Fellows GaG FaH cassette. This CD is long out of print, but it often turns up in Montana pawn shops. I suspect there are boxes of them in Franks basement.

Tarkio is Colin Meloy's band prior to forming the Decemberists. Once again the Brain find themselves in the right company.
This Is POT POT 28 Ptolemaic Terrascope Compilation (2000)
1. The Wellwater Conspiracy – What Becomes Of The Clock

2. The Deviants – Lurid Nights

3. Six Organs Of Admittance – Lament for Summer

4. Mac Macleod – Codine

5. Soft Cloud – Time Machine

6. Pangolin – The Sea

7. Virgineers – smile Cheshire Cat

8. Greg Weeks – For Chan

9. The Pins – Starling/Untitled

10. Help Yourself – Eating Dune Burgers

11. Help Yourself – Willow

12. Help Yourself – Miss Grace

13. Donovan's Brain – Days Playing (Perkey Pat)

Phil and Nick get one of the best unreleased bits for this CD given away free with Terrascope #28. This is a hybrid recording. The basic track was recorded live by the short lived line up of Ron Sanchez, Colter Langan, Tony Sacco, Seth Lyon and Jim Kehoe. This is from the same 1997 session that produced Underdose for Tiny Crustacean Light Show. When Richard was over in the spring of 1998, he added his guitar part. Richard knew the song, but was unfamiliar with this arrangement. The tape was run, and he played along, as if live in the studio with the band. Afterwards he said "that isn't the version I know". There have been many variations of Perky Pat recorded and performed live, including one with Green Ray at the London Terrastock. This one has a particular charm probably inspired by Seth's drumming and Tony's keyboards.

Malcolm had agreed to let Phil put out one of the tracks from the unreleased Helps 5, so he put out three. These were later remixed from the masters and released on the official release of Helps 5. Nice to appear next to our old friends.
A POT By Any Other Name…POT 30 Ptolemaic Terrascope Compilation (2001)
1. The Lucky Bishops – Time Of The Season

2. The Soft Boys – Insanely Jealous

3. Donovan's Brain – 22 Lost Marbles

4. Vashti Bunyan – 17 Pink Sugar Elephants

5. Gadsby & Skol – Fools Like You

6. The Sandpebbles – The Big V

7. Warser Gate – Faces Blunt

8. Quicksilver Messanger Service – The Fool

9. Bardon Pond – Another Place

10. Tony Hill – Naked Ape

11. Thuja – The Jewelled Antler

12. thebrotheregg – Negative Space

13. Subarachnoid Space – Delayed Gratifaction

Our second time on POT finds us in stellar company. Hard to complain when you are sandwiched between The Soft Boys and Vashti Bunyan. Good friends the Sandpebbles, from Melbourne and of course QMS also appear. Donovan's Brain later opened for Subarachnoid Space in Bozeman. More about that down the list. 22 Lost Marbles is another one of those Brain songs that has been around for ages. The original idea came from a dream, and the middle section is directly transcribed from the same. At least one demo was recorded at GLEA, and then there was an attempt to record it in Seattle with Hugh Jones, Kels Koch and the drummer from his band at the time. It was recorded again, with lyrics written and sung by Paul Rose. I'm pretty sure the intro was recorded with Jason McKnight, but it's Seth and Kels on the track, so that means it was recorded during the early phases of the Tiny Crustacean sessions in 1998. Dave Walker and Colter sing it. Ron and Treece do the guitars. The new lyrics were written by Ron, and one verse is a pointed jab at Paul Rose. The other two verses are about real people too, but no one will tell you who.

Not that anyone would care, but the intro and the middle say a lot about the band Family. This isn't the first time Donovan's Brain has paid tribute to the boys from Leicester. The best part of this song is the guitar duel between Treece and Sanchez. Treece probably wins by economy. This rates a near miss, made even more painful by the amount of time spent on it. Nick Saloman liked it, so I guess we do too.
Dream Magazine #6 Dream Magazine(2006)
Selected Tracks

5. Windy & Carl – Living Things And Ghosts

7. Nick Benson – Leaves

9. Michael Gira – Servant Of God

12. Bridget St.John – The Body Breaks

13. Donovan's Brain – Dim Gem

This song should have been on A Defeat Of Echoes, but it was nowhere near complete when that album needed to go to press. The chords are Colter's. It was something we would play at rehearsals, as it seemed like there was something there. It was also staged tested when The Brain played with Subarachnoid Space. At that show, it was coupled with a spontaneous free form piece. A minute or so of that performance can be heard at the start of this recording. At this point the song was just a verse and chorus. The initial recording of the D minor Jam added the transition from the free form section at the top. It was thought that it would segue with another of the albums tracks. When preparing tracks for Richard Treece to work on, this basic was pulled off the shelf, and went through the first of two major rebuilds. First, the seven verses were edited down to a more manageable length. There was also the problem of no middle section. A chunk of the intro jam was dropped in to break up the verses. Treece had a good time with this one, and sent back two tracks of guitar. By this time, it the running order for Echoes was set, and "D minor Jam" was put back on the shelf. Once Echoes was released, and the distraction of the Roy Loney sessions had passed, this was pulled back out to see what was there. The new middle section was still not right, so yet another section was created, and some of Treece's guitar was spread across it. Extensive over dubs were carried out at this point. Jeff added lap steel, Colter played the acoustic guitar, and the keyboards were added. Ron added additional harmony guitar to compliment Jeff and Richard's work. This is probably the only Brain track that Jeff played guitar with Richard, and very well at that. When George Parsons asked for a contribution, two songs were sent, this and the updated version of Sleep Deep, which seemed appropriate for Dream Magazine. George wisely made the right choice when he picked the song now known as Dim Gem. The title came from Colter misreading the title on a note sent to him regarding this song. This might be one of the best things this band recorded.
Man, We're Glad We Know You – A Tribute To The Manband PGRSCD 2021 (2000)
1. The Rhino McQuickly Band – C'mon

2. Breaking Point – Circumstances

3. Donovan's Brain – The Single #2

4. Rostock – Bananas

5. Crosscut Saw – Daughter Of The Fireplace

6. The Passage – Breaking Up Once Again

7. Pseudo Sun – 7171 551

8. The Quaffing Llamas – Just For You

9. Crosscut Saw – Romain

This limited edition CD, a collection of Man songs played by a small group of fans who they have influenced. Nine brave covers performed by eight bands. Man roadie, Roger Hoodless and his sons have a go at Bananas. Man historian, Martin Mycock and his Quaffing Llamas presents a snappy version of Just For You. The Brains are featured on a rollicking version of The Single #2, an unreleased song from the 1974 version of Man. This product of the Tiny Crustacean sessions is performed by Kels Koch, Seth Lyon, Ron Sanchez, Joey Kline and Dave Walker. The Brain track is probably the only one recorded without a Stratocaster.
---