Chiêm bao thấy bậu Original Soundtrack (2022)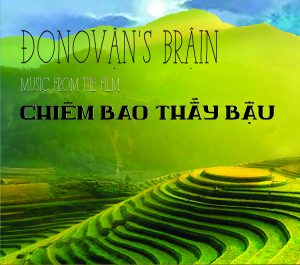 01. Première Rencontre
02. I Am Not
03. Connexion Complète
04. Unexpected
05. Holding My Own
06. Cultured Memory
07. Distance Is Created By Time
08. Knives
09. A Story In A Story
10. I Don't Dream Anymore
11. Des Formes Qui Changent Lentement
---
Donovan's Brain recently paused work on their new album to honor a request from Viet Nam for soundtrack music. The music for the film Chiêm Bao Thấy Bậu shows off a side of Donovan's Brain which is in contrast to the usual high energy and liquid modern psych they are known for. An astute listener would have noticed the strains of prog and Krautrock influences that have appeared in rationed doses in the past. A film soundtrack gave the band a chance to share a full collection in this style.

Seven of the songs on this new album were recorded over the last year 2021-2022. The newest being Knives and I Would Not. The later was completed just two days before the album was sent off to be mastered. Distance Is Created By Time and I Don't Dream Anymore date back to 2018. Neither was considered for Sandbox Shadows. They were both revisited in the weeks after Sandbox Shadows was released. Distance underwent a major revision which put it back on the active list. Des Formes Qui Changent Lentement, the oldest track here, was recorded in 2017. Curiously, it was an attempt to capture a dream state in a musical construction. The drums on this are loops played by Mike Musburger. These were extracted from the song After The Main Sequence, which was heard on Fires Which Burnt Brightly. Première Rencontre
is a fragment of an idea which was labeled Mellotron Experiment. It seems to have been recorded in 2019, though there is some question about that date.

Story In A Story and I Would Not are different versions of the same basic track. Originally written as a tribute to Tom Stevens, it was intended to be an instrumental. Bobby's guitar and string arrangement were the last pieces need to complete the song and the album. Kris offered to write some words. It was decided to complete a separate vocal version for the album, or possibly a later release. The lyrics Kris wrote are connected to the movie's story. That guaranteed the song would appear on the soundtrack.

Two other songs on this album also exist in much different versions. The 60 second sequence that is Première Rencontre was fleshed out into a full blown song, Biscuit Tin. This one will appear on the follow up album Faith In Failure. Cultured Memory is a based on a set of chord changes written by Bobby Sutliff. Ron wrote Faith In Failure around those chords. It suggested something else completely different. That idea became Cultured Memory. You will hear the original song on the next Donovan's Brain album. Recycling ideas is not uncommon in the Brain world. This just happens to be the most concentrated instance of this process.
---
01. Première Rencontre
 (Sanchez)
Ron: Mellotron Strings/Flutes
02. I Would Not (Sanchez-Hughes)
Ric: Drums
Kris: Vocals
Joe: Bass
Bobby: Guitar, Strings,
Ron: B3, Rhodes
03. Connexion Complète
 (Sanchez)
Ron: OB-E , Poly Moog, ARP 2600 , MOTU MX-4, Rhodes, Green Oak Crystal
04. Unexpected (Sanchez)
Ric : Drums
Ron: Vocals, Acoustic Guitar, Mini Moog Bass, Piano, B3, Mellotron
05. Holding My Own (Sutherland)
Ric Drums
Scott: Vocals. Guitars, Acoustic Guitar, 12 String Guitar
Ron: Bass, Piano, Mini Moog, Juno 60, Mellotron Choir, Farfisa
06. Cultured Memory (Sanchez-Sutliff)
Ric: Drums
Ron: Juno 60, Jupiter 8, Mellotron Strings, Guitar, Juno 60 Bass, Clavinet, Piano, Farfisa, Rhodes, String Synth, Knifonium, Memory Moog
07. Distance I Created By Time (Sanchez)
Ric: Drums
Ron: Vocals, Guitar, 12 String, Bass, Piano, Rhodes, B3, Mellotron Strings And Choir, Imposcar2, Juno 60, Upright Piano
08. Knives (Sutherland)
Ric: Drums
Scott: Vocals, Guitar, Slide Guitar, 12 String, Bass,
Ron: Solina String Synth
09. Story In A Story (Sanchez)
Ric: Drums
Joe: Bass
Bobby: Guitar, Strings,
Ron: B3, Rhodes
10. I Don't Dream Anymore (Sanchez)
Ric: Drums
Ron: 12 String Guitar, Vocals, Bass, Piano, Upright Piano, Mellotron, String Arrangement, Farfisa, Synth
11. Des Formes Qui Changent Lentement (Sanchez)

Mike Musburger – Drum Loops
Ron: Piano, B3, Stand Up Bass, Mellotron Strings, Arp, Free Alpha, Logic Synths
---