Donovan's Brain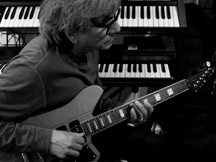 The one constant since the inception of Donovan's Brain has been instigator, Ron Sanchez. The Donovan's Brain universe has expanded to include a star cluster of talent. The current recording group is staffed by Deniz Tek (Radio Birdman) and Bobby Sutliff (The Windbreakers), bassist Tom Stevens RIP 2021(Long Ryders), drummer Ric Parnell (Spinal Tap, Atomic Rooster), and Scott Sutherland (Model Rockets), Kris Wilkinson-Hughes (My Girl The River), Matt Piucci (Rain Parade), Peter Holsapple (dBs), Joe Hughes (My Girl the River), and John Goodsall (Brand X). Over the past 35 years, Donovan's Brain has been joined in the studio and on stage by many of our friends: Jason Lytle, The Young Fresh Fellows, and members of The Posies, Help Yourself, Man, The Idle Race, Plummet Airlines, and the Nomads. Donovan's Brain also serve as the Career Records house band, having recorded with Deniz Tek, Angie Pepper, Roy Loney, The Plaintiffs, Penny Ikinger and Richard Booth.
This Montana based recording workshop was formed as a reply to the "anyone can start a band" philosophy found in the mid 80's local Bozeman music scene. Donovan's Brain first entered your consciousness in 1994 when they appeared on the premier edition of the Hit The Hay compilations. The path the band has followed over the next three decades has been as complex and unexpected, much like the modern psychedelic sounds they create. Two new Donovan's Brain albums will be released summer 2021. A trip around this site will reveal some of the answers you might be looking for about Donovan's Brain. You can purchase Donovan's Brain music at the Career Shop, or go directly to the Career Records Shop at Discogs. There is also now a Donovan's Brain shop on Bandcamp, where you can purchase digital downloads as well as vinyl and CDS. The Career Records site and the Donovan's Brain Face Book page are updated regularly.
---
3 August, 2021 With so many things these days, everything is running slow. Our pressing plant has now targeted August 6th as the shipping date. That would mean the finished CDs would arrive at Career HQ on the 13th. Watch this space. In the meantime, a drum session has been booked for the 10th and 11th. Seven new songs are on the schedule. This would put 15 songs into the new album folder.
---
13 July, 2021
The issues with the poster seem to have been resolved. The new album should be going to press this week. Early release should be on target. Here is a preview of he album, a song from Sandbox Dispatches, the Black Album.