Something New 2010 – 2013
1. Stirring The Embers
---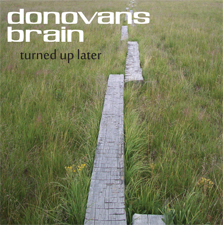 1. Take Me With You When You Go (Sutliff)
2. As The Crows Fly (Sanchez)
3. It's Alright With Me (Langan – Miller)
4. My Own Skin (Sutliff)
5. Small Circles (Sanchez)
6. Restless Nights, Many Dreams (Sutliff)

7. Cardboard Army (Sanchez – Tek – Miller)
8. Manager Of Time (Sanchez)
9. Morningside Dream (Sutliff)
10. Red Wing Spy (Sanchez)
11. Fulcrum (Sutliff)
12. In Search Of Connie Companion (Sanchez)
13. Your Number (Langan) *album bonus track
Strong Signals
March 2010
Every time we finish an album, I always wonder if there will be another one. By the time the album is mixed and mastered, I'm usually exhausted, but I have to rally and begin the promotion and marketing process. This time I didn't get a break. Even before Fires Which Burnt Brightly was released, I was drafted to play two gigs with The Soul Movers. It was good to clear the memory and learn fourteen songs which I'd perform on piano and organ. I enjoyed being thrust into a completely different situation, and having the luxury of just being one of the band.
After the gigs, I returned to the office to tend to the release of the Soul Movers and Donovan's Brain CD's. As this was winding down, I was asked to coordinate the music for the BridgerBowl.com Ski Film Of The Day. I wrote several new pieces of music for this as well as recruiting several other local musicians to contribute. Several Donovan's Brain songs were edited for use on these short films. Digging through the archives, I returned to a track we recorded in 1998, but never completed. This was a very interesting effort and the results were surprising.
Towards the end of the recording of Fires Which Burnt Brightly, we recorded two songs in Billings. Deniz wanted to cut Vanished with Tony Horton and Bob Brown. I had a song called The Four Trials which I was pretty sure wouldn't be on the album, but wanted to get on tape. I like to have something extra on hand in case something doesn't work out as planned. In this case, I was looking towards the next album. One of the ski songs was clearly a Brain song, and was also put in the new album file.
With the ski film project wrapped for the season, I could finally turn my attention back to song writing. Lyric fragments are moved to the top of the stack and old demos reviewed. In a productive week I started lyrics for two songs. As luck would have it, Bob Sutliff sent over a new demo which had a section that sparked an idea. Last weekend I went to work in the studio, exploring the possibilities. One of the verses I'd just written fit perfectly on my arrangement. Bingo. There is more work to be done on it, but it's a good start on what could be a very good song.
There is also the matter of the four or five songs Colter had originally written for Fires, but ended up on the Where The DJ's Roam sound track. We stripped those songs down to the basic elements when we recorded them. I located the original demos from 2006 which contain the complete arrangements Colter had created. The first track I worked on had been reduced to just one verse. There was a bridge section, which I learned and and recorded. It was a simple matter to insert this into the song. Hearing the restored track for the first time reminded me how good these songs are. At the time we were happy to move on. It's hard to say what Fires would have sounded like had these songs been a part of that record. No time to worry about that now. Great songs are timeless and should help make Brain No. 7 a strong follow up to Fires. At this point, all I can say is the songs sound like Donovan's Brain.
The plan is to have enough songs for an album and a bit more written by the end of the year.
April 2010
The second part of the song that might now be called "Sun Goes" was buzzing around my head for a few days. I worked it out on guitar, creating a bridge and what will be the guitar solo. It still wasn't quite the sound I was after, so I sat down at the piano to see what I could find. Just as I hit on the idea, I was reminded it was time to head out of town for the day. We were going to Helena for a retirement party. Most of the evening was spent with this piano idea running thought my mind. As soon as we got back home, I headed down to the studio to complete the track. The bass could now be added and the demo mixed.
Bob Sutliff seems ok with what I'd done to his song. I've asked him if he could record a new demo of this arrangement. The verses are built on one of his ideas, so I'd imagine he could play it better than me. He responded by sending over a fragment of a new piece he's started work on. It's only the intro so far, but it promises to be a good one. I reminded him of a song he'd sent me a while back. It was written for a planned Windbreakers album, which was never completed. I think I still have it on the studio computer. It may have ended up on his last solo album, On A Ladder. I'll have to check. Either way, we are slowing moving forward. Bob Brown seemed surprised we are back to work so soon, but when I explained the time line, he understood. He's looking forward to the proper sessions. Meanwhile, the Deniz Tek record will take up most of our studio time.
May 2010
I started work on a new idea last week. Deniz will be here for the weekend, and we will see what we can do with this new tune. I have a melody line, but I've not tried to sing it yet, as I don't have any words. Deniz had some thoughts about the arrangement, so I may have to come up with a temp vocal to work with. We also have been offered a song written by Pip Hoyle from Radio Birdman. Stalking The Moon reminded me of something you might have heard on a mid-period XTC album. Deniz thought it would be well suited for the Brain. We just need for figure out how to transpose Pip's fancy piano chords to the guitar.
Bob Sutliff sent over the beginnings of a new song. He was meant to be working on it. Nothing Lasts Forever was offered up for the last album, but we never attempted it. I've put it back on the list as it is a great song and would be worth trying. I am also looking at Colter's song, Your Number. This is another unfinished song from the Great Leap sessions. I did more work on it but I've never been happy with the bridge. I'll send this one over to Bob Sutliff as he might be able to find the solution.
At this early stage I think its always a good idea to work through the backlog of ideas. There are some sketches that I will have to listen to.
Another new idea has appeared. This one got me out of bed to work it out. It has pretty much written itself. I'll cut a demo tomorrow. I spent this afternoon loading Your Number into the computer. It took a while to sort of what had been put to tape and then relearn the song. The elements which I thought might need to be replaced do need to be dealt with. The basic foundation, drums, bass, and rhythm guitars are all keepers. I will get this in the mail to Bob, and pursue the idea I started on today.
June 2010
Another burst of activity has produced two more new compositions. Cattail Bird was written yesterday, June 10 and recorded in the evening. The moody instrumental piece Sleepy Song appeared a couple of weeks ago. I have also returned to a song which was intended for A Defeat Of Echoes. Another Time was deemed "too rock and roll" and set aside. It was offered to Roy Loney, but in the end, he had far too many new songs to consider outside material. At some point, I'd overdubbed some acoustic guitars, and replaced my original electric track. The other day I had an idea for a new approach. The plan was to record a new version. When I listened to the original track, I realized I could adapt the new ideas to the 2003 recording. Once I'd removed Colter's guitar it was easy to find room for the new guitar part. Deniz will need to redo his guitar as well. He was just coming to grips with the song when we cut the track. I sent it over to him on Tuesday, and asked if he could write some new lyrics and sing it. He asked if it was meant for the Brain album, or for his solo record. He's welcome to it if he wants it. It is probably too Stonesy for this Brain album anyway.
I'll be meeting up with Deniz and Bob Brown this weekend to review the new songs. Once I have their input, I begin serious recording. There is a chance we'll start recording drums in July. I was recently introduced to Ric Parnell and had him as a guest on my radio show. He's best known for his appearance in the Spinal Tap film. His credits are fairly amazing. He's agreed to come around and hit some drums as needed. He's currently in Livingston, just over the hill, so we should be able to work out the logistics. This would be a major coup.
Yet another new song was written, music and lyrics, a few days before the Billings trip. Deniz seemed to like the chord changes and was good with the ideas I had for it. The new songs are all just basic demos at this point. I didn't want to get too deep into any of them before the others had a chance to listen and comment. The first chance I've had to listen to all the potential songs was on the ride to Billings. I was a little nervous when I played them for Deniz and Bob, but they were both positive and made some good suggestions. Nothing was rejected.
Another Time has now been moved over to the Deniz Tek Group folder. The revisions I made to it revealed a pretty good song. Deniz thought he could do something with it. He did admit he had no recollection of recording it, or playing it live. Due to the abundance of songs for the Brain album it seemed it would have a better future with Deniz. While listening to the collection of demos I came up with a new idea for Love's Long Gone. This one was written at the same time as Another Time, and intended for A Defeat Of Echoes. It wasn't recorded until much later, when we were starting work on the second Angie Pepper album. I don't think we captured the original intent and after putting it next to the new ones, it seemed lacking. The new arrangement was inspired by an obscure Graham Gouldman song which was recorded by the Yardbirds, but never released at the time. I thought we should write something in that vein. The original chords easily adapted to the new arrangement which I put together today. I returned to this today and managed to come up with an appropriate lick and a 12 string rhythm part. It's taken an unexpected turn. Sometimes the original intent is derailed by the song. In this case, it put it closer to the sound I was looking for.
Another old song has been pulled off the shelf to see if it might fit on the album I think this was written in the very early 90's, probably before Shambaholic. There are three demos of "Sounds Of '73", the last one being the one under consideration. We did a much different version called Punch Wax Circus during the Tiny Crustacean sessions. I'm pretty sure we played it live at least once. It was on the short list for Great Leap but dropped as we had at least three songs too many. Work continues as time allows.
Deniz will be here Friday, the 25th, for two days of mixing the new Soul Movers tracks. Time is crucial, as some of these songs are intended to appear on a tour EP for the September Spanish tour. We hope to do some work on the new Donovan's Brain songs, or at least experiment with the demos. If we keep writing at this rate, there will be enough material for two albums by the end of the year. Recording may begin much sooner than originally expected. At this point it would be hard to wait until next year to begin the real work. None of this is a bad thing.
The three Soul Movers songs were mixed in a six hour session. Den added guitars to all three tracks and I did a bit of organ on two. The forth song was set aside for now. It was decided more work needed to be done in Australia before we could complete them. Now on to Donovan's Brain.
---
---