Something New 2010 – 2013
3. December – Back To Work
---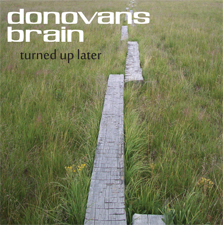 1. Take Me With You When You Go (Sutliff)
2. As The Crows Fly (Sanchez)
3. It's Alright With Me (Langan – Miller)
4. My Own Skin (Sutliff)
5. Small Circles (Sanchez)
6. Restless Nights, Many Dreams (Sutliff)

7. Cardboard Army (Sanchez – Tek – Miller)
8. Manager Of Time (Sanchez)
9. Morningside Dream (Sutliff)
10. Red Wing Spy (Sanchez)
11. Fulcrum (Sutliff)
12. In Search Of Connie Companion (Sanchez)
13. Your Number (Langan) *album bonus track
A Serious Bout Of Drums
December 2010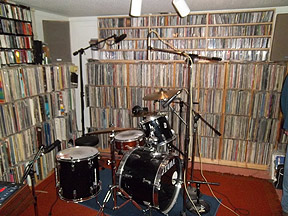 After Ric's initial session, work on the Donovan's Brain record was set aside to pursue the pressing matter of the Soul Movers Tour EP and gig. When that was completed I began recording a track for the Micky Jones Tribute Album.
I'm sure Ric was ready for the promised follow up session, but we weren't. During this time I finished writing one more new song, Manager Of Time. This was based on the title which has been in my notebook for quite a while. The other big concern was getting the songs Bob Sutliff had offered. There was a flurry of activity on his end as he scrambled to complete the five songs.
Ric and I started working out a date for the session and passed the word on to Bob, who got busy and offered up yet one more new song. One promised track, a song intended for a Windbreakers reunion, wouldn't be ready in time. Bob would have to re-record this from scratch. He'd already had to rebuild Nothing Lasts Forever when he discovered important files were missing. A week before we were due to record, he sent word that the files were in the mail, and should arrive in time, which they did.
There are always things on the shelf to revisit, and this time it was two tracks recorded in 1999 with Dave Walker and Richard Treece. Dave's song Say Farewell began as a slow "Pink Floyd" blues, which is what we played at Terrastock. I suggested to Dave we try an uptempo version, which we did. He never seemed happy with it and Ron Craighead only played on it reluctantly. While in London in 2000, I had Ken Whaley and Malcolm Morley add bass and organ, which gave the track a solid feel. I continued to work on it and thought it was starting to take shape. A bit later, I asked Deniz to play a second guitar line. This was the tipping point. Still no one was interested in putting it on A Defeat Of Echoes.
I figured maybe it would be a good idea to redo the drum. Ric would be playing with all the new parts, which Ron didn't have the benefit of hearing when he tracked drums. The results aren't dramatically different, but it seemed to be what the song needed.
The other track, Richard's Brave New Girl, is an old Help Yourself tune which they never recorded. Ricky wrote a new set of words and asked Malcolm to record a backing track he could bring to the studio to over dub. Malc's track had some great parts, but it was premixed to stereo so it was a matter of all or nothing. While prepping the track, I was reminded that Jason McKnight had attempted to add drums, but never had enough time to work it out. The parts Richard recorded and Dave's vocals were extraordinary. I think we offered the finished song to Phil McMullen for one of the Terrascope CD's, but he passed. The Brain discussed rebuilding the rhythm track, but nothing was ever done.
As luck would have it, Deniz called at the beginning of December to say he was coming to town with Bob Brown. I figured I could get some guitar work out of him for the Micky Jones track. With Bob here, I could run Brave New Girl past him to see if he thought he could work out the bass. After Deniz finished, I explained to Bob what the situation was. Deniz just said "do it now". It took a while for us to work out the chords but a suitable track was pieced together in short time.
Ric was up to the challenge and knocked it back in short order. I organized the session so we'd move from one of mine to one of Bobby's to one of Dave's tracks each day. We made quick work of them right on schedule. On the second day, I had an idea. There was a song I wanted to cover and put up for consideration. I learned this song from Terry and The Pirates. Terry had played it a few times, and had given me David Hayes' original demo. There was one particular live performance that I thought nailed the feel. There hadn't been time for me to cut a track, but I did have a live recording of the version I liked. In a moment of mad inspiration, I asked Ric if he could play along with the live recording. He laughed and said "sure". The drummer had made a small mistake, but Ric figured he could play through it with out any difficulty. We can now build up our own track around Ric's drums.
To round out the session, we once again tackled three more of the Shambaholic songs. We may or may not get the rest of those finished up next time.
---
---