Something New 2010 – 2013
9. Finish Work
---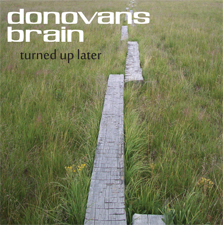 1. Take Me With You When You Go (Sutliff)
2. As The Crows Fly (Sanchez)
3. It's Alright With Me (Langan – Miller)
4. My Own Skin (Sutliff)
5. Small Circles (Sanchez)
6. Restless Nights, Many Dreams (Sutliff)

7. Cardboard Army (Sanchez – Tek – Miller)
8. Manager Of Time (Sanchez)
9. Morningside Dream (Sutliff)
10. Red Wing Spy (Sanchez)
11. Fulcrum (Sutliff)
12. In Search Of Connie Companion (Sanchez)
13. Your Number (Langan) *album bonus track
9 August 2012
The last two weeks have been a productive blur. Three days in Yellowstone, were followed by an intense two day session. The prime objective was to complete Deniz's album. The first day was spent collating all the files for the mixing session. I added organ to one track that seemed to need some glue. I also found one of the tracks I'd previously worked on needed to be redone.
We were done with Den's business on Tuesday morning, which left time for a guitar overdub on Oh, Lorelei. I set up the Space Echo and a Wah pedal for this part of the session. Den had a good idea of what was needed. He only needed to suss out the verse solo before he committed. The results were stunning. I wasn't able to return to this for mixing until Saturday. The first pass was close, but there were several issues to be resolved. When I returned to it on Sunday, it was a fairly simple matter.
17 August 2012
Time this last week was spent coordinating with Andrew Bradley, the man who will be mixing Deniz's album and moving forward on our record. First priority was to make sure all the files had got to "Mort". One vocal was missing, and a guitar part had gotten corrupted. Multiple backups assured this was not a deal breaker. I sent over the mixes of Hearts In Her Eyes and Lorelei, so they had a baseline sound for the drums. Deniz will arrive at Sugar Hill next week.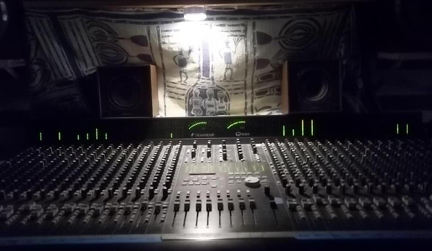 It was now time to begin work on mixing Donovan's Brain #7. Six songs are still awaiting overdubs, the other seven are now considered complete. I decided to start with Small Circles. This had some interesting challenges. Once I got the tracks set up and did a quick rough mix, I realized there was some work to be done on the vocals. This issue was resolved in two short sessions. A second mix was completed on Thursday. Tony and Scott approved, but I still thought there was one major issue to deal with. I spent all day today in the studio, cleaning up some fades and dialing in the bass sound. Tony made one small, but valuable suggestion, which I sorted out quickly. I ran a few more passes before I was sure it was satisfactory. I don't think any of the others will prove to be so complicated.
This is a major turning point for this album. I would have liked to have started mixing at the beginning of June, but that schedule allowed for the inevitable delays. Hearts In Her Eyes was meant to be an exercise to move us into finish mode. That proved to be the case. Recording Lorelei was an unforeseen distraction, but important for the band to pull together for Bobby. Again, the effort will benefit the album proper. For the next few weeks, it will be a full time operation
21 August 2012
Next up is Bobby's Morning Side Dream. I liked this first time I heard it. It's been on the short list since we recorded it. Bob wasn't so sure. When I told him Ric also thought it earned a spot on the album, he accepted our decision. This one is pretty straight forward. It's the same verse/chorus repeated eight times. Three vocal verses, an intro and lots of solo guitar. I mixed and matched the two guitars and the piano parts, which carry the song. I added a small organ part along with some strings. Bob had recorded a string part and French Horns as well. The song now has a lot of texture and dynamics. I'm waiting on word from the others. I'll return to it tomorrow for a fresh listening.
25 August 2012
Everyone has now signed off on the mix of Morning Side Dream. I put it up and messed with it one more time, but the effort didn't improve the results. On to the next mix.
Matt Piucci checked in and said he'll get to work on the two songs we've given him, Fulcrum and Cardboard Army. Guitar solos are all that remain to be done on these two songs. Once we get the files, I can get to work mixing those. Bob Brown will be coming to Bozeman in the next few weeks to add bass to three songs. Bobby and I have managed to take care of most of the bass tracks on this album. I felt Bob could do a better job of it on these three. Meanwhile, Jim Sangster has reported that he's started work on the two songs assigned to him for guitar and bass. He will complete this work when he returns from various family obligations.
I need to review vocals on three of these tracks. I will also give Lila a call. I have one part for her on this record.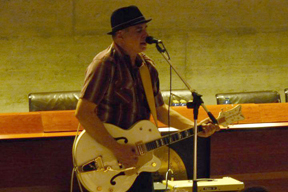 28 August 2012
Three songs are now moved into the finished folder. Bobby signed off on the 4th mix of Take Me With You. I've begun work on the next one, Restless Night (Many Dreams). This song was originally intended to be part of a new Windbreakers album. That never happened, so it was given to the Brain. Bob rewrote the bridge to make it all his song. Deniz did the blistering end solo. Rough set up sounds good.
Matt Piucci will be in the studio this week, laying down some guitars for us. He's very excited to be invited into the Donovan's Brain Camp. We are very pleased to have him.
15 September 2012
A two day road trip and a full radio schedule slowed the mix process a little. It's back to full speed now. I once again sat down and worked on a running order for the album. The issue is complicated some by the plan to also do a vinyl release. This seems certain at this point. Expect a 12 song CD and a 13 song vinyl album. The length of the album will mean it has to be spread over two discs. If possible, it will be a double 10″ album. There will be some different mixes on the vinyl release as well.
The band were pleased with the suggested play list and the ideas I presented for the programming of the CD. I had come up with an idea for the end of Restless Nights that suggested how to proceed. The final running order was needed to carry out this idea. It was at this point Sun Goes was taken off the A list. I just wasn't sure it would be completed in time.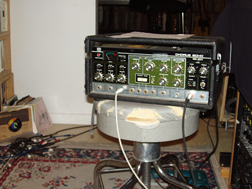 Last week I remembered we'd done quite a lot of work on Your Number. This song of Colter's was originally recorded for The Great Leap Forward. Like I Saw Your Light, which appeared on Fires Which Burnt Brightly, it just needed more work to get up to standards. In this case it was completely rebuilt, beginning with a new drum track. Deniz redid one of of the solos and Scott and Tony created a very different vocal. All that was needed was a fresh 12 string. This was on Bobby's to do list. I figured Scott might want to have a go at it. He's played 12 string on two songs. Why not this one too. I also asked him to take care of the end section, which seem to need some sort of solo. Scott completed the task in a couple of days. This will now be the extra track on the vinyl release.
In the meantime, a mix of Small Circles was completed. This is one of the three "complex" tunes on the album. Despite the three layers of drums and a major departure in the middle section, it came together pretty quickly. I was very pleased with the results. This left me two more that were ready to mix, and which also fell into the complex category. In Search Of Connie Companion was the first song I wrote for the album. The music was composed for the Bridger Bowl Ski films. As soon as I started on that, I knew I had something that would need to be fleshed out for the album. It was also one of the first songs Ric played on. At a later session he added another drum part, which was combined with the first attempt. The results were stunning.
You can hear the original track on the Armchair Explorers page over at the Career Site.
Mixing this one wasn't nearly as difficult as expected. I did need to finish the vocals. I'd only completed the lyrics recently, and had never done a final vocal track. This will close the album.
Bob Brown will be in town tomorrow for bass overdubs. There wasn't a lot for him to do on this record as Bobby and I were happy with the bass tracks we'd recorded. The three he's been assigned to learn will benefit from his presence. Mixing will resume on Tuesday. There will be five ready for mix at that point.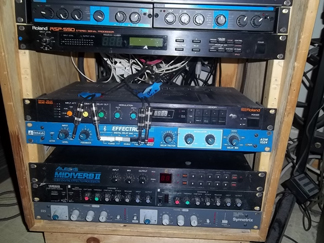 22 September 2012
Bob Brown's visit last week was a very productive session. Three songs were on the agenda: It's Alright By Me, As The Crows Fly and Red Wing Spy. I was correct to think that having Bob play on these would be an improvement. Now I wish he had played on the whole album. These three needed special attention, which Bob was able to offer. The only sour note of the day was the death of the main drum reverb. The Ibanez gave off a loud pop and stopped working. We were able to continue without it. Mixing has been suspended until the replacement arrives. Luckily there are plenty of these older pieces available. The effects rack will under go a minor renovation while it's being torn apart.
While re-reading this diary, I was reminded we have recorded scratch tracks for two Terry Dolan covers. I'd completely forgotten about those. Just one more reason to get this one done. There is a lot of material to return to as soon as time allows.
28 September 2012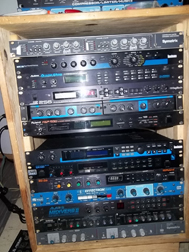 Back to work the last couple of days. The replacement reverb box arrived as well as a snazzy Lexicon unit. They both got a workout on the mix of It's Alright With Me. This one is a good example of the Brain at work. Colter cut his tracks under the gun. I leaned on him when Ric was first coming around, so he got scratch tracks for three tunes. Sadly, he never came back to record a guide vocal. This one was originally called Okay. I gave it to Tony to see if he could add some lyrics. I liked his first pass, and suggested that the song would work better if he started with the second verse. His first verse was a bit too literal. I liked the sound of the second. He gladly complied. I tried a solo, but then had Deniz do one for insurance. The final touch was Bob Brown's bass. He opened it up and added some melodic flourishes lacking on my attempt.
The mix seemed pretty simple. Two rhythm guitars, a third on the chorus and then the solos. The keyboard parts were worked out well in advance. The trick was to give it a sound. I slapped the MXR Flanger onto Colter's guitar. Oooh, nice. Since we'd gone that far, I hooked up the other MXR to the backing vocal. Swoosh. Tony wasn't sure about my efx choice on his lead vocal, so I tried his suggestion. That worked, but I did do a second set of mixes with my original choice. There are two mixes. The first is Deniz's complete solo. The second one starts with mine, then switches to Den for the out chorus. We will use them both.
A lot of things make this pretty simple tune work. Ric's drumming is just rock solid. That became more apparent with the new bass part. Tony's lyrics and vocals are perfect over the top of this track. A winner.
9 October 2012
Back to work after a busy week. Deniz was in town on Saturday and had a listen to Your Number, which was being set up for mix. This song has been around the block a few times now. Originally recorded for Great Leap Forward, it has been taken down off the shelf a few times for additional work. Back at the start of this new album, I put it on the list, thinking Colter would like to see it finished and released. Deniz was asked to replace the first solo, which I'd done on harpsichord. I had Ric redo the drums. Nothing wrong with the original drum track, but the idea was to have a consistent sound across the album. Tony and Scott then added a radically different vocal, layers of harmonies. Then it got pushed back to the B-list.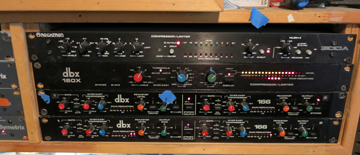 There was always the nagging problem of the 12 string part. It was patched together based on Colter's first attempt and some repairs I did. It was on Bobby's to-do list. As I began configuring the running order, It was clear one song intended for the album wasn't going to get done in time. I dropped that from the track list, realizing a 12 song CD was going to work better. The vinyl release was a different matter, and the addition of one more song wasn't a problem. This put Your Number back on the active list. I asked Scott if he wanted to have a go at the 12 string part. He's come up with a couple of 12 string parts for other songs, so it seemed like a good fit. When I put up the tracks on Saturday, I was very pleased with what I heard. Deniz was amazed with the work we'd done on this since he'd last heard it.
I did a quick mix on Sunday to get some feedback from the band. Tony had a couple of small suggestions, which I was happy to take up and ran a second test mix. He's sent over one additional vocal part to complete the harmony structure. I'll drop this in and proceed towards a final mix.
31 October 2012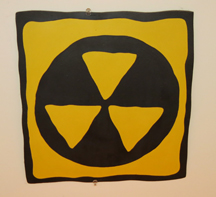 The last three weeks have been very productive, as a result there hasn't been time to document the progress. Red Wing Spy was next on the list. This was one of the first songs recorded for the album. As we moved into the finish work, I asked Scott to sing on this with me. He was agreeable to the idea I had, and turned his work in short time. 12 string was also tracked and added to the master. The problem of a lead instrument lingered for quite awhile, until I asked Clare Moore if she could record some vibes for the song. Her contribution was just what the song needed.
When I finally asked Bob Brown to come around and play bass on a few tracks, this was one that was on the list. I had never felt my attempt was a keeper. His solid playing tied everything together. As I started mixing, I still felt something was missing in the verses. I hit on the idea of a counter melody to the unison lead vocals. This added just the right amount of tension to finalize the song. Mix was otherwise pretty simple. An attempt at a fade out – fade in didn't work, but a buzzy "insect fear" synth part on the end section did.
With that one done, it was straight on to another one of mine, Manager Of Time. Ric had been very insistent that this one make the final running order. I was pretty sure it would work. Once again I called on Scott to add the backing vocals, and the end guitar solo. We exchanged ideas, until we were both satisfied. Continuing on with my plan to have the songs on the CD linked, I tried an idea I thought should work. It did. When I dropped this mix into the album playlist, the results were exactly what I was looking for. I recorded two more variations, one of which worked for Ric. I also did one more with the natural ending. This one will probably appear on the vinyl version.

For the last few records, I'd refused to do complex progress rough mixes. I just ran a quick mix when over dubs were added. When I returned to Manager Of Time I was very pleased to finally hear the bass and guitar parts I'd done. The song had a much heavier rock feel than I had expected. Scott caught on, and may have said "Mick Ronson".
Several days were spent on this one, so as soon as everyone signed off, I moved right on to Bobby's My Own Skin. This one is one of the real highlights of the album. Maybe Bob's most "Brain-like" song. The tracks he sent were fairly complex, but lacking a bass part. I had done several overdubs at the time, done a rough mix, and set it aside. I knew this song would evolve in the mix stage. Over the last few weeks I had this one in my head, and came up with an idea. I just hoped it might work…. I had a passable first mix with in two hours. I spotted a couple of small problems afterwards, and took care of them. I also gave a listen to the first drum take. It's radically different from the one I will be using. I may spin one off using this alternate drum track for later use.
I will get this one wrapped up in the next day or so.
3 November 2012
The final mixes for My Own Skin came a lot faster than I had expected. Bobby was good with the first mix, as was I. When I reviewed the next day, I did discover a pop, which I found on the lead vocal track. It was easy enough to clean up the track for a second mix. Ric had recorded three drums tracks, though the third take was incomplete. I think he was happy with the second take, and didn't think his third attempt was an improvement. I edited together the beginning of this take 3, on to take two. This new take 4 became the master drum track. While mixing I put up take 1 to see if it was usable. It was, but a radically different feel from what I'd been working with. While I was set up, I figured there was no reason to not do a mix with this alternate drum part. I've sent them both over to Bobby for comment.
With this one done, ten tracks are now considered complete. I've also mixed the two Tribute Album tracks as well. Three more remain unmixed. Studio time has been booked in Oakland for Matt Piucci's overdubs on Fulcrum and Cardboard Army. I need to contact Leila Cebulla about adding a bit of vocals to As The Crows Fly. I expect I can have the album mixed in the next couple of weeks. I will be taking a four day break for a quick trip to Minneapolis. I'll be ready to attack the last two songs upon my return. There is always the chance something will need a remix, but a listen today to all the tracks in the final running order didn't reveal any major problems.
11 November 2012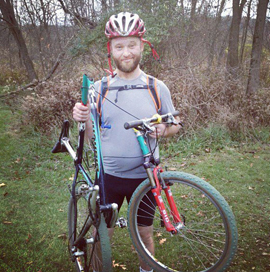 The tracks arrived from Matt Piucci on Wednesday. I wasn't able to get to work until yesterday. Cardboard Army was first up. Matt played through the whole song, two takes, three amps. The mass of raw material needed to be reviewed and edited. As is usually the case, the tracks came with the note to "use what you want". Once I went through each take phrase by phrase, I discovered a wealth of great ideas. Matt chose to play 12 string with an e-bow. This is not as easy as it seems. The play back of the edited tracks confirmed we had been given a stellar performance. This microscopic review of the song also give me a chance to start working on the mix of the other elements. A satisfactory first draft was laid down and passed on to the band for their comments.
Cardboard Army is one of the major collaborative efforts on the record. Tony Miller was handed the task of singing and writing the lyrics for the chorus as well. The basic track was built on my original idea, with major contributions from Deniz and Ric. To finally hear the results is very pleasing.
Work will resume at the end of the week.
17 November 2012
I've now got the main mix worked out. This will appear on the vinyl edition, the full 6 minutes. For the CD, I need to fade it earlier. There is a natural break. It's just a matter of making it interesting. I had Tony send me the raw vocal track. I'm working with an effected track, which sounds great, but some of the lyrics get lost. I can now augment the lead vocals to see if I can get something happening for the shorter mix.
24 November 2012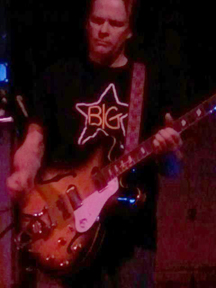 Another song in the done file. Bobby's Fulcrum was a late addition to the final running order. I think it was the last song he gave us before his accident. It was this one that sparked the idea to get Matt Piucci on board. It's got a long solo at the end, which Bob thought would be perfect for Matt. What he did is quite amazing. I only sorted out the tracks a couple of days ago. The raw mixes Matt sent didn't show us what we had. I went through each take phrase by phrase and then put them both up to see if they would work together. Just a few fader moves was needed.
Unlike most of the album this one is just a single voice, no backing vocals at all. I spent a fair amount of time getting that vocal to shine and sit in the track. Once I had the guitar and piano mapped out, the vocal finally settled in.
A short session is booked for tomorrow to add the final voice to As The Crows Fly. I've always had it in mind to have Lila Cebulla sing on this one. Each verse is a different vocal configuration. Having her come in singing up above Tony on the last verse will give it the little lift I've been hearing since day one. I thought there might be something else for her to sing on, but I never found anything to suit her. Next time. Lila lives around the corner, so it's a simple matter to get her over.
I'm now working on the manufacture and art work side of the album. This is pretty familiar territory, but the addition of a vinyl edition is a new factor. Cost will determine the final packaging for the double vinyl release. No full color gate fold sleeve this time. I now need to work out the running order for the album. The CD is set, as seen above, but the vinyl with the additional song will require some thinking to make sure the sides are about the same length. I'm not even sure what the total running time is yet. I may just have music on three of the four sides. so they are all about 17 minutes, which is a nice length for a vinyl side. Spreading the songs over four sides would mean 13 minute running time on each side, which doesn't seem right to me.
28 November 2012
I've just completed what may be the final mixes for the new album. As The Crows Fly was a bit more complex than I remembered. Five guitar parts and four vocalists. I got it roughed out yesterday. Today was details and then some serious rethinking. In the end, I redid some of my vocals to match better with Lila's overdubs. The final push was to dial in the bass sound. Once I had that, the rest all fit together. Again I've done two mix variations.
A couple of days ago, Tony Miller suggested he had some ideas for Fulcrum. As I had already moved on to Crows, I offered to send him the tracks to try his mix ideas. That just arrived. It's a radical departure from what I'd done with Bobby's song. If Bob approves, you may here this, though most likely not on the album.
---
---