Something New 2010 – 2013
5. Real Progress
---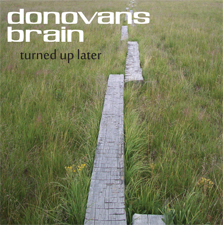 1. Take Me With You When You Go (Sutliff)
2. As The Crows Fly (Sanchez)
3. It's Alright With Me (Langan – Miller)
4. My Own Skin (Sutliff)
5. Small Circles (Sanchez)
6. Restless Nights, Many Dreams (Sutliff)

7. Cardboard Army (Sanchez – Tek – Miller)
8. Manager Of Time (Sanchez)
9. Morningside Dream (Sutliff)
10. Red Wing Spy (Sanchez)
11. Fulcrum (Sutliff)
12. In Search Of Connie Companion (Sanchez)
13. Your Number (Langan) *album bonus track
14 June 2011
The original plan called for writing the songs for the album in 2010. We did finish the year with plenty of good songs for a new album. Much to our surprise the songs kept coming at a furious rate. Both Bobby Sutliff and myself have put new ideas on the table right up to this week's session. Three new songs appeared at the end of the week. My goal was to rewrite a piece that has been around for a while. The original was inspired by The Mockingbirds You Stole My Love. I was never happy with the arrangement, but I did write some lyrics I thought would work.
When I pulled up the original track to see what went wrong, I quickly realized, there was nothing about it that I liked. With lyrics in hand, I started from scratch. This time I found an idea that would fit the shape of the words, and it was in a key that I could manage. It only took a few minutes to land on a new idea for the verse. The chorus also came quickly. Now it was a matter of determining the arrangement. I decided to focus on the music, now that I new what the progression would be. I had a working track in just a couple of hours. I decided to wait until Friday to record the guide vocals.
Later that night, I came up with another bit of lyric which was based on an incident at my day job. I typed out two verses before I collapsed for the day. I'd totally forgotten about it when I woke on Friday morning. With my day already booked, I had to decide if I could spend time to write another piece of music. I got the vocal for Selfish Modern out of the way and turned to the new one. I was sure this one would be short and simple. The idea didn't require an involved arrangement. Again, it was just a matter of finding the right chord changes to suit the melody. That didn't take long at all. I had a track recorded in less than an hour.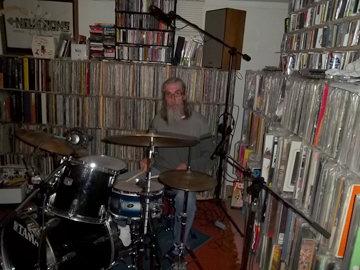 There were two of Bobby's songs I had penciled in for the session. The problem was he hadn't sent me the tracks broken out, just a mix of the song. Early in the week, another new backing track arrived, followed a few days later with a more fleshed out song. Still no working tracks. A busy schedule had disrupted Bob's free time. I was determined to get drums on all these anyway. This would mean we had to complete five drum tracks before Deniz would arrive on Saturday afternoon. Ric didn't think there would be a problem getting this all knocked back in short order. Thinking there might be a chance Bob could send tracks before he had to go to work, I decided we would work on my songs first.
Bread Man Burning was no trouble and clocking in at less than two minutes, it didn't take us long to get a keeper. I explained the concept of Selfish Modern to Ric, and told him he had to invent the drum part. He had the idea before he even sat down behind the drums. This one took a little longer to work out. The quirky arrangement took a bit to master, but the results exceeded my original vision. The barebones nature of the track left a lot of room for Ric to create something all his own. This effort earned him a share of the songwriting credit.
Still no word from Bobby, so we proceeded with our fallback plan. Ric just played along with the tracks we had been sent. The results were nothing less than brilliant. It'll take time to make sure the drums line up with the multitrack, but it's not an impossible task. Bob now has ten songs up for consideration. What the Brain doesn't use may well become the beginnings of Bobby's next solo album. In the next few weeks, we will be making some determinations about the disposition of the new songs.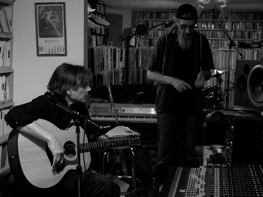 Deniz arrived as we were finishing up the last of Bob's tracks. He was anxious to get working, so we regrouped and prepared to record guitar and drums. Deniz had recorded three songs in Billing well over a year ago. At the time it was thought these might be the beginnings of the album. After Den's first session with Ric, he decided it would be best if there was a consistent drum sound across the whole record. An attempt to replace the drums on two of Billings tracks was abandoned and we agreed to record new tracks. With notebook in hand, we would record five new songs, as well are re-recording three. With one quickly wrapped up on Saturday, we called it a day and would return at noon on Sunday.
The remaining seven tracks were cut in just over five hours. A pretty amazing feat. Some of the songs were still being worked out as we recorded them. Ideas were discussed and tried out. Ric came up with some serious ideas for his drum parts, which succeeded in pushing the songs into some new areas. Deniz seemed well pleased, and didn't want to stop. The final song of the afternoon, Night Shifter, seemed to only be a basic riff when he started playing it. It would be recorded on acoustic guitar. While I set up, Ric and Den jammed on the lick looking for an approach. I picked up the electric and played some slide to see if that would work. Deniz got it pretty quick then added a second guitar part before calling it a day.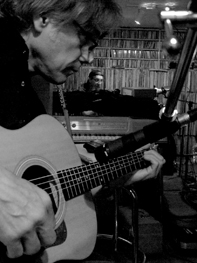 This put 13 songs in Deniz's column and 33 for the new Brain record. Another 16 vintage Brain records were also updated over the last year. I now have some ideas about the release schedule. A couple of songs will be set aside for a Brain and Friends EP. The remaining songs will be reviewed and work will proceed on 16 or so. We will finish them all, but the sheer quantity means there has to be some priorities.
26 June 2011
I've finally reached a point where I have some idea what the first album is going to look like. Rough mixes of most all the tracks have been completed, including the eight we recorded for Deniz's record. We have never been in this situation, where we have so much good material on the table. The Tiny Crustacean – Great Leap albums were recorded in four distinct phases. I just pulled some songs off the Tiny Crust list and saved them for the follow up. This time around, it's been one long dedicated songwriting project. After reviewing what we have, I split the songs into two lists. This is the only way we can set some priorities. Some very good songs are being set aside for now, as it would be impossible to work on them all. This gives us a solid center for the second album. A few songs will need more work to give us a clue as to their potential. The list may be revised in the near future, but I will exercise my A&R muscle to make this first call.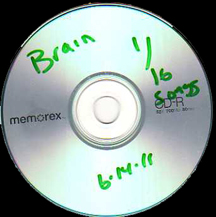 At least two songs have been around for a while. Your Number was originally recorded for Great Leap Forward, but was deemed in need of work and saved for another day. It's come off the shelf a few times for additional overdubs. Most recently Deniz replaced a harpischord solo with guitar, and Ric recorded a fresh drum track. Restless Night was written and recorded for a proposed Windbreakers album which never materialized. Bob has written some new lyrics and recorded a new track.
For now, the two Terry Dolan covers and the two Dave Walker sung tracks have been assigned to a third project which we will tackle in the future. I'm sure we will find time to work on these as needed, but with so much strong new material they would seem out of place on the first album. Yet another future album under consideration is Bobby Sutliff's follow up to On A Ladder. I've promised to return any of his songs that might not fit the Brain profile. There is also a Bob Dylan cover under construction this week, which will go straight to the Sutliff folder.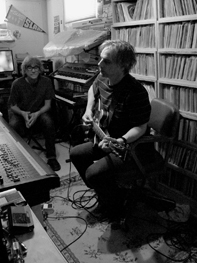 16 July 2011
Back to work again. Found time to get back into the studio over the last two weeks. Deniz was over a week ago. I had done work on Bread Man Burning in anticipation of his visit. In a mad moment, I'd added four more guitar parts, two on slide. Piano and more organ were also tracked. There was still a big space waiting for a guitar solo. Deniz played across the whole song, and then worked out the lead section. He seemed to like the song, which is always a good sign. This was the last one written for the album, and may be the first completed.
I've also done some piano and guitar for a Dylan cover Bob Sutliff has been working on. After Den's visit, I had a look at one of his. We'd done a version in Billings over a year ago. I had added organ and mellotron parts. Since then it was decided to re-record all three of the Billings tracks with Ric. I figured I should add my parts to the new version while it I had time.
---
---