Burning Bright 2007- 2009
2. Fall 2008
---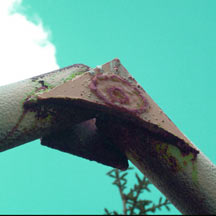 1. The Same Mistakes (Sanchez)
2. Green 17 (Langan)
3. Broken Glass Corner (Sanchez)
4. You Gotta Go Now (Sutliff)
5. Carefully Considered Answers (Langan-Sanchez)
6. Last Acid Riders (Sanchez)
7. After The Main Sequence (Sanchez)
8. Come For The Sun (Langan)
9. Wooden Horse (Sanchez)
10. I Saw Your Light (Langan)
11. Vanished (Tek-Sanchez-Masuak)
12. High Street Hitman (Sanchez – Sutliff)
13. Thinking About Neutrons (Sanchez-Tek)
August – November 2008
Work on the new alums is now a full time effort. Bobby Sutliff has been one of the heavy lifters, supplying guitar, various keyboards and string, and offered up two songs. The first one was an untitled piece of music which with the addition of lyrics has become High Street Hit Man. His second, more recent contribution is called You Gotta Go Now. We were told to do with it what we want. A Brain demo was recorded, adding a new lick to the already snazzy tune. While adding guitar, Deniz suggested changing one chord. The original version only had two verses, with the first one repeated for the third. Ron took pen to hand and drafted a new set of lyrics for the the final verse. Bobby was happy with the new approach, and has added several guitars and organ. He's fine tuning the new lyrics and should have the final vocal track soon. Bob has also done major work on the song titled The Same Mistakes. This is song was probably the first written and demoed for the record. The final version is based on the original 2006 recording, but little if anything remains from the demo. Bobby has added some classic 12 string lines, giving the song a deceptive happy feel. The unexpected surprise was his arrangement ideas for the "under water" middle section.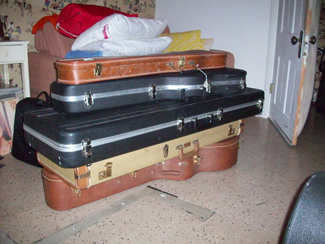 Deniz' October visit found him working on four of the new songs over two days. Our first goal was to finalize our vision for Bob's song, You Gotta Go Now. Handing a song over to the Brain can be disorienting to say the least. Bob was initially taken back by the approach, but he seems to have accepted the brutal assault on his original idea. Once it was explained that everyone faces the same deconstructive song writing committee, he warmed to the idea. He's taken liberties with the songs sent over for him to work on. That was expected of him.
Once we had done all the damage we could on that one, it was time for guitar solos. Colter had only recently started work on the song called Green 17. The original demo didn't give us much to work with, but with a little encouragement, he came back around with a finished arrangement. Keyboards and another guitar were added to the guide track. This is what Deniz first heard. His first suggestion was to take the electric guitar out of the verses, and add a keyboard part which might work better. He then added a new electric rhythm and finally a hard fought solo.
Last Acid Rider was demoed at the same time as The Same Mistakes. Unlike the latter, if didn't have lyrics until recently. This song also had two sections that were "to be determined". Deniz asked what would fill these gaps, and it was decided there would be a backwards guitar and a mellotron part for the proper effect. With that clarified, he had at it. This one was a bit more difficult to work out, as the solo has an odd key change. A lot of hard work was rewarded with a solid take.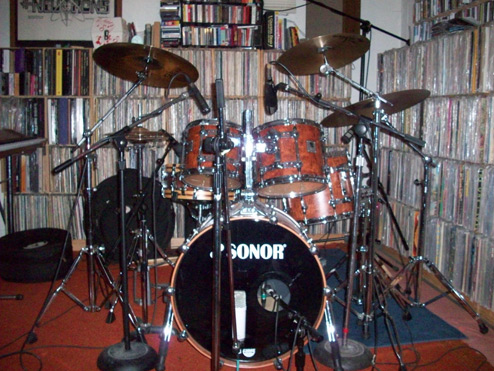 Last on the list for the second day was the long rumored collaboration, Thinking Of Neutrons. Over the years Deniz had considered and contemplated the Neutrons poster hanging in the studio. You can see it there at the top left of the photo.
The Neutrons were a short lived band formed by Phil and Will from Man. Richard Treece was a member of that band as well. One day, Deniz handed over a short poem called Thinking Of Neutrons and suggested we write some music for it. The first attempt was rejected, so a second track was composed. At some point along the way, the lyrics were misplaced, so the idea was put on hold. This summer the missing lyrics file was discovered stored in a very safe place, so Neutrons was added to the short list of songs for the album. Deniz hadn't heard the music for some time, and agreed he could add the voice. It's more of a recitation, that singing, but it works. We decided it would be best to take advantage of a break in the arrangement and create an early ending. Some guitars were added, and then we broke out the suitcase of rhythm instruments. Neutrons should be a treat.
A couple of weeks later, a session was booked at Bob Brown's studio in Billings. Bob had toured with Deniz on the Vertical Tour of Australia as the bass player. These days he has a compact but tidy studio at home. Due to the tight schedule, it was determined it would be best to set up in Billings to cut the final two tracks for the album. Tony Horton, another DTG alumni was drafted to play drums. He'd been to GLEA with his band Krunk several years back, so he is a familiar face. The two songs on the agenda were Deniz remake of Vanished, a song written for Zeno Beach, but not recorded and one of mine, 4 Trials. The latter isn't on the final track list for the album, but needed to get tracked while we had the chance. Den needed a clue to the melody of the song, so I managed to finish off the lyrics before we got to the studio, and sang it for him.
Bob's studio was well equipped, so there was no problem getting good sounds for everyone. Since Bob was playing bass, I ran the board. It took a bit to get familiar with the signal flow, but there were no problems. Deniz ran the band through his song, and several takes were attempted. Once Tony got a handle on some of the dynamics, it came together. A fortunate change in Tony's schedule allowed him to stay on a bit longer than planned. This gave us enough time to run though 4 Trials. There were a couple of specific arrangement features that had to be sorted out, but again, it was mastered in quick time. With that done, Deniz asked Bob to have one more try at his bass part for Vanished. Monday night in Billings doesn't offer many dining options, so as soon as he had completed the task, we dashed out the door to a down town eatery that neither Den or myself had ever visited.
While driving over to Billings, I also came up with some ideas for Colter's song that has been stuck with the working title of "Fleetwood Mac". When I had last talked to Colter about it, he still didn't have words, so it's been on my mind. Unfortunately, I didn't have a pen or paper, and realized it probably wasn't a good idea to dig in my suitcase while tooling down I-90 at 80 mph. I had to keep the idea in my head until I got to Den's, where I could make a few notes for future work.
Back in Bozeman, we finally began the task of adding drums to the nine songs on the work list. Once we had the drums up and the mics set, it was a simple matter to get to work. First up was Colter's Green 17. It is one of the more straight forward songs, so it seemed like a good place to start. Ron Craighead had it worked out in less than an hour. He added a nice intro fill, which kicked the song off in an unexpected manner. Due to busy schedules, it was another two weeks before he was able to return for the next session. Again we began with a straight up rock tune, "Fleetwood Mac". This one required a well prescribed groove. Ron was a little unsure as there was no vocal to react to. This really wasn't an issue, as the idea I had just required a non-stop pattern. A quirk of the arrangement was the only stumbling block. Once we figured out what happened for the extra measure, it was down in two takes. With some time left, I had Ron redo the drums on I Saw Your Light. This track was originally recorded for The Great Leap Forward, but not used. It's always been one that I knew we would return to, and had done some extensive overdubs to bring it up to speed for this album. The drums always seemed to be the weak link. The performance was fine, but the recording didn't match the standard of the recent sounds. When I first pulled this back out to work on, I noticed that we never seemed to know how to transition from the intro into the first verse. I removed what seemed to be an unnecessary measure, which tightened things up considerably. When Ron C sat down to play on, this small edit made the process go much smoother.
---
---