Burning Bright 2007- 2009
3. December 2008
---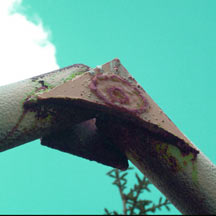 1. The Same Mistakes (Sanchez)
2. Green 17 (Langan)
3. Broken Glass Corner (Sanchez)
4. You Gotta Go Now (Sutliff)
5. Carefully Considered Answers (Langan-Sanchez)
6. Last Acid Riders (Sanchez)
7. After The Main Sequence (Sanchez)
8. Come For The Sun (Langan)
9. Wooden Horse (Sanchez)
10. I Saw Your Light (Langan)
11. Vanished (Tek-Sanchez-Masuak)
12. High Street Hitman (Sanchez – Sutliff)
13. Thinking About Neutrons (Sanchez-Tek)
December 2008
While updating this website, I ran across references to the sessions we did for Angie Pepper's second album. Deniz and I had each had a song recorded at that time. I could not remember what Den's tune sounded like, and wondered if it was something that could be adapted for the Brain album. It was actually tailor made for Angie, a girl group pop song that wouldn't suit us at all. My song, Love's Long Gone, on the other hand might well be something we can return to in the future. This was one of the songs I had put up for consideration when we began work on A Defeat Of Echoes. At the time, it was rehearsed but never recorded. This and a song called Another Time were considered too rock and roll for the album. Both were offered to the Nomads, and the latter was considered for Roy Loney's album at one point.
At the beginning of the month, I had the house to myself for a week. I figured I had better take advantage of the time to attack the the problem of the song known as "Fleetwood Mac". I first added some acoustic guitars to smooth out the verse sections so I could add vocals. After treating myself to dinner, and a glass of wine, I sat down in front of a mic, with guitar and notes in hand. In less than an hour, I had completed both verses, words and melody, to my satisfaction. I figured that someone else could work out the bridge, and called it a night. When I sent it over to Bobby, his first comment was the bass needed work and he would be glad to redo it. I needed a better bass line to add guitars, so I decided to do a temp part to get me through the overdubs. It was at this point that it became clear that the variation on the main riff that Deniz had devised, had changed the chord structure considerably. The scratch bass I had done didn't match the new chords, not to mention the generally poor playing. With that repaired, I added a slide guitar line that answers the vocals. I've always known this would be an element in the verse, no matter who was singing. Still with out the bridge, I decided to add a bit of guitar to see if it would inspire any new ideas. In the end, it became a solo section. The last guitar bit added was a recreation of Colter's original lick. Like the bass, it no longer fit in the key it was played. Colter's guitar on the chorus and bridge worked fine, and were retained.
Bobby had now suggested he might want to have a try at vocals, and would do a proper bass part. Before I sent him the files, I had a second go at the vocals, so he would have something solid to work with, whether he did the lead or a harmony. After a couple of attempts he seemed to have a handle on the bass part. It's moments like this, when a new idea is added to one of the songs, that I know our convoluted methods of working are valid. With Ron's drums and the new bass part, this song has moved well beyond the original modest intentions.
A new bass part has now been completed, and a possible scratch vocal has been added to the track. Vocals are now the priority. At the moment only three songs have final lead vocals. Additional vocal parts will be added as the process moves along.
Deniz has been busy wrapping up work at Bob Brown's. He's now done vocals, percussion and further guitar overdubs. Bob is preparing the tracks to ship over to GLEA, where more work will be done. The next step is to get Bob Brown over to Bozeman to add bass to several of the new tracks, and compare notes.
---
---