Heirloom Varieties Seed Bank 2013 – 2015
2. Summer – Phase Two
---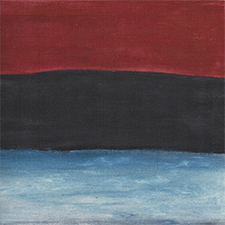 1. Brighten Up Shop (Sanchez – Sutherland)
2. Houseboy (Sutliff)
3. May 2012 (Sutliff)
4. Up To You Down To Me (Sutherland)
5. It Wasn't My Idea (Sutliff)
6. Great Divide (Sutliff)
7. Scant Informationy (Sanchez)

8. Wedding Bell Ring (Sutliff)
9. Selfish Modern (Sanchez)
10. Long Time Ago (Sutliff)
11. Let If Go (Sutliff)
12. Lightning Life (Sanchez)
13. Light In Your Window (Sutherland)
14. Sailing To The Edge (Parnell – Sanchez – Stevens)
20 September 2013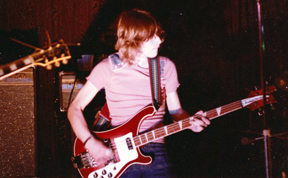 The Brain are active again, on several fronts. The business of running the label, and the need to regroup has meant a quiet period. Regroup we have. Bobby in an insightful move asked Tom Stevens to join the band. Tom is best known for his time with the fabulous Long Ryders. Not thinking what he was getting into, Tom said "yes". Tom is a multi-instrumentalist and singer. We will take advantage of all he can offer. I've sent Tom two songs to work on, Lightning Life and Sleepy Song. Bass on both, lyrics and vocals on the latter. Sleepy Song was one of the first things recorded for Turned Up Later. This is a possible vehicle for Matt Piucci's guitar.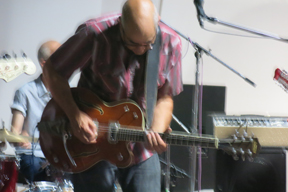 While having dinner recently with Matt and his wife, he twisted my arm and reminded me he wanted to play on the new Brain album. Sleepy Song or the still under construction Eden Piriah would probably suit Matt's style best. Tom suggested he'd be up for the task of writing lyrics for any of our existing tracks. He should be working on this right now. I look forward to the results. Once he adds bass to Lightning Life I can pass it on to Bobby for a guitar overdub. An idea for the middle section has been outlined to the boy for suggestions. Bob has been busy working on a guitar part for the Keith Klingensmith-John Borack contribution to the Twilley Tribute. He's ready to turn his attention to Brain matters now.
Scott Sutherland has been working on a new song for us the last few weeks. The original demo was titled Spencer. The second remake seems to be working. It's now called Alternative To Me. I made a couple of suggestions which were approved. Work on this one will continue once Scott sends over the pieces. Meanwhile I've just discovered a song Scott sent a few weeks back.
16 October, 2013
A flurry of activity this last week has pushed two songs closer to completion and a third new song has finally take shape. Tom Stevens has finally put down bass on two songs: Lightning Life and May 2012. Bobby thought we should have him do what he does best. Expect vocals and some guitar from him on the album.
The Brighten Up Shop has it's roots in something spotted in Great Falls over Sip and Dip weekend. The first demo for the song was abandoned after it became clear that direction wasn't going to work. The second attempt has been passed on to Scott Sutherland for his input.
12 November, 2013
A good week of work. Bobby delivered another song, Wedding Bell Ring. A classic slice of Sutliff writing. He said it was an old tune he's revisited. We will start adding our parts to this one right away. Eden Pariah received a complete make over and has now been deemed ready for drums. Ric has been booked for the second week of December. There are at least six songs ready for his drums.
24 November 2013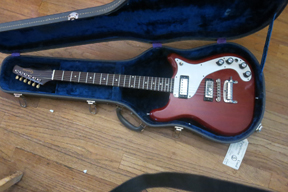 Wedding Bell Ring has been the focus of attention this week. It's always easier to work on other's songs with a clear head. Bob made a few general suggestions, including a mellotron part, and the two solos. There will be some harmonies added too. Tom redid the bass part which tightened up the track. I redid the organ, figuring it didn't need to run through the whole song. I had a better sound too. The string parts were fairly easy once I got a feel for the song. The mellotron cello suggested a guitar part. Rather than work in the high register I chose to try a low fuzz part. It seems to work. For the first, short solo, it was Leslie on the guitar. I've sent a new rough mix off to Bob and the band for comments.
This is a good exercise and will get me back into album mode. Writing is a different state of mind. Now it is time to start looking at the big picture.
5 December 2013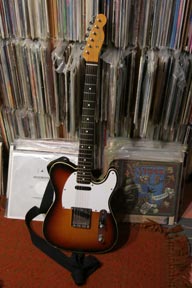 It seemed like a good time to gather together all the songs now under consideration for the new album. Much has changed since the first compilation was presented to the band earlier this year. It was time to make some hard decisions as to what songs we should set aside and which to move forward with. I reviewed a few songs I'd forgotten about to see if I'd missed anything. The one pleasant surprise was Bobby's It Wasn't My Idea. We'd gone as far to add drums to a rough mix of one of Bob's demos. I never got the individual tracks from Bob which makes me think the drums were added while he was out of action. When I asked him about this one, he said it might take time to locate a song from three years ago. He did and has sent the tracks over. These have now been added to the master. My instinct was correct. This is a fab song.
As you can see, this track listing suggests a double album is the goal. The running order is just a first draft to see how the songs fit together. It was also a chance to try out a new piece of CD Mastering software. It is far too early in the process to set anything in stone, so don't expect the final album to look much like this. One though is to assemble to distinct albums which would be released in the same package. The result would be two albums with a running time of about 32 minutes each. This feels about right.
The band seems excited to see the material take some sort of form and have reported current progress and current activities. The main focus this week is a drum session set to start on Monday. Bobby has been working on a rewrite of a song that has been floating around for a while now. It's not known if he'll get it to us in time for the session. If not, there will be another in the spring.
Donovan's Brain was created to be a songwriters forum. Everyone can submit material and everyone can make contributions to any song. This week we established a baseline. Any material submitted from this point on must be as good or better than the 17 songs on the table. In the past we have seen some of the best songs appear at the very end of the recording phase or even into the mix part of the process. We can expect some surprises in the coming year.
16 December 2013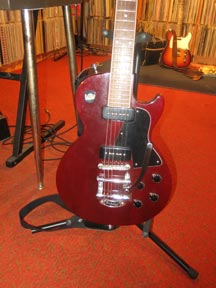 The last major work for the year on the new album has been completed. Seven more songs now have drums and are ready for further work. Bobby Sutliff was able to get his reworked version of House Boy to us before Ric was due to leave. Drums were also added to Light In The Window, Wedding Bell Ring, Eden Pariah, Alternative To Me, Brighten Up Shop, and Long Time Ago. Two guitar parts were overdubbed onto House Boy as well. The band will reconvene in January to carry on with the finish work….
4 February 2014
Several parallel projects are currently underway, Bobby Sutliff has been archiving his cassette demos, some dating back to 1975. One or two of these may get the Brain treatment. Songs are also being prepared for a split single with The Nomads. Bread Man Burning was recorded for Turned Up Later. It was decided to keep this one for a later release. The Nomads side was recorded when they visited Bozeman in 1999. No Cops, Haul Ass is a Ron Sanchez composition which the Nomads had their way with. Richard Treece and Ron also appear on this track. A second Brain track, also an instrumental, may well be added to make this an EP. Miami Snow dates back to the 1998 sessions for Tiny Crust and Great Leap. It was reworked for the Bridger Bowl Ski Film Of The Day series.
Bear Family has requested a track for their 40th Anniversary Box Set, due in 2015. Work on a song for this will begin once the single tracks are complete. Meanwhile work on the new album is continuing. The current goal is to complete all the basic work before Deniz visits in May. The remaining guitar chores will be assigned after that. Its likely more new songs will appear before we are done.
7 March 2014
Work on the new album and EP has been quietly continuing. The current focus is the EP project. The Nomads track has now been mixed and approved by the band. Several overdubs have been added to Bread Man Burning. Tom contributed a new bass part and Scott has added a flight of guitars and vocals. Mixing will begin this week. The artwork has been contracted out to our occasional artist Tom Azure. Once he finishes the EP cover, we will put him onto the artwork for the album.
Bobby's cassette archiving project yielded two songs which seemed suitable for the Brain. The End Of The Rainbow is apparently the first song Bob ever wrote. Arrangement ideas have been suggested. It is hoped that something will be ready for the May sessions. This may or may not be the last new song offered up for the new record.
23 March 2014
Bob's song The Great Divide was recorded early on in the sessions for Turned Up Later. It was eventually set aside for later use. The drums had been added to a stereo rough mix but no further work had been done until now. The individual tracks are now on the computer and our attention has turned back to this song. Bob made it clear he was open to any ideas, and there was no need to use all the tracks he had recorded. The main element is the pair of twelve string guitars. Strings, harmonium and one of the acoustic guitars were muted which opened the sound stage for the 12 string. I added a simple organ part for texture. The strings came back for the bridge. Bob had done the middle solo and left a long section at the end for a second solo. I felt the song should resolve after the vocals finished. I added a guitar figure at the end to carry it out on the fade. The idea for this part had come to me during the week, but other chores and some computer updates kept me from attacking this until today. We are now waiting on Tom Stevens for a new bass part. After that we will discuss the need for further work.
One of the new tools added to the GLEA studio computer is the nice bit of software. Being Beatles fans here, ADT has always been a bit of a mystery. A new digital simulation has been released and is now being tested here. You might find this interview with one of the Beatles engineers, Ken Townshend interesting.
5 April 2014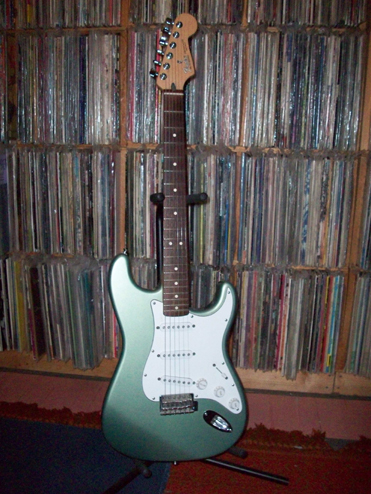 Bobby's song The Great Divide has been the center of attention recently. Tom Stevens added a new, dancing bass part. I nearly added the end guitar solo, but came to the conclusion Bob's solo was so good, the song didn't need another. I did come up with a small part which will play out under the fade. I took that idea and worked out a small part for the rest of the song. If you dig back through the Turned Up Later diary, you will see this song was begun at least two years ago. We never got chance to return to finish it at that time, but it has been on the A-list for this new one. No good idea is ever wasted.
Bob reported that he's got a new piece of music he was going to send over. There is also End Of The Rainbow, his first ever composition. Scott and I are lobbying to get that one worked up. Meanwhile, I've got a good start on a new song. This one has been moved down to the studio computer for further work. The proposed running order might have to be revised, or we'll just do a classic early 70s triple album.
18 April 2014
Much to no one's surprise work on the album is has been put aside for a couple of weeks while I turn my attention to remixing the Shambaholic album and four more songs from that era. (Read About The Album Here) Bobby Sutliff will be overseas for two weeks so it seemed best to get on with this restoration project. The current plan will see this limited edition CD released after the EP. There is enough material in the can for at least two more archive releases.
These 24 year old tapes were transferred to the studio computer a few years ago, just before the 8 track machine gave up the ghost. Ric Parnell redid the drums over the course of his first year in the studio. The original drum tracks were limited by available track space. Fresh multi-track drums seemed like a good idea. Ric stayed close to the original intent and did a fine job of it. There may be other work done on the tracks as the mix proceeds if needed. More about this when the mix project is completed.
20 April 2014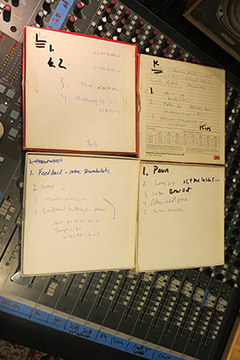 The Shambaholic theme only came together in the last months of a 2 1/2 year run of recording. Around 24 songs were written and recorded. It must have started coming into focus in the Spring of 1994. The song Hit Me In The Face was written while watching the Woggles at the 1994 Garage shock. Some edit pieces for the album were recorded around the same time. The final song for the album, Make A Noise Quietly, was the last one written for the album and is a major piece in the puzzle. The album was completed in October, just a week before I flew out to Seattle to record the Man album Call Down The Moon. This album is getting a deluxe reissue the summer, so a rebuilt Shambaholic release would seem appropriate.
This period between 1992 and Fall 1994 was a most productive period. Besides the Shambaholic album several tracks which would appear over the next 10 years were written. Electric Trains (Tiny Crustacean Light Show), Human Is (The Great Leap Forward), 22 Lost Marbles (Terrascope CD), 2 Wheel Spiders (Eclipse And Debris), Dull Days (Tiny Crustacean Light Show), Joey's In The Pouch (Eclipse And Debris) as well as a couple of others which are still under consideration. This would become the standard Brain operating procedure. As a result there is a huge back log of material on the shelf. Despite our best intentions, the next new album will most likely appear as two new albums.
8 May 2014
Just when it seemed safe, I've got two new songs on the table. Scant Information came up a couple of weeks ago. I did a demo on the office computer as an experiment. Less equipment means less distraction. It seemed to have worked. I had enough lyric to get started. I got the second section worked out while doing a new vocal. This one is now ready for drums on Monday. The second one is just a vague feeling right now. I have a couple of lines of lyrics and some chords to get started. I'll sit down tomorrow and work through it. It is a song that the lyrics and music will have to be written at the same time. The trick will be to get it to come in under three minutes.
Right now all attention is focused on this week of recording with Ric and Deniz. We begin work in a few hours over in Billings. Back here on Mon
3 June 2014
The mid-May recording sessions extended over a week, beginning in Billings where we reviewed Deniz's new songs and added guitar to a pair of Donovan's Brain tracks. Bobby had asked if Deniz could do the second solo on his song May 2012. I offered up Selfish Modern for guitar overdubs. The following Monday Ric arrived and went straight to work. Tom Stevens asked for drums on his song Bear In The Woods. This may appear on the Brain album, though Tom has suggested this might be part of his own solo album. We also had to return to the song Shambaholic. I'm sure we had worked on this one 3 years ago, but the file seems to have been deleted. Ric attacked it again with enthusiasm. The next three days were dedicated to Deniz's album and a live in the studio session for Rabid Tracks, Jack Rabid's radio show.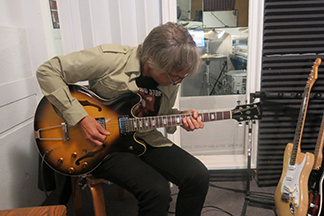 Deniz and I had discussed what tracks he should put on the single we will be releasing. Several of the new ones were deemed potential A-sides. Deniz had lobbied for his live cover of Fleetwood Mac's Oh Well. I suggested this one be in the short radio session set. We could use this as the recording was satisfactory. Deniz agreed with my desire to have a new original on the top side. After reviewing the week's work Deniz decided the single would be his new song Crossroads backed with the live Oh Well. He retired to Bob Brown's studio to complete work on the former, while I tended to the remix of Oh Well. The results are powerful to say the least.
The two Brain tracks for the EP are now complete. Richard Treece's guitar parts were restored to the final mix of Snow In Miami. These didn't appear on the stripped down Bridger Bowl mix. All the material has now been sent off to be mastered and the artwork is being assembled.
Work has now returned to the Shambaholic mixes. Tom and Scott have added a few parts on several songs giving them a more finished feel. The original recordings were limited by the track count available back in 1992. The 8 track tape required some creative planning to fit in all the parts. Guitar solos often shared a track with the lead vocals. This was a common practice when 8 track recording was the state of the art. Now that the tapes have been transferred to the computer, these double up tracks have been split out to individual tracks to make mixing a lot easier. Tom and Scott have added bass, vocals and guitars. I've replaced one or two guitar tracks and will add some keyboard parts as I see fit. The results won't stray far from the original intent. Returning to these songs has given me a chance to complete the recordings as I originally intended. The new mixes are a vast improvement over the originals or even the Get Hip remixes.
If all goes well Shambaholic will be released at the same time as the singles.
10 June 2014
Took a break from the studio to jet out to Portland to see Roy Loney, Minus 5, Trip Wires and Guided By Voices. Now back to work. First task is to review the mastering for the Brain-Nomads EP.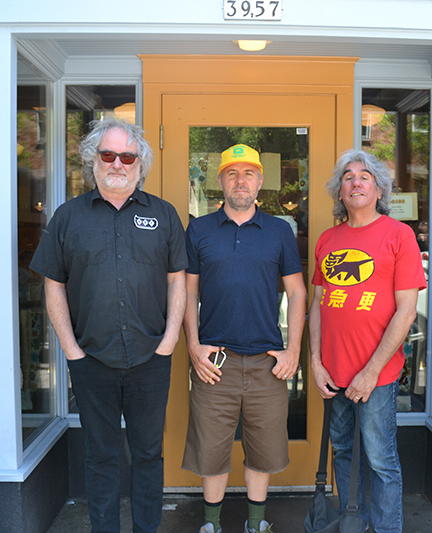 ---
---