Working In The Hit Factory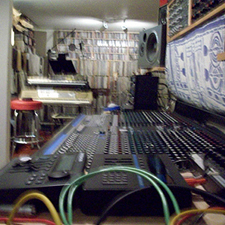 Ron Sanchez's work as a producer has paralled his work with Donovan's Brain. Ron and his brother had an interest in recording that dates back to the 60's. When GLEA was first set up, Ron invited friends to come around to record so he could learn the skills needed to run the studio. The earliest efforts were 4-track cassette, but the studio was soon updated to 8-track reel to reel. In 1995, the studio was rebuilt around a 16 track deck and a 20 input board. This was the format for the next ten years, and countless miles of tape.
Production Notes
---
It would seem 1993 – 94 was an active time at GLEA. Donovan's Brain was moving at full speed, and there was still time for two major local bands to record. Both "K" and "American Furnace" released tracks from these sessions as singles.

"K" – Play Me Again 45 (1994)

Paul Rose had been a member of the original Donovan's Brain line up and would return shortly. This final version of "K" also included future Brain, Jeff Arntsen. It's a shame this band didn't stay together long enough to get heard out side of the area. Paul was at a creative peak, and the band was dedicated to the same goal. In these pre-internet days, they just didn't have the ability to get heard. Further recording was done, but none of it has gotten past the cassette stage. The Ruby Hicks tape collects studio and live recordings, weaved together.

American Furnace – 7 Years/Clownicide (1994)

Originally a trio, working under the name Wet Spot, American Furnace also featured another Donovan's Brain member. This also marked the first appearence of "Herman Jolly". We thought his name was Jason. Herman Jolly has gone on to lead Sunset Valley and Little Pieces as well as releasing records under his own name. Shortly after this record, Herman and Monte, formerly the bassplayer for "K" moved to Portland and formed Roller Ball. Herman eventually found himself ousted from his own band and Roller Ball has continued to this day. Herman has refined the his sound since these early recordings, but you would recognize his style if you were only familiar with Sunset Valley or Little Pieces.
---
Man – Call Down The Moon (1995)

In 1983, the Welsh band Man reformed and released a live document. It was nearly 10 years before they were able to complete a studio album. While the Twang Dynasty enjoyed some popularity, it sounded very little like the band that had recorded so many classic albums in the 60's and 70's. While disussing this with Martin Ace, Ron suggested the band come to the States and record another one right away. In a bold move, Ron also suggested be should be in the producers's chair. Much to everyones's surprise, it was agreed this would be a good idea and plans were set in motion. The sessions were to take place in Seattle at Egg Studios. Ron had worked there and knew the comfortable surroundings would make the work enjoyable. The resulting album was completed on schedule and has become a fan favorite.
---
Green Ray – The Green Ray – (1996)

Nigel Cross had suggested to Ron that he might want to renew his friendship with Richard Treece. This eventually lead to a decision to have Richard and Ken Whaley work on the Eclipse And Degree album. A trip to London would be necessary, but as luck would have it, Roy Loney and the Long Shots were planning a tour of Spain around the target date. Time was booked at Alaska St Studios and the necessary gear rented. Green Ray had a session scheduled a week later. The plan was for Ron to come around and mix the track. Morning Song had been part of the original Help Yourself repertoire, but never recorded. In the end, Ron helped with the overdubs and then tackled the task of mixing the complex,thirteen minute track.
---
The Young Fresh Fellows – Tribute To Music (1996)
The Young Fresh Fellows – An Evening In Edenbrook Forest (1997)

A few weeks after returning from the UK, the Young Fresh Fellows passed through Bozeman, heading out to the East Coast to begin a tour. A bit of recording was part of the planned visit. The session began at midnight. First up was a go at Colter's song, which came to be known as "Tad's New Cymbal Stand" which can be heard on two Donovan's Brain albums, in two radically different versions.

Scott said the Fellows had two songs they wanted to try. Barky's Spiritual Store would become part of the Spanish only release, Tribute To Music. Ron did the solo too. Tad's song, Can't Get Beside Her" was released on the Fellows 1997 Christmas Gig CD, An Evening In Edenbrook Forest. Also appearing on this release were the Minus 5, The Fastbacks, Model Rockets. Pure Joy, Lowe Beats, Christy McWilson and Shuggie.
---