Ten Times Better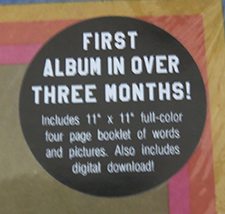 1. I Hear You (Wilkinson-Hughes)
2. New July Piece (Sutliff)
3. New Demo #1 (Sanchez)
4. New Demo #2 To Me (Sanchez)
5. Kelp Whip (Sutherland)
6. Alternative To Me (Sutherland)
8 September 2015
The machine never rests.
Discussions about the next album have already begun. New song ideas are starting to come together and unfinished tracks from the last two album will be reviewed. Serious work will commence in January 2016.
29 February 2016
Much to our surprise, Heirloom Varieties has continued to get good press and radio play around the world. Dee Jays in Spain have taken to our record and its been in high rotation on Radio 3 and the Plastic Elastico show. A very good review appeared recently on efeeme.com site. This continued activity has meant more time dedicated to promotion.
The new year has finally seen some activity in the studio. One new song has been written and demoed. Work on one of the two covers we plan to record has finally reached the stage that the band can now start adding to the basic track. Ric and I did the drum track while working on Heirloom. It was set aside for later. Later is now. Tom Steven's commitment to the just released Long Ryders box set and tour will keep him busy for the first part of the year. This should allow the rest of us to start collecting new material.
Meanwhile work on the second archive release has begun. Three songs have been mixed. This is just exploratory at this point. Making sure all the material is usable. The new box set will focus on the period from 1994 up to 2010. There is over an hour of unreleased recordings with Richard Treece. Dave Walker appears on some of these tracks. No release date has been set. A new album is the priority.

---