Convolutions Of The Brain (2017)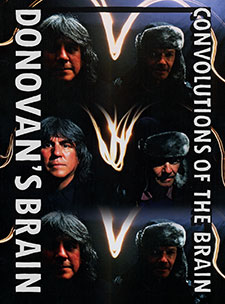 49 songs from the Donovan's Brain tape vault spanning the years 1991 through 2017. Unreleased studio recordings, film music, rare compilation tracks, live recordings and remixes. The centerpiece of the box set is the Terrastock Rehearsals featuring Richard Treece. Richard appears on a total of 23 tracks. Ken Whaley and Malcolm Morley also contribute. Deniz Tek is heard on 9 tracks including a version of Radio Birdman's More Fun. Most of the tracks have been remixed for the box set and the whole lot mastered by Gary Hobish.
The three disc set contains nearly four hours of music. A twenty page booklet with a band history, track details, photos and Malcolm Morley's tribute to Richard Treece.
---
The Songs
DISC 1


1. MY FAVORITE RECORD *
2. PERKY PAT +
3. ANOTHER TIME ANOTHER LOVE +
4. SAY FAREWELL (FAST) +
5. GONDOLA SCENE *
6. ARNOLD 4 SOULS #
7. SINCERELY
8. PUNCH WAX CIRCUS +
9. OH, LORELEI #
10. BIG SKIES *
11. CONTROL +
12. HURRY CURRY *
13. THE SINGLE NO. 2 (AKA TV DINNERS) #
14. NO COPS HAUL ASS +
15. TOMORROW NEVER SNOWS +
16. CENTRAL SERVICES +
17. BURNING NAME OF LOVE +
18. EKR *
DISC 2 


1. TAD'S NEW CYMBAL STAND +
2. TINY CRUSTACEAN LIGHTSHOW +
3. HOLLY GREEN +
4. SAY FAREWELL +
5. THE MAGIC'S GONE +
6. MY LITTLE TOWN +
7. CENTRAL SERVICES +
8. MAKE A NOISE QUIETLY +
9. PERKY PAT +
10. BOK THE BEER ELF +
11. DIM GEM
12. JOEY'S IN THE POUCH (GUITAR MIX) +
13. DAYS PLAYING PERKY PAT #
14. 22 LOST MARBLES #
DISC 3
1. BRAVE NEW GIRL +
2. ECLIPSE AND DEBRIS +
3. MORE FUN +
4. JOEY'S IN THE POUCH (SLIDE) +
5. BIG DAYS *
6. ANNA LEE PAGE #
7. HEARTS IN HER EYES #
8. TO ONE STILL WAITING +
9. FUNDING CUT *
10. FEVER'S TOUCH *
11. PHC *
12. SQUISHY +
13. CENTRAL SERVICES +
14. PERKY PAT +
15. CROSS CREEK +
16. VIOLIN THING #
17. CGL2 *
---